Mortgage PLR Autoresponder Email Series Features:
* 52 Weeks Pre-written Email Series
This isn't just ANY private label rights content. These newsletters are written to effectively promote best-selling affiliate products for an entire year. All the work is done for you.
* List of Top Affiliate Programs
Comes with high-paying, high conversion affiliate programs from Clickbank, Commission Junction, Shareasale, and others – just sign up! Once you've got your affliiate links, you put them into the content and bam – your newsletters are branded and ready to make you money!
* Opt-In Template For Each Niche
Pop in YOUR autoresponder information, and you're ready to upload this page to any domain and start collecting leads!
Opt-In Template Preview: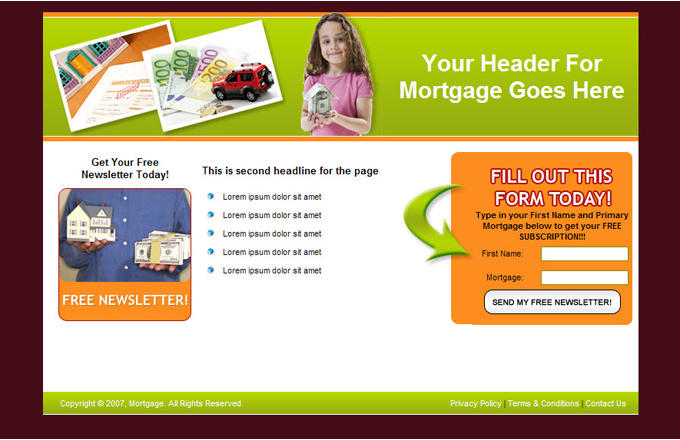 Autoresponder Message Titles:
– Mortgages Through Farm Credit Systems For Rural Development
– The Connections Between The Fed And Mortgage Interest Rates
– Electronic Mortgage Loans
– Veterans Administration Mortgage Loans
– Different Types Of Mortgages
– Stated Income Mortgage Loans
– Timeshare Mortgages
– Adjusting Your Debt Ratios To Prepare For A Mortgage
– Fees That Can Be Associated With Buying A Home
– Mortgage Companies Vs. Banks
– Reasons To Refinance Your Mortgage
– Steps To Refinancing Your Mortgage
– No Ratio Loans
– Eighty Twenty Loans And Variations
– Cash Out Refinance
– The Bi-Weekly Mortgage Program
– Mortgages Tips For Short Term Homeowners
– Why Are Rural Mortgages Higher The Urban Mortgages?
– Costs Of Reverse Mortgages
– NINA No Doc Loans
– Balloon Payment Mortgage
– Different Mortgages
– FHA Loans
– What Is A Mortgage Escrow Account And How Does It Work?
– Electronic Loans For The World Of Technology
– What Are 80 20 Loans?
– Vacation Home Mortgages
– Upfront Mortgage Brokers Vs Conventional Mortgage Brokers
– Three Types Of Reverse Mortgages
– The Advantages Of Using A Realtor
– Mortgage Down Payments
– How Interest Rates Affect Your Monthly Mortgage
– Fixed Rate Mortgages Vs. Adjustable Rates
– How Alternative Stated Income Mortgage Benefits Lenders
– Will You Qualify For A Mortgage Loan?
– The Difference Between Prime And Sub Prime Lenders
– Combination Mortgage Loans
– VA Home Loans
– Debt Consolidation Mortgage Loans
– Features Of A Reverse Mortgage
– Terminology You May Need To Know When Purchasing A Home
– What Are Mortgage Points And Rebates?
– The Interest Only Mortgage Loan
– Home Equity And Home Equity Loans
– Shopping For Mortgage Lenders
– The Benefits Of Providing A Down Payment
– Jumbo And Super Jumbo Mortgages
– What Is HUD And How Does It Work?
– The Benefits Of A Mortgage Escrow Account
– Mortgages On Vacation Homes Or Secondary Homes
– Pre Approved Loans
– The Pros And Cons Of Debt Consolidation Mortgages
Sample Affiliate Program Preview:
Standard Legal
All the legal documents a homeowner would need to sell their house as a "For Sale By Owner" home. They also offer other legal documents on a variety of subjects. High 50% commission on consumer legal software. They also pay a 25% commission on Document Preparation Services.
Mortgage Cycling Revealed
"Learn How To Quickly Build At Least $40,000 Worth Of Home Equity And Pay Your Mortgage Off In 10 Years Or Less" Affiliates Earn $31.00 on this Patent Pending Mortgage Reduction Program (which isi a 50% commission).
Mortgage Loan Tips
"Why some people almost always get the lowest interest rate on their home mortgage… and never pay too much in points or "junk" fees!" Make 50% on every ebook sold. Selling Price is $39.00. Affiliate program is run through Jim Edwards' eBookFire.
Lendingtree
LendingTree is the #1 brand in online lending, recognized by consumers more than any other online lender or loan marketplace. They have Highly competitive payouts including pay for performance upgrades! 3-Month EPC = $692.32 USD . Administered by Commission Junction.
BankLady
The Banklady.com affiliate program pays per lead generated instead of per sale. It is a two-tier program – meaning you can promote it to other webmasters and get paid on their sales. Programs include debt consolidation, credit card approvals, credit card applications, home loans, personal loans, online banking/checking, and more.
Prospect Zone Mortgage
ProspectZone Mortgage Program has a variety of affiliate loan programs; all based on Volume. These include: 1) Refinance Lead Commissions $20 -$35, 2) Home Equity Lead Commissions $15 -$25, 3) Home Purchase Lead Commissions $10 -$15.
Related Products:
– Your First Mortgage Plr Ebook
– A Guide To Mortgage Plr Ebook
– Mortgage PLR Articles
Other Details* No Of Messages
: 52
* File Format
: TXT
* Included Graphics
: eCover [PSD, JPG]
* Extras:
Squeeze Page
* Extras:
Affiliate Programs [PDF]
* Download File Size:
1,399 KB