Squeeze Page Preview: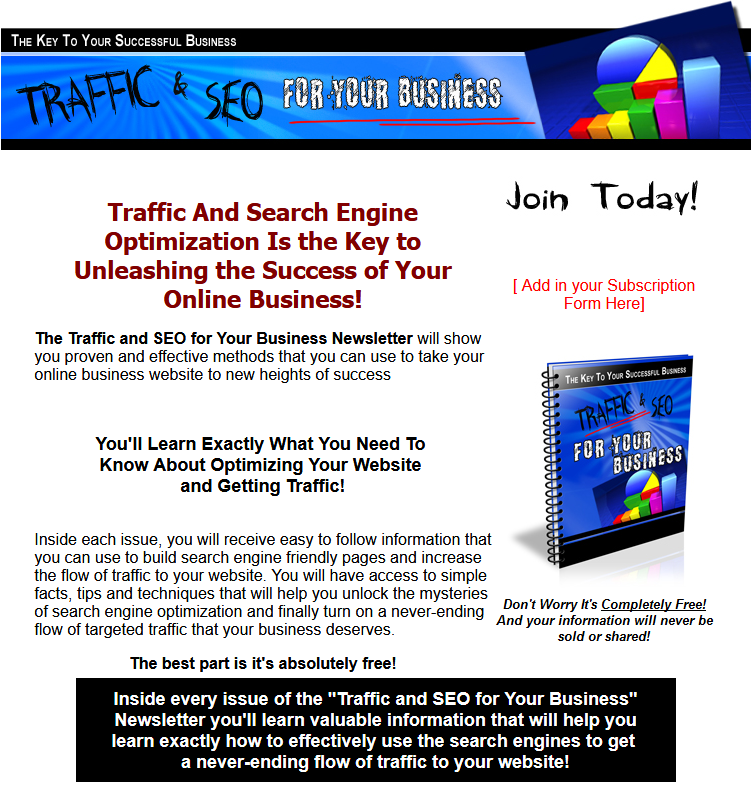 >>> Click Here To View Full Squeeze Page…
Features:
* 12 Issues Full Of Great Content
– Just add in your contact info and plug it in to your favorite auto responder. Each issue contains 500 words or more!
* One Ready To Go Squeeze Page
– Just add in your opt in form, upload to your server and your done!
* One Ready To Go Thank You Page
All ready to remind your subscribers to check their email and confirm their subscription. It even has built in revenue!
* 4 Researched Click Bank Products
These are top selling products on Click Bank that I've personally researched and chosen for each series.
* Extra Copy And Paste Article Content
You will get:
– Extra titles
– Extra opening paragraphs
– Extra closing paragraphs
– Extra fill in paragraphs
(these would make great tips that you add in to your follow ups system for more frequent contact with your readers)
Sample Content Preview
Hello "autoresponder code here",
In the last issue we talked about why search engines are so
important to the success of your business. In this issue we are
going to go over the importance of keyword density.
Keyword density is an indicator of the number of times the
selected keyword appears on a web page. But mind you,
keywords shouldn't be over used, but should be just sufficient
enough to appear at important places.
If you repeat your keywords with every other word on every line,
then your site will probably be rejected as an artificial site or spam
site. Keyword density is always expressed as a percentage of the
total word content on a given web page.
Suppose you have 100 words on your webpage (not including
HMTL code used for writing the web page), and you use a certain
keyword for five times in the content. The keyword density on that
page is got by simply dividing the total number of keywords, by the
total number of words that appear on your web page. So here it is
5 divided by 100 = .05. Because keyword density is a percentage
of the total word count on the page, multiply the above by 100, that
is 0.05 x 100 = 5%
The accepted standard for a keyword density is between 3% and
5%, to get recognized by the search engines and you should never
exceed it.
Remember, that this rule applies to every page on your site. It also
applies to not just to one keyword but also a set of keywords that
relates to a different product or service. The keyword density
should always be between 3% and 5%.
here are some simple steps to check the density:
– Copy and paste the content from an individual web page into
a word-processing software program like Word or Word Perfect.
– Go to the 'Edit' menu and click 'Select All'. Now go to the
'Tools' menu and select 'Word Count'. Write down the total
number of words in the page.
– Now select the 'Find' function on the 'Edit' menu. Go to the
'Replace' tab and type in the keyword you want to find. 'Replace'
that word with the same word, so you don't change the text.
– When you complete the replace function, the system will
provide a count of the words you replaced. That gives the number
of times you have used the keyword in that page.
– Using the total word count for the page and the total number
of keywords you can now calculate the keyword density.
To achieve the best results it is important to have the first 250
words of your copy be keyword rich.
A good tip is to write your content first, then choose your keywords
and/or keyword phrases from the content. Rewrite your content as
needed, adding keywords and/or keyword phrases that pertain to
the theme of the content. This way, you've chosen keywords and/or
keyword phrases that are relevant to your content, instead of trying
to write content to fit your keywords and/or keyword phrases.
Make sure you look for your next issue soon. We will be talking
about keyword research and tools that you can use to get the job
done more efficiently.
"your name here"
"your email address"
"your URL here"
Sample Extra Titles
How to Use SEO to Drive Traffic
Who Else Is Lying To Us About Traffic and SEO?
Traffic and SEO Go Hand In Hand
What You Don't Know About Traffic and SEO May Shock You
The Truth About Traffic and SEO
The Traffic and SEO Trap
The Low Down on Traffic and SEO
Facts About Traffic and SEO Revealed
The Undeniable Truth About Traffic and SEO
The Idiot's Guide To Traffic and SEO
Unknown Facts About Traffic and SEO Revealed
The Hidden Truth on Traffic and SEO
The Secret of Traffic and SEO That No One is Talking About
The Unexposed Secret of Traffic and SEO
The Traffic and SEO Facts
Traffic and SEO – An Overview
The Up Side of Traffic and SEO
An Unbiased View of Traffic and SEO
And More…
Sample Extra Paragraphs
A major prerequisite in exchanging links with other sites is having
the same niche or content as the other site. They should share a
common subject so that there is continuity in the providing of
service and information to what interests your target traffic.
————————————
You will also need to collaborate with many other sites so that you
could get link exchanges and page transfers. The more inbound
and outbound traffics generated by sites among others are one of
the components Search Engines uses to rank sites.
————————————
It is also possible to buy advertising space on other web sites
with a similar theme to yours. If you find a good site then just email
the owner and ask if they would be interested in selling some
adverting space to you. Then just put a text link or banner ad on
their site.
————————————
There are many sites that help in tracking keyword phrases that
can help your site. There are also some content writers that have
lots of experience in making good keyword laden content for your
sites that have good quality.
————————————
Search Engine optimization requires a lot of work to be fully
realized. There are many aspects you have to change in your site
or add as well to get Search Engine optimization. These will
include getting lots of information about the keyword phrases that
are popular in regards to your sites niche or theme.
————————————
The more knowledge and information you gather the better. This
will all help you in getting those high rankings. This may require a
little time and effort in your part but the benefits will be astounding.
If you can part with some money, there are many sites in the
Internet that can help you in Search Engine optimization.
————————————
You may also need to rewrite your sites contents so that you could
get the right keyword phrases in your site without making it too
commercial but light and informative. There are certain rules and
guidelines to be followed with making your site's content
applicable and conducive to Search Engine optimization.
And More…
Other Details
- 12 Part Autoresponder Email Messages (TXT, DOC)
- Squeeze Page (HTML, PSD)
- Ecover (PSD, JPG)
- Affiliate Programs List
- File Size: 1,830 KB