Squeeze Page Preview: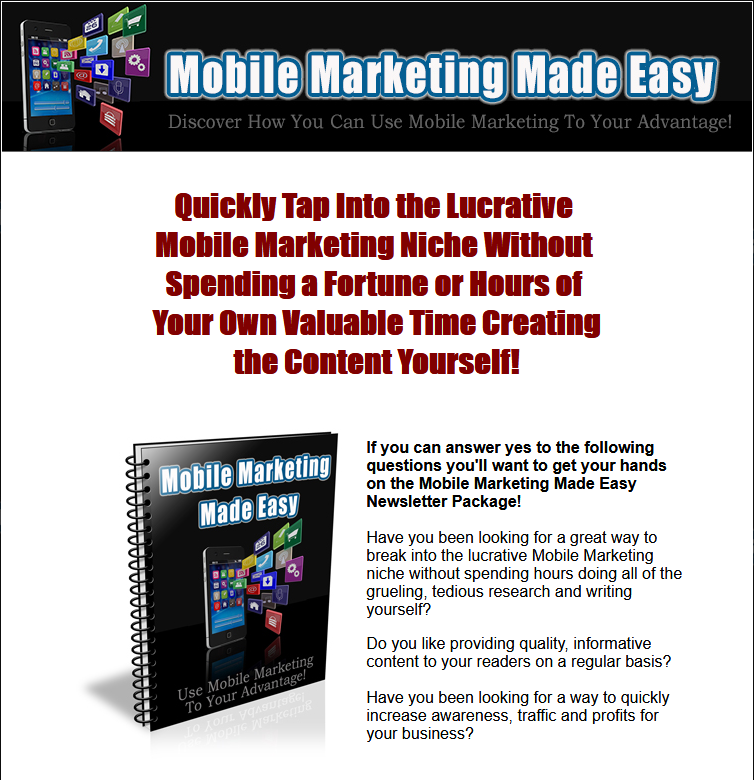 >>> Click Here To View Full Squeeze Page…
Features:
* 12 Issues Full Of Great Content
– Just add in your contact info and plug it in to your favorite auto responder. Each issue contains 500 words or more!
* One Ready To Go Squeeze Page
– Just add in your opt in form, upload to your server and your done!
* One Ready To Go Thank You Page
All ready to remind your subscribers to check their email and confirm their subscription. It even has built in revenue!
* 4 Researched Click Bank Products
These are top selling products on Click Bank that I've personally researched and chosen for each series.
* Extra Copy And Paste Article Content
You will get:
– Extra titles
– Extra opening paragraphs
– Extra closing paragraphs
– Extra fill in paragraphs
(these would make great tips that you add in to your follow ups system for more frequent contact with your readers)
Sample Content Preview
Hello "autoresponder code here",
In the last issue we talked about some important things you should
keep in mind when it comes to mobile marketing. In this issue we are
going to talk about creating great mobile campaigns that people will
want to share.
Mobile marketing can be very profitable. However, they can also be
extremely confusing when you're first getting started. There is so
much information and so many different options available it's hard to
know where to begin, especially when it comes to creating viral
campaigns.
Don't worry, today were going to go over a few mobile marketing tips
that will help you create great campaigns that people will be glad to
share.
– QR Codes
There's no doubt QR codes are very popular, they are also a great way
to increase your mobile marketing results. For this to work you need to
you simply need to put a code in your advertising or on your product,
so that consumers can scan it with their smart phone. Once the code is
scanned you can have it set up to link them to a webpage, coupon,
or anything else that will help create more interest to your product.
– Mobile SEO
Utilize mobile search engine optimization. Did you know that a majority
of the mobile searches made are done using Google or Bing? So
having a strong SEO strategy is just as important for mobile marketing
as it is for other types of online marketing. Most devices tailor search
results by location, so be sure to include location-specific web pages.
– Show Appreciation
To make your customers feel appreciated, send out automatic thank
you texts after a purchase. The message will show your customers that
you care about their business and make them feel valued. It will also
help you to stick out in their memory, the next time they're looking
to make a purchase.
– Integrate
Integrate your mobile marketing campaign with other media outlets.
Mobile marketing works best when paired together with outer sources.
Make sure you have specific mobile landing pages for each mobile
banner. You would also need to integrate a Quick Response code to
drive traffic to that site. Integrating your resources make your
opportunities endless.
– Call to Action
All of your mobile marketing messages should include a strong call
to action. The call to action is an imperative statement designed to
entice your consumers into doing something specific. Remember
this doesn't have be a demand for an immediate purchase. Simply
advising them to follow a link can serve as an effective call.
– Stay Relevant
While, brief and non-business related links and text messages are
acceptable in some circumstances, it's important to make sure that you
are sending out relevant content that your subscribers will enjoy or find
helpful. Consistent contact is important just be sure not to send
unnecessary messages, because it could be interpreted as spam and
lead to decreased subscriptions.
– Applications
Take advantage of popular mobile applications that many mobile
consumers are already using, like Google Maps. Google has a Local
Business Center that will list your your business on their Google Maps
for that region. This way, your business can target the local
audience to your area.
Make sure you look for your next issue soon. We will be talking about
the best reasons and times to send your mobile marketing messages.
Until then,
"your name here"
"your email address"
"your URL here"
Sample Extra Titles
The Mobile Marketing Trap
The Low Down on Mobile Marketing Exposed
Dirty Facts About Mobile Marketing Revealed
The Undeniable Truth About Mobile Marketing That No One Is Telling You
What Everybody Else Does When It Comes To Mobile Marketing And What You Should Do Different
The Idiot's Guide To Mobile Marketing Explained
Unknown Facts About Mobile Marketing Revealed By The Experts
The Hidden Truth on Mobile Marketing Exposed
The Secret of Mobile Marketing That No One is Talking About
The Unexposed Secret of Mobile Marketing
The Mobile Marketing Diaries
Mobile Marketing – An Overview
The Ugly Side of Mobile Marketing
An Unbiased View of Mobile Marketing
What's Really Happening With Mobile Marketing
The Ultimate Guide To Mobile Marketing
5 Simple Facts About Mobile Marketing Explained
What To Do About Mobile Marketing Before It's Too Late
And More…
Sample Extra Paragraphs
Offer your customers freebies to keep them coming back for more. This can be a real key to Internet marketing success. Everyone loves a giveaway, and your generosity will make them more inclined to return. Your initial investment is worth the potential return in future sales from current customers and first-time visitors to your site.
————————————
Take some time to dip into social media before embarking on a mobile marketing campaign. You might be hurting yourself if you do not understand how each social media site works before embarking within it. Study them and learn how your messages and company will be seen before randomly adding social sites and sending messages.
————————————
Customer love rewards so reward them just for signing up. Just for signing up give them a coupon for a free item when they come back and purchase something else. Since they are giving you their mobile phone number, reward them with something worthwhile that will keep them coming back.
————————————
Be a leader in mobile marketing, not a follower. Mobile marketing is still the wild, wild west when it comes to innovation and creativity. There are a lot of options available on the market to consider, but don't only go with what's out there. Look at your audience and strategize on new ways to reach them via mobile. You may come up with a successful mobile messaging alternative at a fraction of the price of a paid service!
————————————
Make sure that you give your customers an easy way to opt out of mobile marketing messages. Options such as codes to text to be removed from a distribution list make interaction easy. Even if customers choose to stop receiving mobile messages, they will likely remember that you made it simple and be more prone to opt back in if they see the value in your messages.
And More…
Other Details
- 12 Part Autoresponder Email Messages (TXT, DOC)
- Squeeze Page (HTML, PSD)
- Ecover (PSD, JPG)
- Affiliate Programs List
- File Size: 12,200 KB