Salespage Snapshot: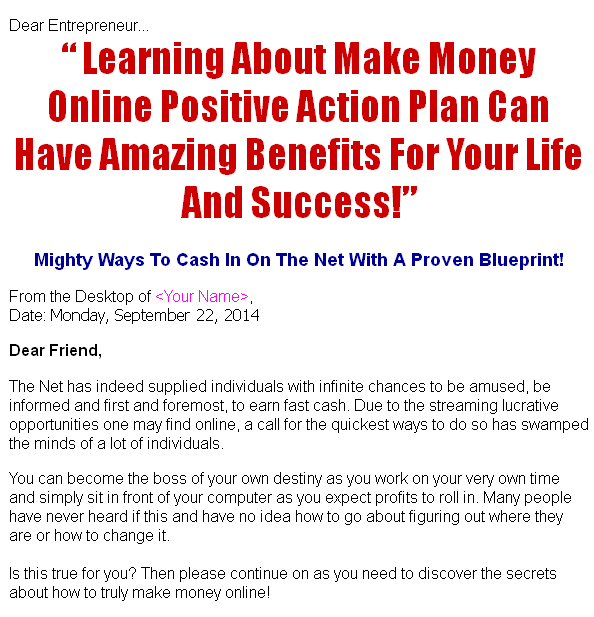 >>> Click Here To View Full Sales Page…
Table of Contents
Foreword
Chapter 1:
Decide Your Niche
Chapter 2:
Select A Money Making Niche
Chapter 3:
Choose An Affiliate Program
Chapter 4:
Get Free Training
Chapter 5:
Make A Site Or Blog
Chapter 6:
Write-Write-Write
Chapter 7:
Marketing Methods
Chapter 8:
Build Your List
Sample Content Preview
Synopsis
To further provide you an idea about marketing, you are able to join several affiliate marketing and Internet marketing forums for free training.
Training
There are a lot of ways to market utilizing the Net. There's email marketing, PPC, banner advertising, utilizing videos, article promotion, doing SEO, blogging, and using social bookmarks, social networking and Web 2.0 properties. There's so much info out there, it may sometimes get overpowering. One way to figure matters out is to ask individuals who have become successful.
Discover a discussion board that specializes in Internet marketing. These are sites where Internet marketers go to talk about the cutting-edge strategies, to determine what's working and what isn't, and to find reviews for the cutting-edge courses and software. Some that you might want to travel to are the Warrior Forum, Digital Point and IM4Newbies .
The Warrior Forum is the oldest of the message boards and has been around since '96. Many superstars in the industry got their beginning here. It has the threads separated neatly into many different categories, like PPC, ad sense, article promotion, media buys, and so forth, so it's very simple to discover what you're seeking. The threads are well moderated and individuals here are commonly respectful and helpful to each other. This is an oddity in a lot of forums, where individuals tend to often be rather crude. So it's a huge plus that you are able to ask a question at the Warrior Forum without the dread of being called names. While the forum itself is free, there are frequently members offering cheap paid training courses of study called WSOs (Warrior Special Offers), and there's a lifetime upgrade for $37 as of 2010. This provides you access to a few members-only secret threads.
Digital Point is likewise a good discussion board where individuals tend to be really helpful. It's organized in a great deal the same way as the Warrior Forum, while it hasn't been around as long, receiving its start in 2002. It's even so well regarded in the Internet marketing profession. It likewise has an area where you are able to outsource work that you don't wish to do yourself, like programming jobs, article authoring or site design.
IM4Newbies, although much littler than either the Warrior Forum or Digital Point, is a dynamic community with about 70,000 members. It's a great place to get rolling for those completely fresh to Internet marketing as everything is set up for the fledglings, and they pay special attention to what they call their 101 classes, like Niche Marketing 101, Affiliate Marketing 101 and Net Business Management 101. It's likely less daunting to begin here too. As there are fewer threads, there's less of a data overload than what you may get at the other 2 forums.
Synopsis
You must produce your own site or blog, where you are able to put all your marketing techniques. If you want to maintain a site, be prepared to use a few bucks. Instead a quality hosting and a WordPress blog may guide you with the simple development of your page. The latter is truly helpful since you are able to join their site free of charge and you are able to be guided with whatever you desired to do with your page.
Do It Free
It is crucial to have an internet site if you have a business. Most internet sites commonly have multiple web pages that display info about the owner, product, service or contact. If you are merely setting out to have an internet presence with your business, it is a great idea to make a business web page. You are able to even begin a business web page free of charge.
Look for a free web site hosting service online that lets you publish content. Some free of charge services that allow you to begin a web page fast are Blogger.com, WordPress.com, MovableType.com and Weeby.com. Have a look through each of their choices and select the services that you like best. The advantage to these services is they are free of charge to use.
Sign on for the service they're supplying. You need to make a username, a password and supply your e-mail address. After you sign on, you will have to pick out a title for your web site. Normally you are able to only register your site name under a sub domain name as you are hosting under their service. For instance, if you would like to produce a free of charge web page on WordPress.com and wish to title your pizza pie business greatpizzashop.com, your domain name will be greatpizzashop.wordpress.com.
Pick out a template for your particular business type. You are able to pick from a lot of free templates. For instance, in Weebly you are able to select a design and choose from over thirty different templates. You are able to pick out the category themes ranging from instruction to marriages. You will prefer to pick "Business" for templates that have business conceptions.
Produce material about your business and place a link to a product or service you are selling up on your freshly made web page.
Push the publish button. Once you have a business template picked out, informational material and a product or service to sell, push the publish button. Individuals online will now be able to have a look at your business web page, which you made free of charge.
Other Details
- 1 Article (DOC)
- 1 Ebook (DOCX, PDF), 35 Pages
- 1 Lead Magnet Report (DOC, PDF), 16 Pages
- 1 Autoresponder Email Messages (TXT)
- 1 Salespage (HTML)
- 1 Squeeze Page (HTML)
- Ecover (JPG)
- File Size: 6,638 KB