Salespage Snapshot: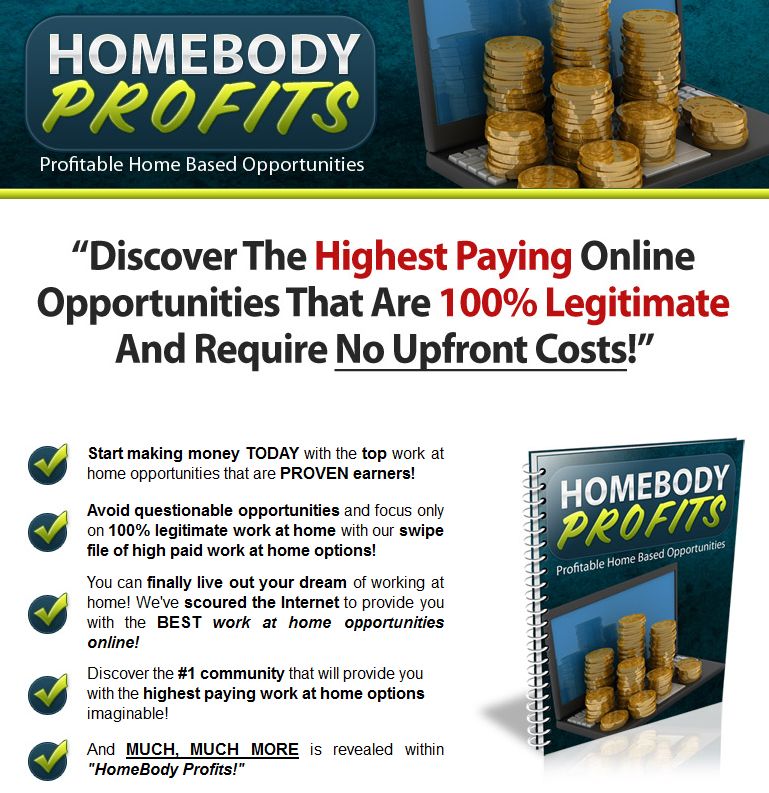 >>> Click Here To View Full Sales Page…
Table of Contents
Introduction ….. 3
Affiliate Marketing …… 4
Profitable Blogging ….. 7
Making Money On EBay ……. 8
eCommerce Sites ….. 10
Information Products 11
Sample Content Preview
Affiliate Marketing
Perhaps the easiest way to make money online is through affiliate marketing. You don't need to own a product, stock inventory, deal with packaging or shipping, provide customer support, or worry about billing and refunds.
In fact, once set up, an affiliate marketing business can run on complete autopilot!
Many affiliate marketers make six or even seven figures each year consistently, while spending time building their own business, allowing their affiliate campaigns to continue generating "seed money" without any further work involved!
It takes a while to get such a business set up and profitable, but once it's running smoothly, it has the potential to generate non-stop income long after you've initially set it up.
Better yet, you can get started in affiliate marketing without spending a penny. You don't need a domain or web hosting in the beginning. You can use article marketing, free hosting platforms like HubPages.com and Squidoo.com, and free blogs like Blogger.com. You'll want to invest some money into domains and hosting once your business becomes profitable. You'll be able to make a lot more money with your own domains, and you'll be in better control of your own business, rather than leaving it at the mercy of free web hosting providers.
You see, when you depend on free services like article directories, Squidoo, Blogger, etc., you have to worry about changes to their rules or even getting banned should they restrict affiliate links or promotional based content.
Many business owners have lost their entire incomes because Blogger decided to delete their blogs without warning, or because a site like Squidoo changes their rules and eliminated their primary moneymaking method.
You never want to depend on a free service for the bulk of your income, so it's a good idea to get your own domains and web hosting as soon as you can afford to.
Fortunately, web hosting is $10 per month or less for a basic package, and domains are around $10 or less (especially if you use a coupon). It's very inexpensive, and it can pay for itself in no time if you really work at it.
Resource >> http://www.HostGator.com
Just remember that affiliate marketing does take a lot of work in the beginning. It's hard work and it requires you to invest a lot of hours in the beginning.
There are hundreds of ways to make money with affiliate marketing, including:
· Article marketing
· Video marketing
· Blogging
· Sites like Squidoo.com and HubPages.com
· Giving away free reports with affiliate links embedded
· Marketing locally with flyers or in local publications
· Social marketing
· Content Syndication (Guest blogging with affiliate links)
· Forum Marketing
· Email marketing
These are just a few of the many ways you can get traffic to your affiliate links. Once you have a business established, it can usually bring in passive income with little or no work!
Choose one or two methods from the previous list and get started. Once you have some success with one method, you can try others. Just focus on one or two in the beginning.
If you want more information about getting started with affiliate marketing, check out:
http://www.newbieaffiliatevideos.com
Profitable Blogging
Blogging is a tremendously profitable way to make money online and one of the easiest methods as well! Most bloggers make the majority of their money with affiliate marketing, but there are many other ways to make money as a blogger.
For example:
· You can build an email list to promote your products or affiliate products
· You can sell ad space on your blog
· You can get paid to blog about products or review them
· You can use AdSense to get paid per click
· You can use CPA networks to get paid for leads
· You can promote membership sites for recurring income
These are just a few ways to make money as a blogger, and there are many more.
One of the most important things to remember is that you must blog regularly. People aren't going to return often if you rarely post, and you also won't get a lot of search engine traffic if you don't post regularly.
First of all, search engines love fresh content. They tend to rank fresh content higher than older content unless that older content is very high quality and has a ton of links pointing to it.
Additionally, the more content you add, the more keywords you have the potential to rank for. The more great content you have, the more likely it is that some of the content will rank well for important keywords.
You can blog on free platforms like Blogger.com, but it's advisable to use your own domain and hosting as soon as possible. Free blog platforms have a lot of rules, don't generally like overly commercial blogs, and have the ability to delete blogs anytime and for any reason.
WordPress is a great platform for blogging, but only if you host it yourself. They don't allow commercial activity when they host the blogs, so be sure you get your own web hosting. WordPress has a ton of plugins and themes available, and if you use hosting with Fantastico, you can install it in just seconds!
Other Details
- 1 Ebook (PDF, DOC), 12 Pages
- 7 Part Autoresponder Email Messages (TXT)
- 1 Squeeze Page (HTML, PSD)
- File Size: 16,995 KB