Squeeze Page Preview: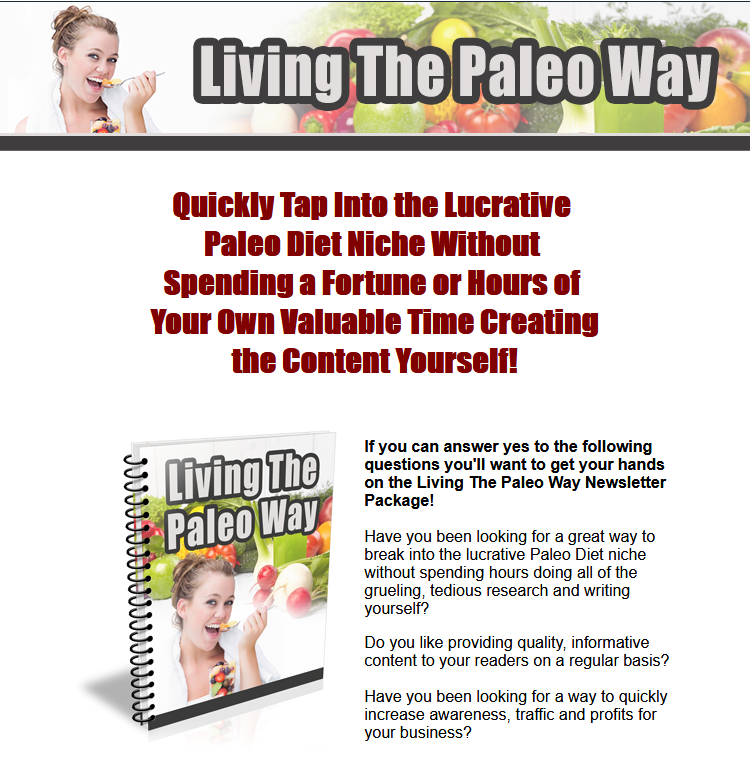 >>> Click Here To View Full Squeeze Page…
Features:
* 12 Issues Full Of Great Content
– Just add in your contact info and plug it in to your favorite auto responder. Each issue contains 500 words or more!
* One Ready To Go Squeeze Page
– Just add in your opt in form, upload to your server and your done!
* One Ready To Go Thank You Page
All ready to remind your subscribers to check their email and confirm their subscription. It even has built in revenue!
* 4 Researched Click Bank Products
These are top selling products on Click Bank that I've personally researched and chosen for each series.
* Extra Copy And Paste Article Content
You will get:
– Extra titles
– Extra opening paragraphs
– Extra closing paragraphs
– Extra fill in paragraphs
(these would make great tips that you add in to your follow ups system for more frequent contact with your readers)
Sample Content Preview
Hello "autoresponder code here",
In the last issue, we talked about what types of foods are best for paleo followers. In this issue we are going to go over some of the pros and cons of the Paleo Diet.
As we know the paleo diet is an awesome lifestyle that has thousands of fans all over the world. There are many bestselling books on the subject. People who have adopted this lifestyle have reported weight loss, reduced allergies, and reduced symptoms for health issues like diabetes, cholesterol, and much more. In fact, it's considered one of the healthiest diets to follow. However, no diet is perfect and paleo is no different. Just like anything else it has its pros and cons. You will have to decide for yourself if the pros outweigh the cons.
Foremost, you will need to understand this diet is more concerned with food choices rather than calories, timing, carb control and detoxing. Eat certain foods and avoid other foods. All you need to do is follow the food list like we discussed in the last issue. In theory it's simple, however, it can be extremely difficult in the beginning because it involves sacrifice and nobody likes that.
You are encouraged to eat grass-fed meats such as beef, poultry, bison, turkey, pork, etc. Fish is good too. Especially wild salmon that is rich in omega-3 fatty oils. You may consume fruit and non-starchy vegetables such as broccoli, carrots, cabbage, cauliflower, green beans, spinach, etc. You may consume nuts such as pecans, almonds, walnuts and cashews. Peanuts aren't allowed.
Eggs and plant based oils are also encouraged. Coconut oil, olive oil, macadamia oil, etc. are sources of fat. These foods are an integral part of the paleo plan.
The foods that aren't allowed are grains, such as oats, wheat, barley, and rice. You're also not allowed to consume starchy vegetables, such as potatoes and corn. All dairy products aren't allowed. Sugar, processed meats such as hot dogs, salami, etc. are a big no-no. Salty food, processed foods, refined foods are all not allowed.
This eliminates a huge chunk of foods that people are normally used to eating which some may consider a con however it is actually one of the biggest pros because most of those foods are unhealthy and some foods such as soya beans and grains are commonly known to cause food allergies and aren't digested well by many people.
As we have talked about before the paleo diet is rich in protein which helps keep your blood sugar levels stable and prevents insulin spikes. This also prevents weight gain. It is also very clean and that means it's anti-inflammatory.
Most people on so called normal diets often complain of aches and pains for no reason. This is due to cell inflammation from food that the body doesn't process properly. Once you begin following a paleo plan you will notice these problems will naturally fade and may even disappear altogether which in my book is the biggest pro of all!
With all the good reasons to go paleo there are still a few cons to consider. For instance this diet isn't suitable for vegetarians. Paleo dieters often have a hard time balancing their meals. They often include too much protein without consuming adequate carbs or vice versa, so, careful monitoring is important especially in the beginning. The paleo diet can seem too rigid and strict to many people especially when they focus more on what they can't have than what they can. When food choices are restricted, more attention is necessary to keep your diet balanced, which proves to be to be too challenging for some causing them to give up before they start seeing the benefits of the lifestyle.
As with any big lifestyle change it is important to assess your goals and weigh your options. If you're willing to make sacrifices for better health, you will definitely have a much easier time switching to paleo.
Make sure you look for your next issue soon. We will be talking about whether or not the Paleo Diet is as healthy as it claims to be.
Until then,
"your name here"
"your email address"
"your URL here"
Sample Extra Titles
5 Tips on Paleo Diet You Can Use Today
Why Everyone Is Dead Wrong About Paleo Diet And Why You Must Read This Report
The Ultimate Strategy For Paleo Diet
3 Tips For Paleo Diet You Can Use Today
How To Find Out Everything There Is To Know About Paleo Diet In 5 Simple Steps
Shocking Information About Paleo Diet Exposed
What Everyone Is Saying About Paleo Diet And What You Should Do
The Single Best Strategy To Use For Paleo Diet Revealed
The Unadvertised Details Into Paleo Diet That Most People Don't Know About
The Leaked Secret to Paleo Diet Discovered
Warning Signs on Paleo Diet You Should Know
The Most Overlooked Solution For Paleo Diet
Unknown Facts About Paleo Diet Made Known
Unanswered Questions Into Paleo Diet Revealed
Rumored Buzz on Paleo Diet Exposed
Detailed Notes on Paleo Diet In Step by Step Order
The Untold Story on Paleo Diet That You Must Read or Be Left Out
Hidden Answers To Paleo Diet Revealed
Instant Solutions To Paleo Diet In Step by Step Detail
Unanswered Questions on Paleo Diet That You Should Know About
Confidential Information on Paleo Diet That Only The Experts Know Exist
Shortcuts To Paleo Diet That Only A Few Know About
The History of Paleo Diet Refuted
And More…
Sample Extra Paragraphs
Use spices effectively and wisely. Since the paleo diet does not allow for sauces and other refined products, you will need to learn how to use spices effectively to season your food. One of the major causes for people giving up the paleo diet is due to the fact that the food tastes bland.
————————————
Pre-cook Your Food – The best way to stay focused on your paleo diet will be to pre-cook your food in batches and keep them in the refrigerator. It is advisable to cook for 3 or 4 days in advance. Preparing paleo meals is fast and easy. So, you can do this once or twice a week.
————————————
The paleo diet derives its philosophy from the fact that people who inhabited the earth more than 10,000 years ago did not eat any processed food yet they were healthy and not obese. They did not experience modern-day diseases like arthritis, cardiovascular complications and cancers.
————————————
In the past, human bodies were wired to cushion themselves against any form of food scarcity. That was the beginning of the attraction to fatty foods and other high calorie yielding foods. The present problem is that, technology and large-scale farming brought about by the agrarian revolution has made it possible to create excess food. People nowadays eat because it feels convenient to eat and not because they need the extra calories, in the foods that they take.
And More…
Other Details
- 12 Part Autoresponder Email Messages (TXT, DOC)
- Squeeze Page (HTML, PSD)
- Ecover (PSD, JPG)
- Affiliate Programs List
- File Size: 74,100 KB