Salespage Snapshot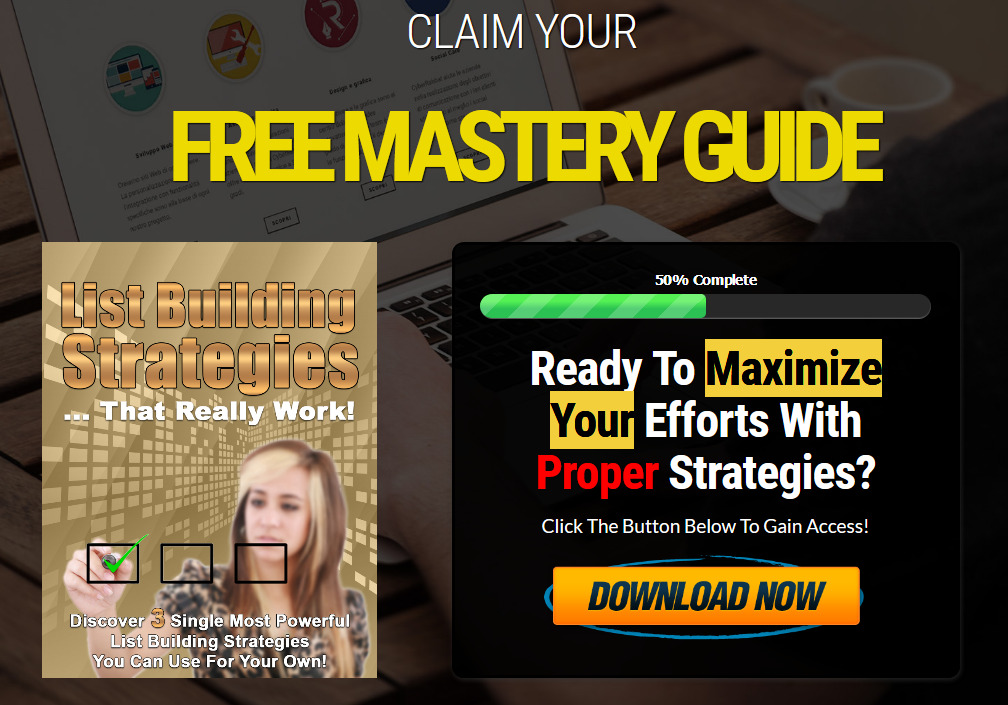 >> Click Here To View Sales Page...
Table of Contents
List Building – Your Bread & Butter 5
Leveraging on Joint Ventures 8
Invest Regularly in Advertising 12
New Wave – Give Away Events 15
Sample Content Preview
Invest Regularly in Advertising
Those who choose to make their living by sailing on the rough and tumble sea of Internet marketing are, by nature, confident, self-assured people who well understand that investment in many things is a necessity for survival.
They invest in themselves by learning all they can about the products and services in their niche market. They invest their time, their effort, their energy, and, yes, their money in order to achieve success. You are obviously one of those brave souls.
The one investment that every Internet marketer must invest in regularly in order to achieve success is advertising. The old saying, 'Advertising Pays' is as true today as it was when those words were first uttered by a long forgotten marketer of years gone by. It really does pay to advertise. You stand to gain more by advertising than what the advertising costs. That is always a given.
When we talk about advertising and Internet marketing, we are speaking of advertising by a variety of methods that include both free and paid for advertising. All of the methods that we will discuss here are effective ways to advertise.
Some of them will require only an investment of time while others will include an investment of money, as well. Advertising, however, is essential. Advertising should be at the top of the 'to-do' list of every Internet marketer every day of the week.
First, let's discuss paid-for advertising. The fact is you are going to have to invest some money in advertising your product, your service, your website or, even, your free membership website if you are to have any success at all on the Internet. The Internet is a huge place. There are millions of websites. You are going to have to tell people where to find you in this enormous world of the Internet.
When people are surfing the Internet looking for a particular product, service or just information, they always start that search by plugging the key words about their search into a search engine. Search engines are like keys that open the door to information about where to go on the Internet to find what is being searched for and you (your product, your service or your website) will need to be on the other side of that door when it is opened.
This is where PPC (Pay Per Click) advertising comes in. Your advertising budget needs to include a certain amount for PPC advertising. You can set a budget with search engines and limit the amount you will pay each day for PPC advertising. Set that limit as high as you can to begin with and then increase it as you soon as possible.
Another very effective method of paid advertising is to take out advertisements in E-zines that are related to the products and services that you sell. There are thousands of people who regularly receive E-zines in their inboxes about subjects that are near and dear to their hearts.
Most E-zine subscribers actually read the E-zines that they subscribe to and if you have an advertisement in it, they will see it. Advertising in E-zines is a very effective, as well as, cost effective way to advertise.
Usually you can place advertisements in E-zines that have a very large subscriber list for $30 or less per mailing. The beautiful part is that you are advertising directly to your best prospects.
Now, let's discuss some ways in which to advertise that don't cost any money. Paying for advertising doesn't take much time but free advertising requires a time investment. You will always pay something for advertising… either money or time both of which are in short supply when you are an Internet marketer.
These free advertising methods that we will discuss are possibly even more valuable than the paid for ones that we have discussed before because they will not only advertise your product, service or website but, in addition, they will help to build your visibility and your credibility in your niche market.
The first method of free advertising is to write articles and E-Books then submit them to article banks and E-Book repositories for other website owners or E-zine publishers to download and use for free. Articles should never be longer than 300 to 400 words and E-Books don't need to be longer that 10 to 12 pages.
When you submit an article or an E-Book, you need to include a resource box that includes your name and a link to your website. A link to your website should be on every page of an E-Book. Articles and E-Books need to have attention getting titles that contain key words and the articles and E-Books themselves need to be key-word rich.
The second method of free advertising is to join and post to blogs and forums that are dedicated to topics which relate to the products and services that you sell. Be aware that posting to blogs and forums takes time… and a lot of it. You will probably spend at least one hour per day posting to three or four blogs or forums.
Other Details
- 1 Ebook (PDF), 16 Pages
- 1 Squeeze Page (HTML)
- 3 Ecovers (JPG)
- Source Doc, Source PSDS
- Year Released/Circulated: 2018
- File Size: 10,464 KB
License Details:
[YES]Can be sold
[YES]Can offer Resell Rights
[YES]Can offer Master Resell Rights
[YES]Can resell Private Label Rights
[YES]Can be edited
[YES]Can put your name as the author
[YES]Can be broken down into articles
[YES]Can be used as web or e-zine content
[YES]Can be added intomembership sites
[YES]Can be sold in any format
[YES]Can be packaged
[YES]Can be offered as a bonus
[YES]Can be sold on auction sites
[YES]Can be published offline
[YES]Can be given away (in any format)