Salespage Snapshot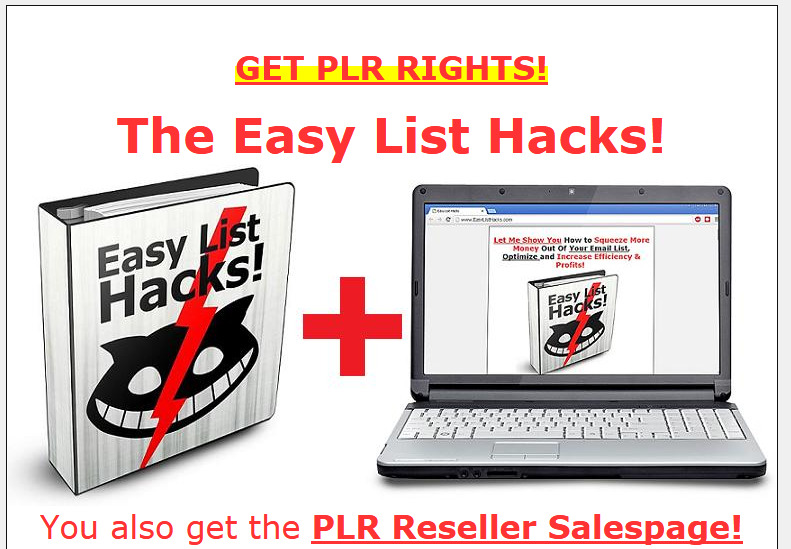 >> Click Here To View Sales Page...
Table of Contents
Chapter Content Introduction Page 3
Hack #1: Fortune Favors The Brave Page 5
Hack #2: Niche Selection and Promotion Page 10
Hack #3: Text or Html Emails? Page 13
Hack #4: Tracking & Split Testing Email Blasts Page 15
Hack #5: Subject Lines That Kills! Page 22
Hack #6: Easy Autoresponder Series For Any Niche Page 25
Hack #7: Reducing Email Marketing Costs Page 29
Closing Words Page 32
Sample Content Preview
My idea of promoting an offer to my list is that I am simply recommending something that can be useful to them. I don't use the word "buy" or try to sound to aggressive in getting people to buy the product.
I simply recommend by saying something like this, "Hey, I came across ABC, it's a brilliant way to XYZ, if you are interested, learn more here…".
Below is a copy of one of my promo emails, this particular promotion made me a whopping $500+ in affiliate commission.
Hello, Out of the blue, a fellow warrior name Jonathan, just sent me a review copy of his $2000/day WSO called Elite Landing Page. At first, I didn't think much of it, since I've always built my own LP anyways. But then I was in for quite a surprise! The quality of the landing pages and the techniques used to drastically improve the conversion rates were absolutely astounding. NO KIDDING! Check Out John's Beautiful Salespage Here and You'll Instantly See Why His Landing Pages Converts Like Hot Cakes: ==> http://www.howtowebmaster.com/promo/elitelp.php The Entire Elite LP Course Contains: – 3 Ebooks covering different ways to use dynamic landing pages (PPC, PPV, Media Buying) – 3 Videos (step by step) – 3 Case studies (3 complete landing pages with dynamic scripts for each paid advertising venue) – Dynamic Landing Page checklist – 85 Landing pages – 25 squeeze pages If you're doing PPC, or use any kind of paid traffic, and want to take it to the next level with quality built landing pages, this is a very good LP course with case studies you can model after. ==> http://www.howtowebmaster.com/promo/elitelp.php Regards, -Leon Tran Look at how I simply just recommend this product and not trying too hard to sell anything. I didn't tell my subscribers to click the link and buy, I told them to go check out the landing page and see how brilliantly it was created. Lastly, I told my readers to go view this product only if they are indeed interested. Again, this is so I don't come off as selling too aggressively. Overall, always try to recommend quality products to your email list. This way, everyone wins: you make money, the seller is happy, and your subscriber is happy with purchasing a quality product. Be BRAVE! My fellow internet marketers! Do not be afraid of your list and send out those promo emails!
Hack #2: Niche Selection and Promotion
It does not matter what niche you are in, it is always good to have a list of subscribers to promote to. But when picking a new niche for building a brand new email list, you want to pick a niche that has plenty of products that you can use for promoting to your list later on.
For example, in the "weight loss" niche, you can promote things like: yoga, belly fat, dieting, new weight loss system, weight loss gadgets, face fat reduction, cellulite treatments, muscle building, anti-aging creams, pills, and just about any beauty products imaginable.
Okay… but what if you have an email list for a micro niche or just some niche that doesn't seem to have a lot of products for promoting to your list. For example, let's say an email list full of subscribers that are interested in… "learning to play the piano".
You need to get into the mindset of just a regular piano player that is subscribed to your email list. After all, it's a regular person that wants to learn something new and has subscribed to your list to get more information. That willingness to learn is how we can recommend new offers to your subscribers.
Thinking outside the box is the key when sending out promo emails to this piano player list. But first, you'll probably want to promote the obvious offers such as: piano tutorial systems, piano keywords (amazon & ebay), piano sheet musics, piano tuning guides, and anything else piano related.
But eventually, there are just not a lot of offers relating to piano. So you need to expand (think outside the box) and promote general offers or any offers that you may think piano players may be interested in. Or you can promote in a way that can get the subscribers to think that they somehow may actually want this product by relating it to the piano.
For instance, how about promoting a "how to sing product" to your piano player list. In your promo email you can craft your message like this, "So now that you can play the piano, how about taking it to the next level and learn to sing with an amazing pitch like a pro. It's the perfect combination and now you can separate yourself from all of those other… piano players that can't sing while playing the piano."
So you see… the subscribers signed up to your list to learn about playing the piano. But now you can recommend a "how to sing" offer, and suggest to them that it is good to be able to play the piano and sing as well.
You can apply this (outside of the box) method with numerous other offers as well, how about… a yoga product. That's right! You can tie a product like yoga to piano players. I would craft my promo email like this, "Practicing piano all day while sitting in one position can be quite unhealthy, and can produce aches and pain all over your body. Some piano players do just 20 minutes daily of yoga on the side to help stay fit while easing the aches and pain away."
The main idea for HACK #2 is that it doesn't matter what niche list you have, there are always products you can use to promote with to your list. You just need to craft a promo email that can somehow relate a different product to your niche. Believe me, there are a lot of products that can be matched with just about any niche. Hack #3: Text or HTML Emails? I read a lot of mixed messages from email marketing gurus on whether to send out straight text emails or HTML emails to your list. But I'll tell you this… it's a modern world now, and probably 99% of your subscribers can view both text and HTML email messages. However, if I can only choose one format over the other, I would definitely choose HTML all the way! Why use HTML email messages? Look at all of the big companies that send out emails nowadays, they all use flashy HTML emails. Companies like: Clickbank, Amazon, eBay, Groupon, and etc…
Other Details
- 2 Ebooks (PDF, DOC), 32 Pages
- 1 Salespage (HTML)
- Year Released/Circulated: 2018
- File Size: 1,182 KB
License Details:
[YES] Can give away this ebook for free
[YES] Can change ebook content, graphics
[YES] Can rebrand and add your name as the author
[YES] Can be used for personal use
[YES] Can be sold for personal use
[YES] Can sell Resell Rights to the full package
[YES] Can be packaged with other products
[YES] Can be offered as a bonus with other things you sell
[YES] Can give away individual courses to build a list
[YES] Can be added to paid or free membership sites
[YES] Can sell Master Resell Rights to the full package
[YES] Can sell PLR rights