Salespage Snapshot: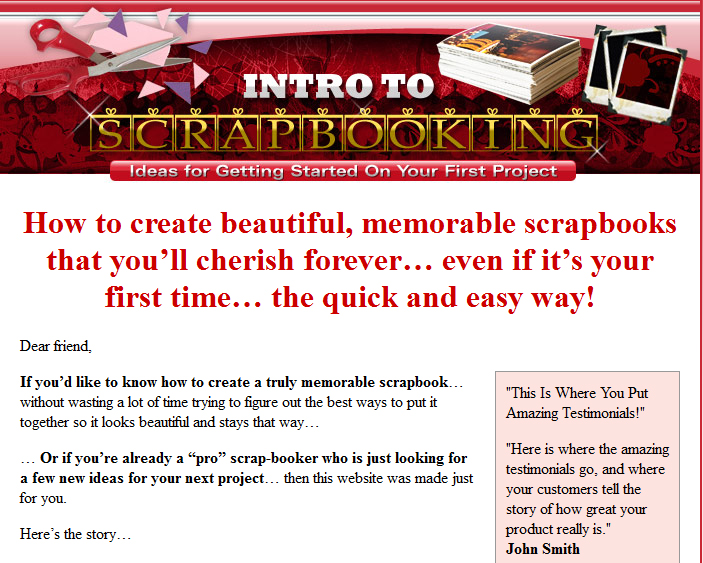 >>> Click Here To View Full Sales Page…
Table of Contents
Intro to Scrapbooking .6
Ideas for getting started on your first project 6
Scrap books …. What are they? .6
History of Scrapbooking 7
How do I start Scrapbooking? .8
Getting started 9
Getting children started on scrapbooking .9
Using Photographs .12
Cropping and Matting photos 13
Cropping 13
Matting 13
Tags and Trimmings 14
Accessories .15
Papers you can use 16
Stickers 17
Using tassels .18
Getting furniture for your scrapbooking .19
Layout .21
Beautifying the scrapbook .23
Covering the Scrapbook 24
Scrapbook as an Addiction 25
Over the years. .26
Layout ideas and themes 27
Some theme ideas 28
Theme Halloween .28
Spooktacular night 28
Our LIL' pumpkin 28
The haunted house .29
Theme Christmas .30
New Born Baby Girl Theme .32
Daddy's little girl layout 32
In my daughter's eyes layout 32
High School Graduation Theme .34
Travel Scrapbook .35
Scrapbooking Digitally 36
Using the Freebies 37
Online Scrapbooking 37
Scrapbooking Software's .39
Advanced Scrapbooking using Paper Pulp 40
Techniques to create professional looking software .42
Hand Photo Colouring 42
Stencil Plastering .42
Sewing your pages .43
Embossed Vellum Layover .43
Digital Scrapbooking 44
Using Chalk in your layout .44
Video Scrapbook 46
Art of arranging photos in your Scrapbook 47
Host a scrapbook party 49
Budgeting your Scrapbook .50
A room for Scrapbooking .51
Rainy day Scrapbooking with Children 52
Scrapbooking your Family Tree .54
Crafting a Photo Book for your Little One 55
Creating a Memory Scrapbook 56
Keepsake Scrapbook Specially Designed .57
Mini Scrapbooks using Ziploc Bags 58
Scrap Quotes .60
Storing Scrapbook Materials .64
Sympathy Scrapbooking .65
Scrapbooking as a Business .66
Direct Sales Consultant 67
Sample Content Preview
How Do I Start Scrapbooking?
The most basic thing that you will need before you commence with assembling your scrapbook will be the album; there is any number of these available in the market today. You can select one that will be most appropriate for your theme.
Other than this you will need a good pair of scissors, glue, pictures, photographs, clippings from the newspaper, and any assorted decorative bits and pieces which will enhance the beauty of the scrapbook. There are many other things which are indispensable to a scrapbook maker.
An exact knife is a must have for anyone making a scrapbook, since everything can be cut into any shape. It is devised in such a way that when the tip gets blunt, it is broken off and a new sharp tip is exposed.
Care has to be taken while using this knife, you should always cut the desired picture after placing it on a mat or newspaper, or else you will end up cutting things which you had no intentions to cut!!! There are a variety of glues such as glue dots, Xyron and two-sided tapes available in the market, do a proper survey and pick up what suits you most. Tweezers though unconventional are very practical to pick up t
It is worth taking the trouble to look for albums which have acid free, lignin free pages; they enhance the life of the scrapbook. They prevent the paper from turning yellow and disintegrating.
Getting started
At the onset you must have the theme for the scrapbook you want to make. You can make it as simple or as complicated as you want to. Scrapbooks can be given as gifts for baby-showers, wedding anniversaries, weddings or birthdays. They could be made to immortalize special moments from the lives of your favorite actor, sportsperson, grandparent or child.
Small details that are special to these people can be a part of this book, which will eventually be symbolic to them. These little details can be decorated with trimmings, dried flowers, by fingerprints or anything, which is special to the theme.
Other Details
- 30 Articles (TXT)
- 2 Ebook (PDF, RTF), 68 Pages
- 7 Part Autoresponder Email Messages (TXT)
- 1 Salespage (HTML, RTF)
- 3 Ecovers (JPG)
- File Size: 122,463 KB