Salespage Snapshot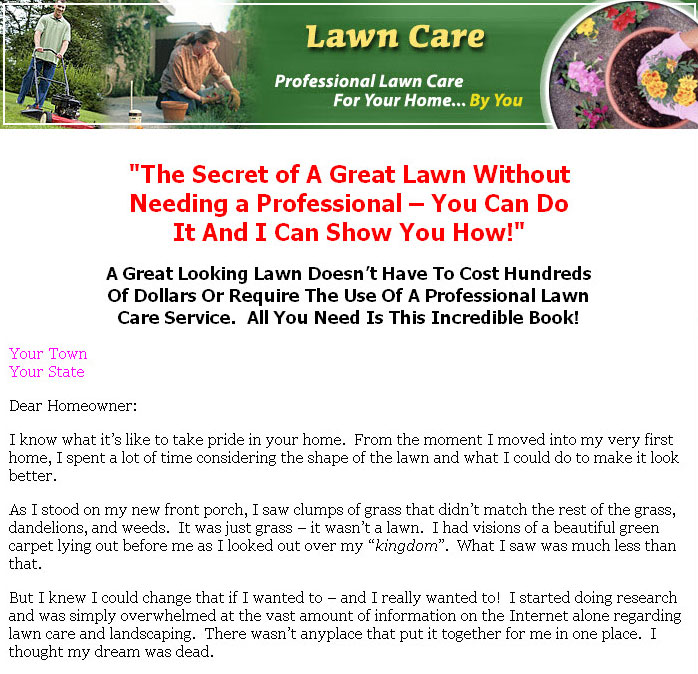 >> Click Here To View Sales Page...
Table Of Contents
Introduction                        3
Starting from Scratch                    4
Grass Varieties                        6
Best for Shady Areas                7
Best for Hot Climates                7
Best for Cold Climates                8
Best for Drought Resistance            8
Best for High Use/Traffic Areas        9
Best for Low Maintenance Needs        9
Considerations for Shady Areas        10
Planting the Seeds                    11
Planting an Existing Lawn            11
Planting a New Lawn                13
Watering                            13
Fertilizing                            14
Weed Control                        17
Crabgrass                        19
Bentgrass                        20
Dandelions                        21
Ground Ivy                        23
Moss                            24
Mushrooms                        25
Bermuda                        26
Chickweed                        27
Dallis Grass                        28
Plantain                        29
Patch Diseases                        30
Aerating Your Lawn                    33
Choosing a Mower                    34
Reel Mowers                    34
Electric Mowers                    35
Mulching Mowers                    36
Rotary Mowers                    37
Mowing the Lawn                        38
Grass Clippings – Keep or Toss            41
Leaf Removal                        42
Caring for Your Mower                    42
Tuning It Up                    43
Winterizing                        46
Landscaping                        47
Building a Waterfall                    55
Conclusion                            60
Ebook Sample Content Preview
INTRODUCTION
Men have had fights over it.  It's a battle of suburbia that has yet to be won.  They all compete for the coveted prize with the best machines made by man.  Lawn care has actually become a competition these days.  Do you want a lawn to make your neighbors jealous for?
Lawns, yard, and grass: everyone has a name for that green space, but what it really is, is your own little piece of the earth. You own it, you take care of it, and you're responsible for it. It needs you! And, you need it.
Our lawns have become a major player in our eco-system, after all it covers about 50 million acres in just America (2003 estimate). That means what you do is multiplied thousands of times over, every day in our country. So it's important that you do things right and stop flying by the seat of your pants just because that's the way you've always done it.
Besides keeping your house from sinking into some dark abyss, your lawn is an important part of our environment.  Environmentally, turf grass reduces carbon dioxide emissions, mitigating the heat island effect commonly found in our urban environments.
Other Details* Sales Page:
Included, HTML
* File Format:
MS Word Doc, PDF
* Included Graphics:
Ecovers, PSD
* Number of Pages:
61
* Download File Size:
5,111 KB