Salespage Snapshot: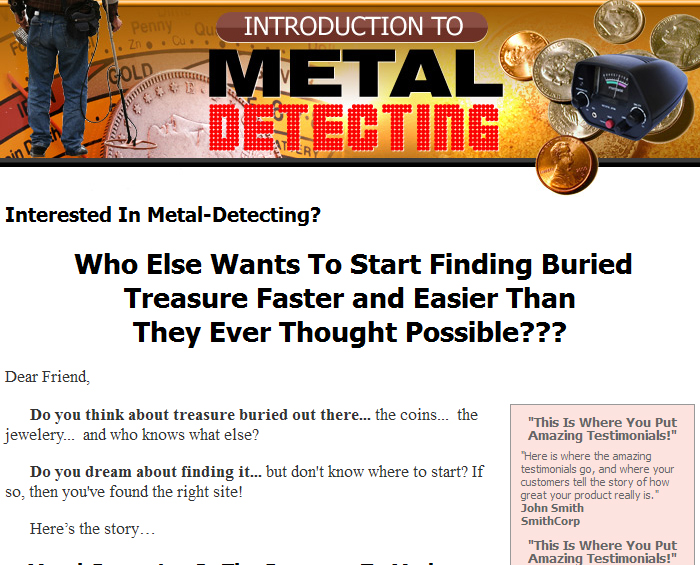 >>> Click Here To View Full Sales Page…
Table of Contents
Introduction to Metal Detecting.
Chapter 1.
An Introduction to Metal Detecting Equipment.
Types of Metal Detecting.
Coin Shooting.
Relic Hunting
Gold Prospecting
Beach Hunting
Treasure Hunting
Scuba Detecting.
Water Hunting.
Metal Detector Features
Depth
Target
Ground Balance
Detection Mode
Sensitivity.
Display
Other Equipment
Pinpointers
Coils
Headphones.
Diggers.
Scoops
Chapter 2.
How to Use your Metal Detector.
Basic Adjustments
Discrimination.
Notch Discrimination.
Ground Balance
Sensitivity.
Visual Discrimination Indication.
Non-Motion and Motion.
Audio Threshold.
Hunting in Trashy Areas
How to Use the Right Swing.
Using a Pinpointer
Chapter 3.
How to Get Started Making Finds.
Beach Detecting.
Saltwater Beach Detecting
Chapter 4.
Researching Sites
Map Research
Obtaining Older Maps
Interviews.
Photographs.
Doing Research on Foot.
Roadways.
Stone Walls.
Wildlife Trails.
First Growth Trees
Vegetation and Plants
Structures.
Historical Markers.
Chapter 5.
Legal Matters.
United States Government Property.
The Antiquities Act of 1906
The 1966 National Historic Preservation Act.
The 1979 Archaeological Resources Protection Act
Ideas for Sites to Search.
National Forests.
Obtaining Permission to Hunt on Private Property
Sample Permission Letter.
Liability Waiver Form.
Glossary of Terms
Sample Content Preview
Chapter 1
An Introduction to Metal Detecting Equipment
One of the most frequent questions that many people new to the idea of metal detecting have about the hobby is which metal detector is best to get started with. If you are thinking of purchasing a metal detector, there are a few factors to keep in mind when choosing your equipment.
The first factor that should be considered is your experience with metal detecting. Have you used a metal detector in the past? If this is to be your first metal detector and you have not used one in the past, think about whether you would prefer a detector that is top of the line that has all of the features so that you can make use of them as you gain experience or whether you would prefer to start out with something simple and then move on to an advanced detector as you gain experience.
You should also think about the amount of time that you plan to devote to metal detecting. This is actually quite important because if you plan to spend a lot of time on your new hobby then you may find that you will do better with a metal detector that has several features. If you only plan to go metal detecting on the weekends and do not plan to spend a lot of time at this hobby then it may not make much sense to you to invest a lot of money in the purchase of a metal detector at this point. Keep in mind; however, that many people have found that once they begin metal detecting they actually end up spending more time on their hobby than they had planned originally.
Budget is also a consideration for many people. The price of many metal detectors is often closely associated with the number and types of features the metal detector includes. A basic beginner metal detector will be able to provide you with plenty of opportunities for locating exciting relics, but if you think you might spend quite a bit of time on your hobby you could quickly be in the market for a new metal detector with advanced features.
When considering the amount of money that you plan to budget for the purchase of your metal detector, you should also keep in mind that you will need to budget for accessories for your metal detector as well, including items such as sand scoops, headphones with volume control, diggers, coils, etc.
In addition, you should consider where you will primarily be using your metal detector before you actually make a purchase. This is important because there are different types of metal detectors which are designs for detecting in certain environments. For instance, some metal detectors are best for searching for items such as jewelry and coins.
Other metal detectors are designed specifically for use on the beach or in water. The difference between the two basic types of metal detectors is that one type contains a meter display for use on land. A beach detector will not have this type of feature, but is designed to be safely operated in wet conditions.
Other Details
- 30 Articles (TXT)
- 2 Ebook (PDF, RTF), 37 Pages
- 7 Part Autoresponder Email Messages (TXT)
- 1 Salespage (HTML, RTF)
- 3 Ecovers (JPG)
- File Size: 1,441 KB