Salespage Snapshot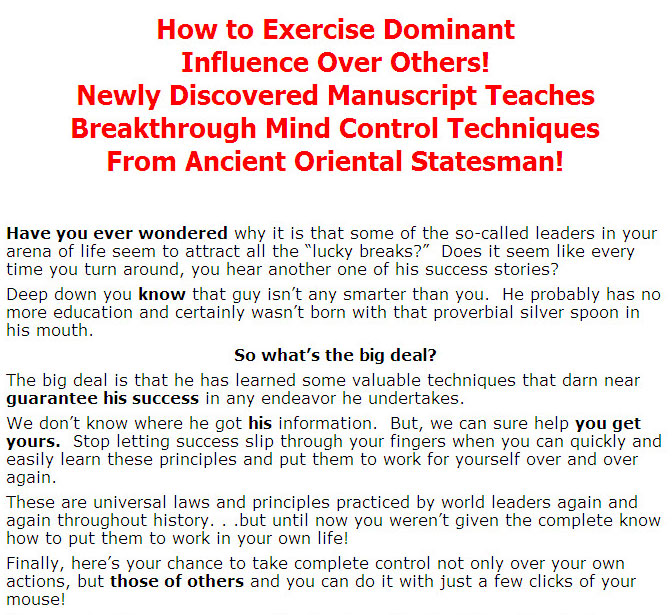 >> Click Here To View Sales Page...
Ebook Table Of Contents
-By Persuasion
-The Influence of the Eye
-Through Clearness of Speech
-By Setting Good Example
-By Decision
-By Rational Ambition
-By Perseverance
-By the Prestige Gained from Concentration
-By Confidence
-Acquisition of Dominating Power
PLR Ebook Sample Content Preview
BY PERSUASION
PERSUASION, Yoritomo taught us, clothes itself in two very different forms; the one in-vades the soul like the invisible molecules of a soothing balm poured from a kindly hand, and gently infiltrates itself throughout our sys-tems, communicating to us its virtues.
The other may be compared to the terrible wind of the African deserts. If, from the first hour one feels its burning touch, he has not known how to avoid it by shutting himself closely within his dwelling, every crevice and opening of which has been sealed, nothing can escape its attacks. The imperceptible sand drifts little by little into all corners of the house, and even reaches all parts of the human body.
However well protected we may be, it even penetrates closed lips and eyes, and soon this almost invisible thing seizes on every man and be-comes his constant preoccupation.
Evil persuasion is all the more dangerous because it knows how to clothe itself with the most attractive external attributes. That is what we meet in the guise of counselors whose words are always tempting, since they adopt the false appearance of solicitude. With earnest words and sympathetic smiles, these persons who almost always have nothing to do in life, try to spoil the lives of others without having a suspicion of their unconscious crime.
Other Details* Sales Page:
Included, HTML
* File Format:
MS Word Doc, PDF
* Number of Pages:
110
* Included Graphics:
Ecovers, PSD
* Download File Size:
1,802 KB