Salespage Snapshot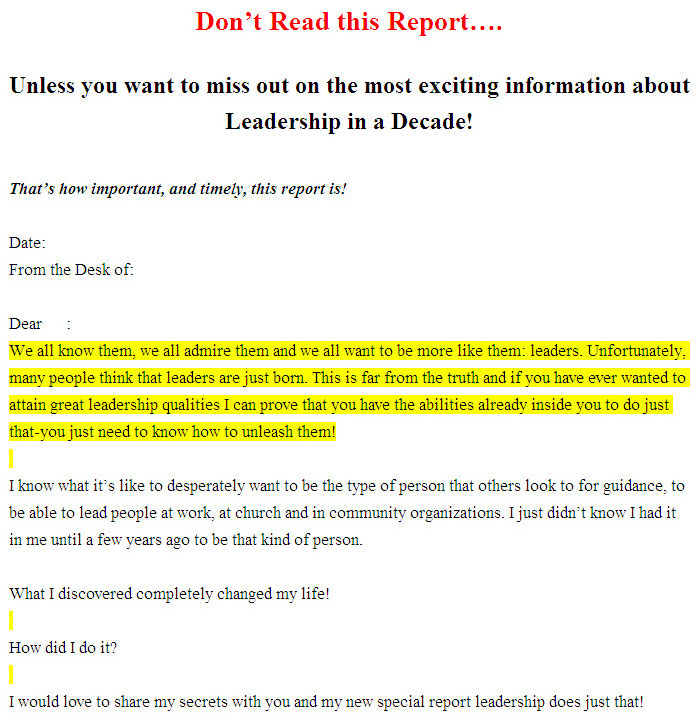 >> Click Here To View Sales Page...
PLR Ebook Sample Content Preview
Achieving Leadership Qualities at Church
How to Achieve Leadership Qualities
How to Unleash the Leader within You
Being a leader in church is hard at what time you have to deal with all the outside pressures from your community. Although, many people may not agree with you, that doesn't mean that you have to give up what you believe in. Rather it means you have to put forth greater efforts by reading bible scriptures, backing the truths, and delivering them to the listeners. Many churches will not use the bible while delivering ceremonies. This is not a good deal, since the bible speaks louder than any leader. In fact, the perfect example Jesus Christ is the ultimate leader of all times and the example we must follow.
The most influenced leader in the church is the pastor of the church. As a pastor, there is a lot of stuff that you have to do in relationship with the church and you have to balance that between the times that you have with your family. You also must take care not to deliver untrue information, or information that is based on your own beliefs rather than the scriptures. Delivering false information will put you on the judgment steps of God's door. Therefore, if you are misleading others you will take responsibility for self and the ones you are trying to lead on Judgment Day.
As a leader of a church there is a lot that is expected of you, I have listed some of the things that a pastor has to participate in to achieve leadership qualities.
1) The head of a congregation must take full responsibility of his actions and words, as well as take responsibility of his listeners.
2) Leaders at church have to be at church every time that the doors are open on time.
3) A church leader has to participate in church events
4) A church leader has to be there for the congregation
5) A church leader has to visit the members of the church who are not able to actually come to church because of an illness or because they are not physically able.
6) A church leader has to take part in community events
As a good church leader you will have to participate in all of these activities however, it is up to you how you handle all of this within your own schedule. You can improve your qualities of being a good leader through taking part in these activities, yet you must have evidence to back your truth.
Other Details* Sales Page:
Included, HTML, MS Word Doc
* File Format:
MS Word Doc, PDF
* Number of Pages:
66
* Included Graphics:
Ecovers
* Download File Size:
524 KB