Features:
* 52 Weeks Pre-written Newsletters
This isn't just ANY private label content. These newsletters are written to effectively promote best-selling affiliate products for an entire year. All the work is done for you.
* List of Top Affiliate Programs
Comes with high-paying, high conversion affiliate programs from Clickbank, Commission Junction, Shareasale, and others – just sign up! Once you've got your affliiate links, you put them into the content and bam – your newsletters are branded and ready to make you money!
* Opt-In Template For Each Niche
Pop in YOUR autoresponder information, and you're ready to upload this page to any domain and start collecting leads!
Opt-In Template Preview: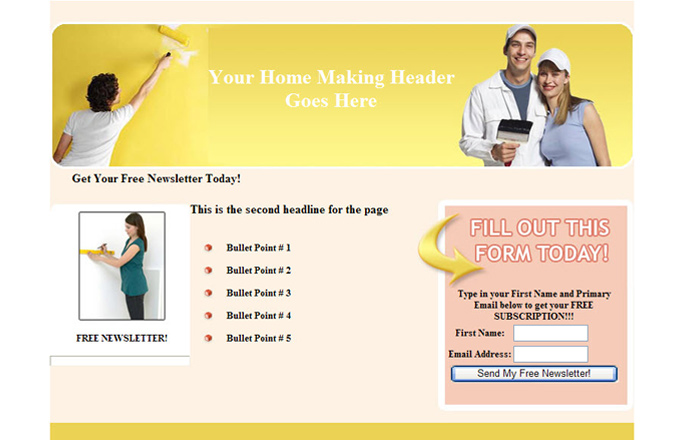 Autoresponder Message Titles:
– Weekly Grocery Shopping
– The Very Modern Homemaker
– Homemaker Hobbies
– Homemaking And Pet Care
– Homemaking — Then And Now
– When Homemakers Entertain
– I Am A Homemaker — No Apology Needed
– How Homemakers Curb Impulse Buying
– Homemaking — All Work, No Paycheck
– Homemaking Hints From Heloise
– The Many Hats Of A Homemaker
– Homemaking Is Not Unemployment
– Homemaking Diva — Martha Stewart
– Homemaking And The Single Parent
– Keep Homemaking Interesting
– The Art Of Homemaking
– The Importance Of Family Time For The Homemaker
– The Art Of Scheduling For Homemakers
– Babyproofing Your Home
– The Lonely Homemaker
– Homemaking — Dealing With Un-neighborly Neighbors
– Famous Quotes And Quips About Homemaking
– It Is Impossible To Be JUST A Housewife
– Homemaking Sanity Saving Tips
– Mother's Day Out
– Baby And Child Care
– Planning A Family Vacation
– Overcoming The Boredom Of Homemaking
– Homemaking — The Balancing Act
– Managing Household Finances
– Family Financial Records
– Homemaking After Retirement
– Tracing The Family Tree
– The Corporate Homemaker
– Homemaking For Holidays
– Homemaker And Breadwinner
– The Elastic Homemaker
– Caring For Elderly Parents
– Social Obligations Of The Homemaker
– Homemaking For Young Singles
– The Organized Homemaker
– Civic Obligations Of The Homemaker
– Homemaking Is The Ultimate Career
– Choosing Between A Paycheck And Homemaking
– Continuing Education For The Homemaker
– Ways Homemakers Save Money
– Deciding To Be A Full-Time Homemaker
– Homemaking Time-Saving Tips
– Homemaking And Gardening
– Ways Homemakers Make Money
– How Homemakers Keep Priorities Straight
– Making A House Into A Home
Sample Affiliate Program Preview:
Home Decorators
The Home Decorators Collection is "one of the nation's leading online home decor retailers." Earn 7% commission on an average order value of over $340 ($23.80) or more. Your earnings are increased with 10% commission on New Lighting Arrivals and 20% on Featured Items.
Better Homes & Gardens
Receive commissions by selling a variety of home and garden related items. Commission structure is as follows: Earn 30% for magazine subscription sales; Earn 10% for product sales; Earn 20% for eProject sales; Earn 20% for Annual Book sales.
WalMart
The Walmart.com Affiliate Program allows you to refer customers from your website to Walmart.com and earn commissions from qualifying sales. Program administered through LinkShare. You must first sign up for a LinkShare account, then create your Walmart Affiliate account.
MASS Wholesalers
MASS Wholesalers is formerly known as Gifted Treasures. Their main goal is to offer consumers affordable yet unique gifts from varied countries. Their focus and fascination with exotic rarities has driven the company thus far; MASS wholesalers offers an expanded inventory from the original. Affiliates many choose between promoting the entire site or picking and choosing the product pages that best suit a site. Commission of 10% for every sale generated.
CedarStore
The Cedar Store "Offers the Best Quality Outdoor Furniture which means more people buy from us – earning you more commission." Earn up to 8% for each sale; 30 Day Cookie Duration.
Uncommon Goods
This site combines the treasures of a specialty boutique, the great finds of a craft show, discoveries from a faraway bazaar, along with some enduring classics. The UncommonGoods affiliate program adds to that a great line of unique products. Earn 10% commissions on all orders, 30-day cookie duration, a dedicated, helpful affiliate team and a well-designed, high-converting website.
Other Details* No Of Messages
: 52
* File Format
: TXT
* Included Graphics
: eCover [PSD, JPG]
* Extras:
Squeeze Page
* Extras:
Affiliate Programs [PDF]
* Download File Size:
1,951 KB