Salespage Snapshot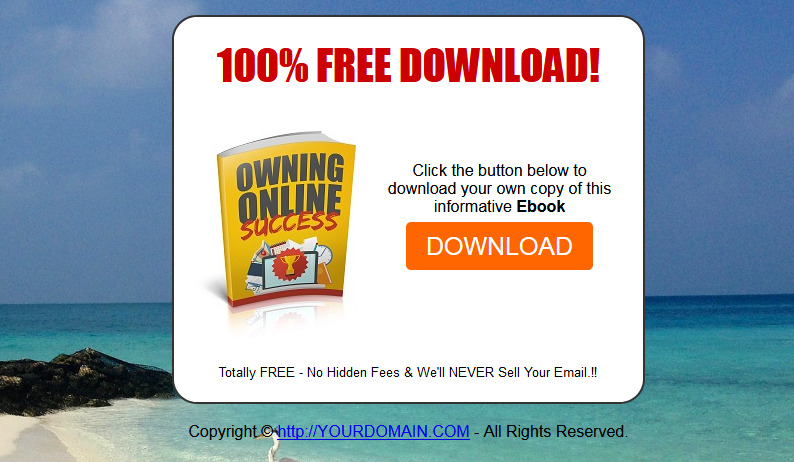 >> Click Here To View Sales Page...
Sample Content Preview
My Biggest Tip
This is my first point to every single online marketer out there. If I had five minutes to talk to every single person with an online business, looking for advice, this is what I'd tell them. Opportunities exist, all kinds of opportunities, things that might not have even been thought about. They're everywhere and if you want to be a great success, they need to be taken advantage of at every step. Don't get me wrong, I'm not saying you'll wake up tomorrow with an e-mail in your inbox that'll answer all your problems, but seriously, solutions and new partnerships are out there ripe for the taking, which brings me on to the next point. If you don't take them, someone else will. Don't wait for them to come to you, get out there and dig them up. This is how the big guys out there make things happen. They don't do things alone, they make their contacts, and they assist each other, whether it be an intentional, or purely circumstantial meeting, a big group of people are making sure each other is successful. Let's take just ten marketers for example. Each one has ten times more promotion power, ten times the chance of meeting new contacts to increase their chances further, ten times the income, and so on. You have to be able to see the power of this. Look at it this way. Imagine the room you're sitting in is painted pure white from top to bottom, floors and all. Now take a thin nib pen, and draw a small black dot on your wall.
This is you. Now take a red pen and place a small dot above yourself for each one of your friends, then a blue pen for each one of your friends, friends. Imagine this process repeating itself again and again, until your wall is full. See all those dots? Each one is an opportunity, each one a different person from a different walk of life that you have a chance to meet, learn from and become mutual successes. Whether they just give you a new perspective on things, or whether they give you a small helpful tip, or become your long term business partner, whatever it is, it's there, it's closer than you think and it's waiting for someone to pick up and take it to the next level, and at the same time become a success. If that's not you, it'll be someone else. Taking Success To each one of these people you have something to offer, as they no doubt have something to offer to you. Don't get me wrong, I'm not suggesting that you should go out and make friends with the whole of the world's population, but I really want to make it clear how these opportunities are there, and they're ready for you to take them in whatever form you wish. This is the most important thing that I believe I can show you. If you see something you like, don't sit back and say Ah that's pretty cool, jump up and grab it with both hands. It's yours to take right now. Don't hesitate. One more small analogy and I'll tell you a little story about how this very site came to be, and most likely many other sites and businesses before and after it. Imagine you're walking down an isle in a crowded shopping mall. Who was that person you just brushed arms with? Was it the guy that's going to tell his friends about your business and what you do, leading to five new customers? Is this the woman that's going to give you a free beauty consultation in the future? Is it the guy that's going to tell his friend about your business, and hook you up with a massive marketing campaign to their list? The potential here is totally massive. Hold up though, there's something very important that you should know about this connection making process, and that's that it's give and take. In a business sense, it's likely you'll be giving them something and they'll be giving you something valuable in return. This type of business has been around for so long now. All we're looking at is trades that are mutually beneficial to each party. One thing I would like to say before we go any further here, is that I'm talking in a purely business sense. I don't seriously look at everyone I meet as a new money making machine, and I don't advise anyone do that either. All I'm suggesting here, with these rather black and white examples, is that the opportunity is out there if you're willing to take it and the results can be huge. We'll be talking a little later about how to make contacts, and actual methods of doing so, simply because I believe that it's the path to total success in whatever you're trying to do. Even if it seems like you're getting a pay cut of sorts in the short term. Stop trying to do things on your own, and you'll see the results of a team effort, in long, medium and short term in terms of both profit and in terms of the advantages and new opportunity branches that you open up. Ok, time for a real world example for you, and keep in mind this may well happen to you, whether it's a similar situation or under totally different circumstances. How did this very product come to exist? It all started a while back in the year 2000 when I joined a membership website by two big name marketers. Nothing major really went on, at the time I was spending most of my business day just talking to new people and testing marketing strategies for my own membership site. Anyway, through just attending some of their consultations and participating in their community, as well as meeting these two big marketers, and several others, I also found myself in contact with big list owners and article writers. Bear in mind I wasn't actively seeking out any of this. Now at the time I didn't really see these people as an opportunity. I was just going with the flow really, meeting, greeting and talking to people in the same field of business as myself. Not only did I end up starting sites with two of these people, and almost starting one with another (we decided it wasn't a viable idea in the end), but three years later, here's me happily managing my e-zine and websites, along comes a call from one of them that introduces me to yet more contacts. "I got this guy here, you may have heard of him, but he wants to set up this cool sounding site, but I don't have the time for it. Are you up for that?" Sure I was, that sounds like a good new opportunity. Off I went, had a talk to with this new contact, who'd already been talking to the others I'd met through the same site. The result? This site, 500 sales within a few weeks, each paying us $500+ for our experience and to talk to our contacts first hand, and some real great new friends and business contacts to boot. Don't get me wrong, this is just an example. Forget how much is earned and through who and when, I'm not trying to boast here, but what I am doing is really hammering this home. If you take nothing away from this site other than this report, I'd be happy in knowing how many options you've opened up for yourself and will again in the future. As long as you've picked up this number one point that opportunities are out there. It's a give and take process, and always mutually beneficial.
I should also point out at this point that what I just gave you was one example, one single example that bred 10+ new hard-hitting contacts. This has happened non-stop since initial contact with people in my field of expertise. Just by talking, just by word of mouth, and just by me not trying to do everything on my own.
So let me ask you. Right now, are you working on your own? Are you open or closed to new contacts? Next time something comes up that sounds good to you, don't pass it by and wonder what would have happened if you said yes. Do it, take it up on the spot and see where it takes you. Next time something comes up that sounds good to you, remember this story, and your wall painted with different coloured dots. Think about where different situations could take you and your business, and most of all, in a business environment, never expect something for nothing. Kind of a mutual unsung rule, you scratch my back, I'll scratch yours. Remember also not to view everyone you meet as an opportunity for making wads more cash. I'm not about to test this, but I highly doubt it would do wonders for anybody's social life.
Where The Day Takes You
So when you wake up tomorrow, and every day from now on, and a new situation presents itself, think to yourself: Where could this take me? What new situations will arise right away, in a year, or even ten years later? Kind of like viewing your whole life up to this point as one big long line, one thing led to another, to another, to another, to another and so on. One thing I do need you to understand though to complete this concept is that you are in control. Just like you drew those dots connecting your friends, and their friends' friends on the wall earlier, if you were to pick any one of them, do you think you could get yourself acquainted with just a few words through other friends? Too right you could, but it's up to you to take those steps, to choose where your line goes next, and to select who you're going to meet, and ultimately whether or not you're working towards being a success. You want it to happen, you go and do it. Like I demonstrated earlier, understanding you have so much control, everything is in your hands and it's your choice is the first step to understanding how your going to move forward. This is totally relevant to your business, no matter how strange you may think this article is for an online marketing course. I need you to understand that you are in total control of what you're doing and what you're going to choose to do in the future. Always create opportunities for yourself, leave your options open and you'll never be left stuck in a rut, or left with an unsolvable problem. Remember, the above example is an extreme one. Your aim isn't to use everyone you meet. Your aim is to do business as effectively as possible.
Don't be afraid to get involved.
Other Details
- 25 Articles (TXT)
- 1 Ebook (PDF), 48 Pages
- 1 Squeeze Page (HTML)
- 2 Ecovers (PNG)
- Year Released/Circulated: 2018
- File Size: 2,120 KB
License Details:
[YES] Can sell and keep 100% of the sales.
[YES] Can edit the squeeze page.
[YES] Can be bundled into another paid package and sell at a higher price.
[YES] Can be used as a bonus to another product you are selling.
[YES] Can be sold in a Dime sale event.
[YES] Can be added into a paid membership site.
[YES] Can pass on the Master Resell Rights privilege to your customers.
[YES] Can be given away for free AGAINST an email address (lead generation)
[NO] Contents of the product can be edited, modified or altered.