Features:
* 52 Weeks Pre-written Newsletters
This isn't just ANY private label content. These newsletters are written to effectively promote best-selling affiliate products for an entire year. All the work is done for you.
* List of Top Affiliate Programs
Comes with high-paying, high conversion affiliate programs from Clickbank, Commission Junction, Shareasale, and others – just sign up! Once you've got your affliiate links, you put them into the content and bam – your newsletters are branded and ready to make you money!
* Opt-In Template For Each Niche
Pop in YOUR autoresponder information, and you're ready to upload this page to any domain and start collecting leads!
Opt-In Template Preview: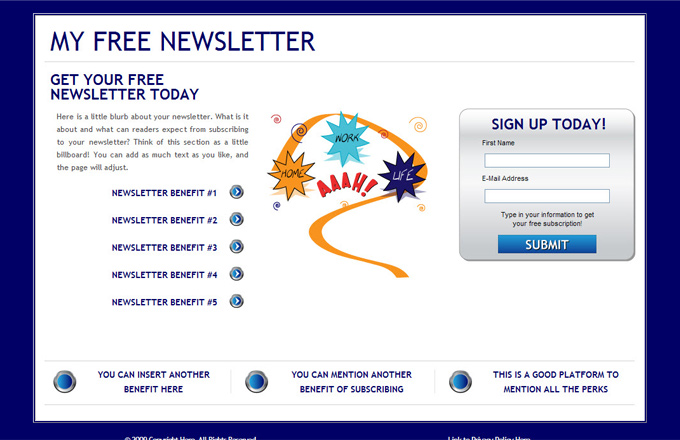 Autoresponder Message Titles:
– Spending Time With Animals
– Going On A Camping Adventure
– How To Take Up Skateboarding
– Biking Around The World
– Spending Time With Your Family
– White Water Rafting Fun
– Running Along A Glorious Path
– Gaming As A Path To Entertainment
– Going On A Worldwide Museum Tour
– The Swimmer's Way
– Learning A Foreign Language
– Starting A Building Project
– Enrich Your Mind By Reading
– How To Be A Film Connoiseur
– Cruising For Cars
– Wine: More Than Just A Drink
– Leading Activities With Children
– Do You Have A Mind For Electronics?
– Becoming A Hardcore Bird-Watcher
– Exploring Nutrition As A Pastime
– Cooking Up A Storm
– The Value Of A Good Hobby
– Listening To Music
– Traveling To Distant Regions
– The Weekend Entrepreneur
– Improving Your Home
– A Fashionable Hobby
– The Art Of Woodworking
– The Leisure Of Home Decorating
– Playing Golf And Loving It
– Fun With Arts And Crafts
– Organizing: An Unlikely Hobby
– Baseball: The American Pastime
– Take A Hike
– Writing Your Troubles Away
– Collecting A New Hobby
– Wrestling Your Way To A Good Time
– Volunteering In Your Free Time
– Decorating Your Home
– The Shopping Hobbyist
– Beauty As A Hobby
– Role-Playing Games
– Playing A Musical Instrument
– Cheerleading: The Newest Sport
– The Lost Art Of Frisbee
– Fun On The Volleyball Court
– Playing The Game Of Basketball
– Learning To Be A Gymnast
– Making Rollerblading Your New Pastime
– Ready To Sew?
– We Can Work It Out
– Getting Dirty In Your Garden
Sample Affiliate Program Preview:
Model Trains
Model Trains for Beginners – A Step-by-Step Guide To Save Time & Money. Sell this $27 Ebook which has a built in club membership for $27/mo. Affiliates can earn Up To $82.60.
Leather Craft
Leather Craft Secrets. Earn 60% Commission ($15.97) Promoting this leather craft guide for beginners.
Gardening
"Your Gardening Hobby Can Earn $4000/Month. Medal Winning Plantsman Reveals His Amazing Ways. Promote His Easy, Simple Ways Among Plant Lovers & Gardening Enthusiasts & Help Them Earn A Part Time Income Of $500-$1000/week." 60% Commission ($18.79)
Magazine Discount Center
Magazines for every type of hobby imaginable – 25 to 60% commission; 7-Day EPC over $71.00! Tracking Cookie lasts for 90 days after the initial clickthru; Datafeed available.
ScrapBooking
"Scrapbook is the leading online source for scrapbooking supplies on the web." Market to middle-aged women (age 25-45), mothers and brides. 10% Commission; 7-Day EPC of $15.92.
Black Cat Mining
Gold Prospecting, Rockhounding and Metal Detecting. Commission of 10%; 7-Day EPC of $16.00. 60-Day Cookie; Sales spikes during the Holidays, Spring, Summer, Father's Day and whenever the price of Gold goes Up!
Other Details* No Of Messages
: 52
* File Format
: TXT
* Included Graphics
: eCover [PSD, JPG]
* Extras:
Squeeze Page
* Extras:
Affiliate Programs [PDF]
* Download File Size:
3,080 KB