Salespage Snapshot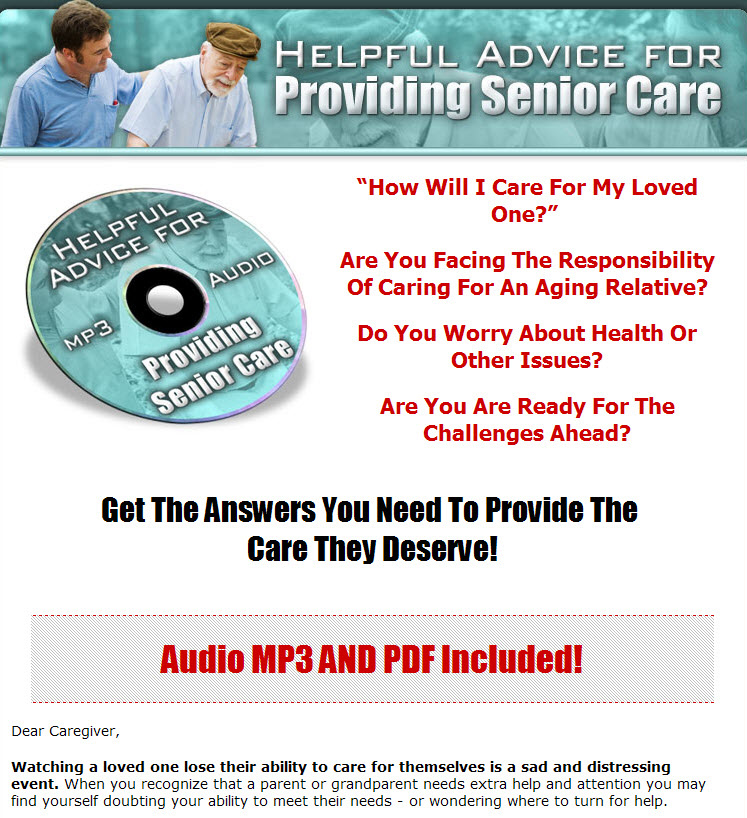 >> Click Here To View Sales Page...
PLR Ebook With Audio Table Of Contents
How to Assess a Senior's Need for Care    4
What Type of Care Can You Provide?    6
How the Whole Family Can Assist in Caregiving    8
How to Assist Independent Living    10
How to Create a Safe Environment for Seniors    12
How to Deal With Chronic or Serious Health Issues    14
Tips for Helping a Picky Eater    16
Tips for Ensuring a Good Sleep    18
How to Keep a Senior Involved in Social Activities    20
How Should Legal Matters be Dealt With?    22
How to Help a Senior Manage Their Money    24
How to Provide Emotional Support for Seniors    26
How to Support a Senior's Spiritual Desires    28
How to Talk to Medical Personnel on a Senior's Behalf    30
What Type of Living Arrangements You Should Consider    32
Ebook Sample Content Preview
How to Assess a Senior's Need for Care
Sadly, the day does arrive when our parents or other loved ones become too old and frail to look after themselves. When that happens, it may take some time before the grown children recognize the need for help. When you do realize that day has come, sometimes you feel inadequate and hardly know where to start.
The first thing you need to do is visit them in their homes and while there, take note of how they are coping – or not coping. Food, health care and warmth are all important areas to check out.  Personal hygiene and the standard of cleanliness in the home are also important, but as standards vary from person to person, you need to compare the present standards with the person's past standards rather than with your own or anyone else's.
Firstly, look inside the refrigerator and see if there is food there. Check to see the condition it is in. If everything looks old and moldy, start getting concerned that they need help, at least with meals. Or it could be that they simply need help with the shopping. Many seniors are quite capable of looking after themselves in their homes, but they cannot manage their shopping.
Check to see if the kitchen is in a reasonable state of cleanliness. One or two day's worth of dirty dishes in the sink is no cause for alarm. Dirty dishes stacked on all available surfaces are. The rest of the house needs to be checked for cleanliness also, particularly the bathroom and bedroom. If the bed sheets are obviously stale or dirty, then you know that your senior needs a little help with the washing and perhaps with the housework.
The senior's personal health and hygiene is of great importance. Can the senior manage to go up and down steps? Do they need help getting in and out of the bath or shower? Do they suffer any kind of disability or ongoing health problem such as heart disease or diabetes? You won't be able to get health information from doctors or health care providers due to the privacy act, but they will usually tell you themselves, or you can notice what medication is sitting on the bench.
One of the best ways to find out what your senior needs is to simply ask them. Not all seniors like to admit that they do need help of course, so you still need to be aware of what the surroundings tell you. If things are in a dreadful state, then they obviously cannot manage. If everything looks clean and tidy, with fresh food in good supply, then you can stop worrying…
Other Details* Sales Page:
Included, HTML
* File Format:
MS Word Doc, PDF
* Number of Pages:
33
* Included Graphics:
Ecovers, PSD, JPG
* Download File Size:
36,912 KB