Halloween PLR Autoresponder Messages Features:
* 52 Weeks Pre-written Newsletters
This isn't just ANY private label content. These newsletters are written to effectively promote best-selling affiliate products for an entire year. All the work is done for you.
* List of Top Affiliate Programs
Comes with high-paying, high conversion affiliate programs from Clickbank, Commission Junction, Shareasale, and others – just sign up! Once you've got your affliiate links, you put them into the content and bam – your newsletters are branded and ready to make you money!
* Opt-In Template For Each Niche
Pop in YOUR autoresponder information, and you're ready to upload this page to any domain and start collecting leads!
Opt-In Template Preview: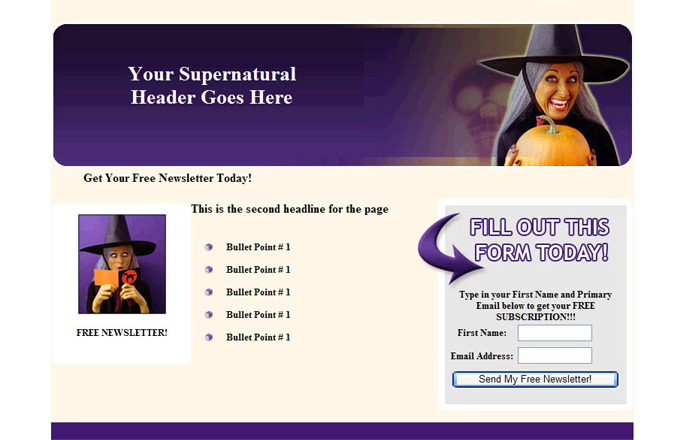 Autoresponder Message Titles:
– The Dog Meadow Lights
– The Occult
– Halloween Superstitions
– The History Of Halloween
– Witchcraft
– The Legend Of La Llorona
– Four-Leaf Clover Superstitions
– Visitors From Other Planes And Planets
– Walking Under A Ladder Superstition
– Witch's Halloween Spells
– Halloween Movies
– Halloween Monsters
– Alfred Hitchcock
– Trick Or Treating
– Halloween Parties
– The Vampire's Ghost Of Guadalajara
– Halloween Activities For Children
– CDisgusting Halloween Party Food
– Halloween In Fiction
– Devil Worship
– Jack O' Lanterns
– Halloween Around The World
– Wicca And Witches
– Ouija Boards
– Goblins
– Halloween Candy Corn
– Halloween Costumes
– All Saints Day And All Souls Day
– Christianity And Halloween
– Werewolves
– How To Tell A Ghost Story
– Broken Mirror Superstition
– The Paranormal
– Ghosts
– Ghosts In The Tower Of London
– The Salem Witch Trials
– Is There Proof That Poltergeists Exist?
– Halloween Symbols
– Halloween Safety
– A Haunted House
– Halloween Decorations
– Vampires
– Ghostly Orbs
– Black Cat Superstitions
– The Haunted UT Tower
– Unlucky Number 13 Superstition
– Southern Superstitions
– The Unexplained
– Ashmore Estate
– The Ghosts Of Mammoth Cave
– Octagon Hall
– Spirit Guides
Sample Affiliate Program Preview:
Celebrate Express – Halloween Costumes
"Celebrate Express has over 850 costumes available for you to advertise on your Web site. In addition to Halloween costumes, we also have Halloween home decor, costume accessories, party supplies, and much more!" Exclusive products – Pays 15% Commission; 30 Day Tracking, Coupon Codes, Datafeed available.
Paper
Paper is the number one provider of Halloween and Holiday related paper products specializing in the online sale of party decorations, arts and crafts, games, books, scrapbooking, stationery, gifts and accessories. Two-tier program pays 15% commission on personal sales, 25% on 2nd tier; 30 Day cookie; 0% Reversals Policy, Datafeed Program administered by ShareASale.
Little Kid Halloween Crafts
"Discover Quick And Easy Halloween Crafts Guaranteed To Spark Spooktacular Fun" Earn 50% per sale ($10.22) – Program administered through ClickBank.
Anytime Costumes
"Anytime Costumes has a tremendous amount of experience selling costumes, buying costumes and working with costume manufacturers." Payout is on a sliding commission scale based on performance: 10% base commission, 11% when you reach $500, 12% when you reach $1,000.
Wicked Temptations
Complete selection of over 200 sexy holiday costumes for fun in the bedroom or on the street! Earn 17% per sale with a 7-Day EPC of $13.68.
Extreme Halloween
"The Extreme Halloween Network is made up of 11 websites with costumes and costume related merchandise for Halloween as well as all year round. Online since 1996." Earn 10% on all sales. Earn 12% when monthly sales reach $750; 15% when monthly sales reach $2,500.
Other Details* No Of Messages
: 52
* File Format
: TXT
* Included Graphics
: eCover [PSD, JPG]
* Extras:
Squeeze Page
* Extras:
Affiliate Programs [PDF]
* Download File Size:
1,284 KB