Salespage Snapshot: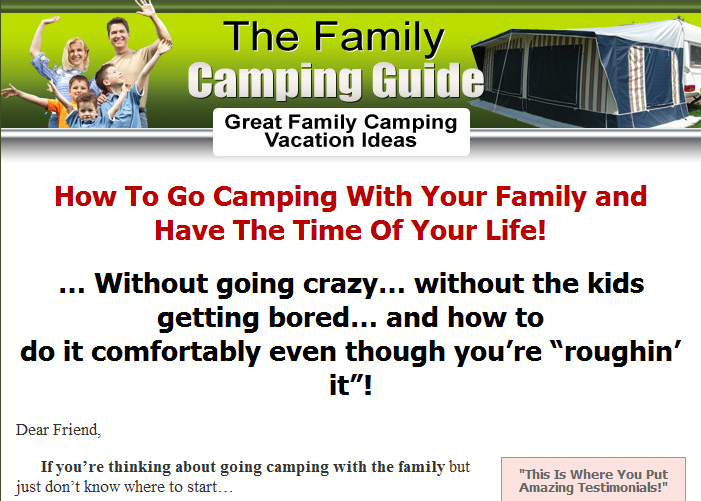 >>> Click Here To View Full Sales Page…
The Family Camping Guide –  Camping Plr Ebook Table of Contents
Introduction
The Five Best Reasons to Go Camping as a Family.
Ten Great Family Camping Vacation Ideas
1. Local Parks
2. Yellowstone National Park
3. Crater of Diamonds State Park.
4. The Grand Canyon
5. Everglades National Park.
6. Denali National Park.
7. The Appalachian Trail.
8. Yosemite National Park.
9. Glacier National Park
10. Volcano National Park
What You Need to Know About Camping in National Parks.
What amenities are offered at each campsite?.
How much does a space cost and how many people does that include?
Are fires allowed?
Are firearms allowed?
What permits do you need?
Are reservations allowed?
Is there a dump station?.
Five Tips for Choosing a Great Campsite
Five Amenities to Look for in a Campground or Campsite.
Ten Signs of a Family Friendly Campground.
Should You Rent an RV or Use a Camping Trailer?.
Advantages of Renting an RV
Advantages of Renting a Camping Trailer
Essential Family Camping Gear.
Tents
Multi-Room Tents.
Single Room Tents.
Tips for Figuring Out How Much Space You Need in a Tent.
Five Other Important Things to Consider When Choosing a Tent
Packs.
Internal Frame Packs.
External Frame Packs
Choosing the Right Pack
Camping Stoves
Propane Camping Stoves.
White Gas Stoves
Lanterns
Solar powered
Battery powered.
Gas powered lanterns
Page 4
Sleeping Bags and Mattresses.
Five Ways to Get Great Deals on Camping Gear
What to Do if You or Your Kids Take Daily Medications
What you Need to Have in a Well Stocked First Aid Kit.
Essential First Aid Supplies
Basic First Aid Tips
traditional camping foods for your family camping trip.
Family Camping Cooking Tips
Five Easy Tasks Around the Campsite the Kids Can Help You With
Five Tips for Hiking with Kids.
Five Ways to Keep the Kids Busy if the Weather Turns Bad
Conclusion.
Sample Content Preview
2. Yellowstone National Park
Yellowstone National Park is a very popular family camping spot. This massive national park touches three states: Montana, Wyoming, and Idaho. Yellowstone is famous for Old Faithful, one of the longest running geysers, as well as a collection of other geysers and hot springs. Wildlife is abundant in Yellowstone Park and you can and the kids can see wolves, bison, grizzly bears, and elk as well as smaller wildlife species.
There are endless activities to keep the kids busy including some of the best hiking in the country. There are restaurants and stores near the park if you want a restaurant meal or run out of supplies but you'll probably be too busy having fun in the park to want to leave it.
Camping at Yellowstone is very cheap. Basic campsites that have almost no amenities are only $12 per night. Campsites that offer flush toilets, showers and other amenities on site are only $18.50 per night. There is a $25 per vehicle fee plus $12 per person that you will have to pay to get into the park but that will be that fee covers seven days of visiting the park.
Overall, camping at Yellowstone is a huge value, especially when you consider the beautiful scenery and all the free activities that you will have access to. Fires are permitted in special fire grates so you can have that all important family campfire at night.
3. Crater of Diamonds State Park
For a really exciting family adventure take a family camping vacation at Crater of Diamonds State Park in Arkansas. Crater of Diamonds Park is the only diamond producing site in the world that allows the public to come in, camp, and go digging for diamonds. You even get to keep any diamonds that you might find. Visitors to the park have found many different types and sizes of diamonds but the diamonds that are most often found are white, brown and yellow diamond.
You can bring your own diamond hunting equipment with you if you want, but nothing that is motorized or has wheels. Making sifting screens at home is easy and cheap and a great art project for the kids. Also bring a few buckets and a few shovels or trowels, and definitely bring some gloves. If you don't want the hassle of bringing your own equipment you can rent buckets, shovels, and sifting screens at the park for less than $10.
There are lots of other types of rocks to be found at Crater of Diamonds Park too. Visitors can find lamproite, amethyst, banded agate, jasper, peridot, garnet, quartz, calcite, barite and hematite, among others. Best of all, any precious stones or diamonds that you find on the site are yours to keep, even if they are large and valuable! The kids will love prospecting for diamonds and other stones, but there are also acres of land that are great for hiking and other activities.
Camping at the Crater of Diamonds Park is very inexpensive. Campsite fees are less than $20 and include bathroom facilities, showers and laundry facilities. The campground facility also has a nearly 15,000-ft water park and playground that the kids will love and admission is less than $6 per person, less than $4 per child. The water playground is also available for private rental with lifeguards on duty so if you want to rent the water park for a child's birthday you can.
Other Details
- 30 Articles (TXT)
- 2 Ebook (PDF, RTF), 37 Pages
- 7 Part Autoresponder Email Messages (TXT)
- 1 Salespage (HTML, RTF)
- 3 Ecovers (JPG)
- File Size: 1,110 KB