Squeeze Page Preview: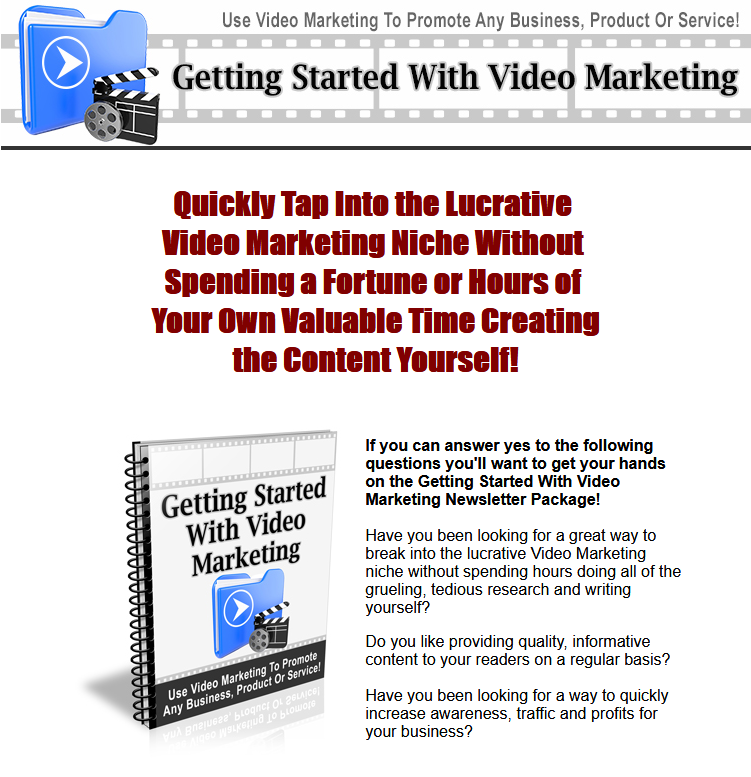 >>> Click Here To View Full Squeeze Page…
Features:
* 12 Issues Full Of Great Content
– Just add in your contact info and plug it in to your favorite auto responder. Each issue contains 500 words or more!
* One Ready To Go Squeeze Page
– Just add in your opt in form, upload to your server and your done!
* One Ready To Go Thank You Page
All ready to remind your subscribers to check their email and confirm their subscription. It even has built in revenue!
* 4 Researched Click Bank Products
These are top selling products on Click Bank that I've personally researched and chosen for each series.
* Extra Copy And Paste Article Content
You will get:
– Extra titles
– Extra opening paragraphs
– Extra closing paragraphs
– Extra fill in paragraphs
(these would make great tips that you add in to your follow ups system for more frequent contact with your readers)
Sample Content Preview
Hello "autoresponder code here",
In the last issue we talked about what video marketing is and what it can do. In this issue we are going to go over some of the big benefits of using video marketing to promote your business, products and services.
Did you know that one of the biggest reasons that people avoid video marketing or use it very sparingly is because they just don't understand the power and leverage they can enjoy when they learn how to use it effectively?
As one of the most incredible business tools that you have access to today, you need to learn how the right video marketing solutions can boost your business.
Whenever you're talking about a tool this powerful, with the ability to literally produce a video in just a couple of hours and release it to the world with the click of a button, you need to understand that even the slightest misstep can cost you hundreds, maybe thousands of sales.
While your video productions don't need to be as perfect as the latest Hollywood blockbuster (and why you might not want them to be too polished at all, for reasons we'll talk about in a future issue), but your planning and your strategy need to be as close to perfect as possible.
– Video is an instant credibility tool
This benefit simply cannot be overstated, especially in a world where most people (your customers included) think that selling online is just a modern form of the Wild West snake oil salesman. People have been promised the moon and the stars in sales letters and constantly let down, all from faceless entities they've never seen or met. People are (and rightfully so) nervous about dealing with impersonal business and faceless sales letters, but video allows you to break through all of that.
Even if you don't get in front of the camera yourself, but instead just talk over a PowerPoint presentation or something similar you'll still be feeding your markets desire for connection and you will get an instant credibly bump for yourself and your business.
– Video marketing helps you grab attention
People can ignore a sales letter, especially if it doesn't hook them with the headline. They feel no reason to keep reading on and on, and for most people even just the sight of blocks of text is enough to put them off.
– But not video.
We have been brought up on watching video to be entertained, and we consume so much video on a daily basis that it's become almost impossible to stop ourselves from getting pulled in. This is especially true if the content promises us a real and tangible result. And the best part is that we can get all of the content we need without lifting a finger!
Rather than force your prospect to do all heavy lifting of reading text dense marketing messages, video lets them kick back and relax while we give them the same information. And when scripted just right and properly pulled off we can suck them deeper and deeper into the marketing, pushing them down our greased up sales slide into becoming buyers.
Make sure you look for your next issue soon. We will be talking about the top two video hosting sites that you can post your promotional videos on.
Until then,
"your name here"
"your email address"
"your URL here"
Sample Extra Titles
An Unbiased View of Video Marketing
What's Really Happening With Video Marketing
The Ultimate Guide To Video Marketing
5 Simple Facts About Video Marketing Explained
Who Else Is Lying To Us About Video Marketing?
What You Don't Know About Video Marketing May Shock You
The Dirty Truth on Video Marketing
The Video Marketing Trap
The Low Down on Video Marketing Exposed
Dirty Facts About Video Marketing Revealed
The Undeniable Truth About Video Marketing That No One Is Telling You
What Everybody Else Does When It Comes To Video Marketing And What You Should Do Different
The Idiot's Guide To Video Marketing Explained
Unknown Facts About Video Marketing Revealed By The Experts
The Hidden Truth on Video Marketing Exposed
The Secret of Video Marketing That No One is Talking About
And More…
Sample Extra Paragraphs
Another one of the many ways that you can market your YouTube video is by having any of your videos appear on any websites or blogs that you have. What is nice about YouTube is that you can easily get a few HTML codes. Those codes will enable you or any other Internet users to post a YouTube video online. It is not uncommon for bloggers to insert a YouTube video in their blog, by using generated HTML codes. It is advised that you post your own YouTube videos on your own websites, but if you know of anyone else who has a blog, you may want to think about giving them the needed HTML codes to have your YouTube video appear on their blog. In most cases, you will find that even strangers are willing to do so, as long as your YouTube video is connected, in one way or another, to their blog or website.
————————————
The best thing about the creation of video products in today's market is that you don't need a huge capital investment to get started. You can produce high-quality video products with a consumer-level camcorder. And if the only recording device you own is your new Bluetooth video phone, you can get started with that.
————————————
You can also market your YouTube videos on online message boards. Online message board marketing can be done two different ways. For instance, there are a large number of online message boards that let you discuss of share anything, in general, with other board members. You may want to think about posting links to some of your YouTube videos, especially if you think the other members would enjoy watching them. If you belong to an online message board or forum that allows you to have a signature, you will want to look into doing so. Your signature will always appear at the end of each of your messages; therefore, the more active you are online, the more exposure your YouTube videos are likely to get.
————————————
Now that you know a few ways that you can go about marketing your YouTube videos to other Internet users, you may be wondering exactly why you should. As it was mentioned above, YouTube, alone, is likely to generate thousands of viewers for your videos. If you are looking for more views, whether just to increase your online popularity or to help you get new clients, if you connect your YouTube videos to your business somehow, you will want to take the time to market your YouTube videos. What is nice is that you have a number of different methods available, including the three mentioned above, and most are free. In fact, marketing your YouTube videos to other Internet users isn't only free, but it is easy to. Many marketing tactics will only take up a few minutes of your time, if even that.
————————————
The ease with which a video product can be uploaded to video sharing sites like YouTube and Google Video is bringing about an explosion in Internet video. YouTube started as a site where individuals could share home videos with friends and family members. And although the bulk of the video content on YouTube continues to be home videos produced by amateurs, the site is beginning to attract professional content producers and large media companies. YouTube recently entered into a partnership with the BBC, for example, which illustrates how professional video content is beginning to move online.
————————————
Like everything else, there are good ways and bad ways to use video advertising. Right now most marketers are incorporating their audio-visual content into existing embedded ad formats like banners or over-content formats like pop-ups. Though this could reach a potentially large audience, viewers are likely to be less captivated and more annoyed by these disruptive and distracting placements.
And More…
Other Details
- 12 Part Autoresponder Email Messages (TXT, DOC)
- Squeeze Page (HTML, PSD)
- Ecover (PSD, JPG)
- Affiliate Programs List
- File Size: 10,500 KB