Salespage Snapshot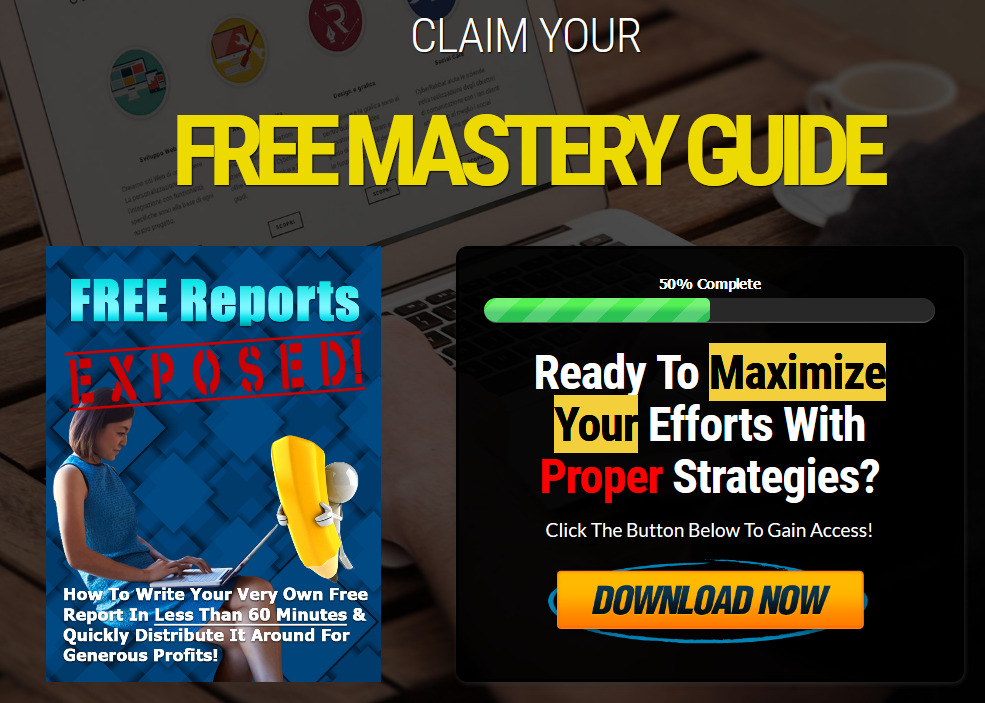 >> Click Here To View Sales Page...
Table of Contents
Free Reports Exposed! 5
How To Write Your Own Free Report In 60 Minutes Or Less 8
Placing Profit Centers In Your Free Report 12
Distributing Your Free Reports & Beyond 13
Sample Content Preview
Another way that you can make your free report even more valuable to you is to sell advertising space in it to other Internet marketers.
Paid advertising needs to look like paid advertising, however. It should not be disguised to look as though it is a product that you are specifically recommending in your free report. It really isn't surprising that people expect to see advertisements. It's true. You really expect to see advertising, don't you? Others expect to see it as well and it will not aggravate those who download a free report if the advertisements look exactly like what they are…advertisements.
The amount you can charge for advertising space in a free report varies with the report and the size of the circulation it will achieve. A long report can generate a larger advertising charge than a short report. A report that will be downloaded thousands of times can bear a larger advertising charge than one that will only be downloaded a few hundred times.
Advertisements can be shown as sponsorships. Example: "This free report is sponsored by" just above the advertiser's logo. This kind of advertising is less annoying to a reader and puts the advertiser in a better light than just an advertisement.
Remember, however, to hold your advertisements down to a very reasonable number… even if you list them as sponsorships. Too many advertisements make a free report appear to be nothing more than a cheesy way to slip advertising in disguised as something other than what it is…and people really hate that.
There is even one more way in which you can profit from a free report. You can provide a capture method so that you can collect the names and email addresses of those who have not yet downloaded your free report.
You can give your free report a viral quality.
For example: You can use a quiz in your free report and have the answers posted on your website. Quizzes are by nature viral and those who download your free report will be more likely to pass them along to their friends if there is a quiz included.
Each visitor to your website is a potential customer or, at the very least, a potential member of your opt-in list. Another way to give your free report a viral quality is to include coupons that provide dollars off on a product or service that would be of great value to those who download the report as well as to their friends, family and coworkers. People love coupons!
Each of these techniques to add to your opt-in list or increase your potential for profit from a free report by selling advertising space or strategically placing links to products and services that you profit from or by giving your free report a viral quality is worth your time and effort to investigate and put into action. Free reports are only free to those who download them…they are supposed to make money for you.
Distributing Your Free Reports & Beyond
We all know that no matter how great a product or service is if it isn't actively marketed nobody is going to make any money. That is just the facts of marketing… all marketing. The old saying, "It pays to advertise" is alive and well in the market place. There are now and there always has been certain constraints placed on advertising and those constraints get more binding everyday.
There are some things that just aren't done. It is absolutely illegal for example to send bulk marketing emails to people who have not expressly consented to receive them… that one is thanks to the CAN SPAM act of 2003.
But, what if you aren't selling anything? What if you are giving something (a report) away for free? Do those same advertising constraints still apply? Well… sort of.
If within your free report, there is even one link to a product or service that you will make a profit on if it is purchased or even one advertisement by another company for a product or service, then many of the same constraints could apply. It would be a fine line and not one that you should be comfortable getting too close to. The fines are stiff as are the penalties for violating the CAN SPAM act.
The fact that a report is free, however, does take some of the constraints off of marketing it. You aren't selling anything…you are giving something away for free. If you are into marketing at all, you are more than likely already posting to blogs and forums that pertain to the products and services that you sell. These sites usually have strict rules that forbid posters from advertising their wares.
But… if you are giving something away for free, those advertising rules will not apply. You can post a link to a download of your free report and not be accused of posting advertising on most blogs and forum sites. The people who populate these sites are your very best prospective customers…and giving them a free report can't hurt.
Other Details
- 1 Ebook (PDF), 16 Pages
- 1 Squeeze Page (HTML)
- 3 Ecovers (JPG)
- Source Doc, Source PSDS
- Year Released/Circulated: 2018
- File Size: 88,775 KB
License Details:
[YES]Can be sold
[YES]Can offer Resell Rights
[YES]Can offer Master Resell Rights
[YES]Can resell Private Label Rights
[YES]Can be edited
[YES]Can put your name as the author
[YES]Can be broken down into articles
[YES]Can be used as web or e-zine content
[YES]Can be added into membership sites
[YES]Can be sold in any format
[YES]Can be packaged
[YES]Can be offered as a bonus
[YES]Can be sold on auction sites
[YES]Can be published offline
[YES]Can be given away (in any format)