Squeeze Page Preview: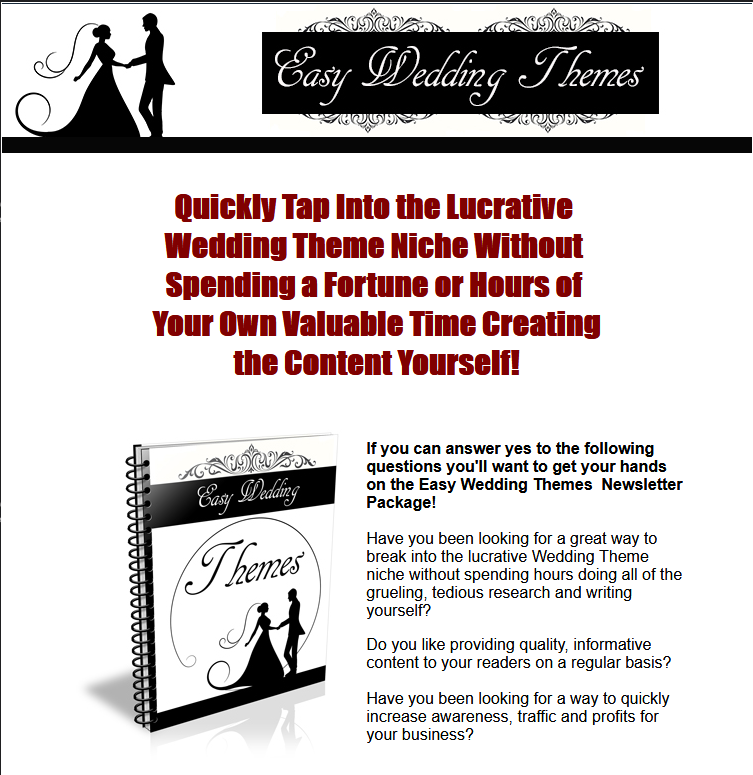 >>> Click Here To View Full Squeeze Page…
Features:
* 12 Issues Full Of Great Content
– Just add in your contact info and plug it in to your favorite auto responder. Each issue contains 500 words or more!
* One Ready To Go Squeeze Page
– Just add in your opt in form, upload to your server and your done!
* One Ready To Go Thank You Page
All ready to remind your subscribers to check their email and confirm their subscription. It even has built in revenue!
* 4 Researched Click Bank Products
These are top selling products on Click Bank that I've personally researched and chosen for each series.
* Extra Copy And Paste Article Content
You will get:
– Extra titles
– Extra opening paragraphs
– Extra closing paragraphs
– Extra fill in paragraphs
(these would make great tips that you add in to your follow ups system for more frequent contact with your readers)
Sample Content Preview
Hello "autoresponder code here",
In the last issue we talked about some great ideas for autumn weddings. In this issue we are going to go over some winter wedding theme ideas for a festive celebration.
Although most of the wedding ceremonies are scheduled during Summer and Spring, no one will stop you if you decide to hold your wedding during the winter season. So if at this point you have decided to get married when the snow is falling and everyone is celebrating the holidays, then here are some winter theme wedding ideas for you:
Where to have a winter wedding?
Ski resort, a private club or a historic mansion can be some of your choices when you want a winter wedding atmosphere. But if you want a private wedding with few people invited, a house or inn with a fireplace can already make the ceremony intimate. That is of course if you live or want to hold your wedding at the state with a guaranteed snow during the date of your wedding.
If otherwise you live or plan to hold your wedding to place without snow but are still cold, then you have to add winter elements to the wedding to make it more winter-themed.
Tip: Make sure that the place where you plan to hold your wedding is adequately heated during the winter season, especially during your wedding date. Check if they use seasonal decorations as most places are already heavily decorated during this time of the year. This will save you money.
What to wear at the winter wedding?
– The Bride
It is always expected that a bride would wear a long silk gown during the wedding since wedding gowns are often designed to be worn during a temperate climate. The wedding gown suitable during the winter wedding should involve more capes, shrugs, wraps, and coats to protect the bride from cool temperature. Unless of course, you want to hold your wedding in an adequately heated room. The thing is, you have to adapt your dress to the venue of the wedding and the activities where you will do.
The Groom and groomsmen do not require special designs for their attire. A coat and long pants would be enough.
What to serve at the reception?
To get a winter theme wedding cakes, decorate with sugar sculptures, silver embellishments, or snowflake patterns. Special treats can include spiced wine, eggnog or hot chocolate. Ask your caterer to serve food that would be timely and would fit your wedding theme.
What flowers to use?
White and silver flowers are perfect for winter theme weddings. To celebrate the season, red and green can be used as well. White flowers include roses, crocus, stephanotis, lilies, and football mums. Silver flowers include baby blue eucalyptus, silver-dollar eucalyptus, and dusty miller. For less expensive flowers, there are roses, tulips, and ornamental berries, which grow during the winter season. Talk to your florist on what flowers you want to use.
What decorations fit the winter wedding theme?
Any Christmas decorations like Christmas tree, mistletoe, etc. will do if you want to achieve the ambiance of winter. Do not invite Santa Claus and his reindeers though. Add some lighting effect around the room using pillars of candles arranged with white pillars. Use floating candles as a simple holiday centerpiece decorated with snowflake effects.
The thing is, there are probably thousands of ideas you can apply to your winter wedding. All you have to do is to use your imagination or ask your friends for contribution on what are the things that will truly make a winter wedding special.
Make sure you look for your next issue soon. We will be talking about every little girl's dream, a princess themed wedding.
Until then,
"your name here"
"your email address"
"your URL here"
Sample Extra Titles
The True Story About Wedding Themes That the Experts Don't Want You to Know
Why Everybody Is Talking About Wedding Themes…The Simple Truth Revealed
New Questions About Wedding Themes Answered and Why You Must Read Every Word of This Report
Brief Article Teaches You the Ins and Outs of Choosing a Wedding Theme
New Article Reveals the Low Down on Choosing a Wedding Theme
Why Almost Everything You've Learned About Wedding Themes Is Wrong and What You Should Know
Unbiased Article Reveals 5 New Things About Wedding Themes That Nobody Is Talking About
Short Article Reveals the Undeniable Facts About Choosing a Wedding Theme
New Ideas into Choosing a Wedding Theme Never Before Revealed
What You Should Do to Find Out About Wedding Themes Before You're Left Behind
Unusual Article Uncovers the Deceptive Practices of Wedding Planners
Get The Scoop on Wedding Themes Before You're Too Late
If You Read Nothing Else Today, Read This Report on Wedding Themes
Uncommon Article Gives You the Facts on Wedding Themes That Only a Few People Know
What You Don't Know About Choosing a Wedding Theme
Fraud, Deceptions, And Downright Lies About Wedding Themes Exposed
Unbiased Report Exposes the Unanswered Questions on Choosing a Wedding Theme
Lies You've Been Told About Choosing a Wedding Theme
The Secret to Choosing a Wedding Themes
And More…
Sample Extra Paragraphs
A silk white gown with its long train is perfect for a wedding dress. A veil is also of great importance. A bride normally wears this veil until the moment the priest announces for the groom to kiss the bride. This symbolizes purity and virginity. The veil itself symbolizes that the bride has never seen a man before.
————————————
While each culture boasts an individual approach towards wedding, the Italians give their best with their specialties on food. And you must focus on food indeed! It is not simply serving Italian foods but serve them with great pride and extensive pleasure. If you haven't attended an Italian wedding yet, it would do you good to hear that there are some celebrations that boast a 14-course meal.
————————————
Wedding Favors. There are lots of beach theme wedding favors available at any novelty shops. Some of the choices are: Flip flops keychain, scallop shell keychain, miniature tin pale decorated with seashells with candles, handcrafted wooden sails, seashell place card holder, beach-themed art coaster, beach chair place card holder, shell bookmarks, and more. Just choose from these or create one of your own.
————————————
Fall wedding decors – The first thing you would want to do is to set the mood for your fall wedding theme. There are many options to answer this need. For example, you could hang lavish decorations using rich and bold fall colors such as red, orange, brown, or yellow. However, a more modern approach is to use dark chocolate shades with accents of beige or royal blue. This could really create good affects that would suit the entire theme and the season itself.
————————————
Whether you will conduct the ceremony in a church or somewhere else, you must be keen with the use of certain ornamentations that could actualize the use of the Asian wedding theme. If your church puts some restrictions as to the use of decorations, you could maximize the decors in your reception area.
————————————
If you appeal towards a traditional Italian theme wedding, you can trim down your meal into five or seven courses. Be sure though that you incorporate some of the best foods Italian culture offers.
————————————
An Italian wedding cake is typically made of several grand layers that present two miniature figures of a bride and groom on top of the highest layer. While the cake is served with a superb coffee, it is not intended to be the only sweet thing in the meal. You could also offer a sweet blend of cookies and sweet breads that are thought to bring good luck for the new couple.
And More…
Other Details
- 12 Part Autoresponder Email Messages (TXT, DOC)
- Squeeze Page (HTML, PSD)
- Ecover (PSD, JPG)
- Affiliate Programs List
- File Size: 8,290 KB