Salespage Snapshot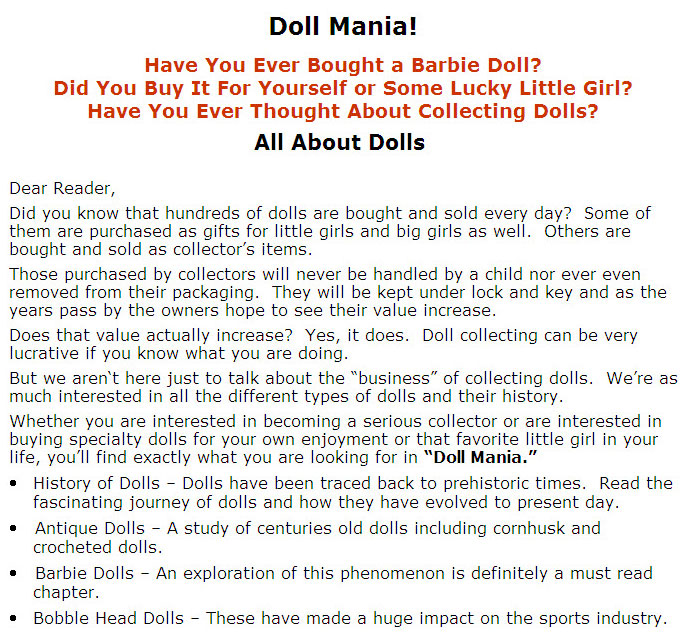 >> Click Here To View Sales Page...
PLR Ebook Table Of Contents
History of Dolls
Antique Dolls
Barbie Dolls
Bobble Head Dolls
China Dolls
Disney Dolls
Collectible Baby Dolls
Kewpie Dolls
Porcelain Dolls
Rag Dolls
Nesting Dolls
Doll Houses Yesterday and Today
Doll House Furniture
Doll Clothing and Accessories
Becoming a Doll Collector/Broker
Ebook Sample Content Preview
History of Dolls
First of all, dolls are basically a child's toy that is made to resemble a human being. So, just how long have people been making dolls?
You have to consider the fact that dolls have been part of humans ever since the prehistoric times. In those days, dolls were basically used to depict religious figures or it is used as playthings for children. Dolls in the past were basically made of primitive materials, such as fur, wood, or even clay.
Although no prehistoric dolls were found or even survived the harshness of times, there were a fragment of alabaster dolls that can move its arms that was found and was dated back from the Babylonian period.
In Egypt, archeologists have discovered dolls in graves or burial sites that dated back to 2000 BC. The dolls were constructed with flat pieces of wood and were painted. The hair was made of strings of clay or wooden beads and was usually found in tombs of wealthy families. Pottery dolls were also found and researchers believed that these dolls were cherished possessions as it was included in the burial of a person.
In the graves of children in the Greek and Roman times, dolls were also found. It was found out that dolls from ancient Greece and Rome were dedicated to the goddesses by the girls who played with them once they become too grown up to play with dolls.
The ancient dolls found in children's tomb were quite simple in creation. It is often made up of simple materials, such as clay, wood, bone, or rags. Wax and ivory dolls were rare but it was also made.
Other Details* Sales Page:
Included, HTML, MS Word Doc
* File Format:
MS Word Doc, PDF
* Number of Pages:
61
* Included Graphics:
Ecovers, PSD
* Download File Size:
5,034 KB