Salespage Snapshot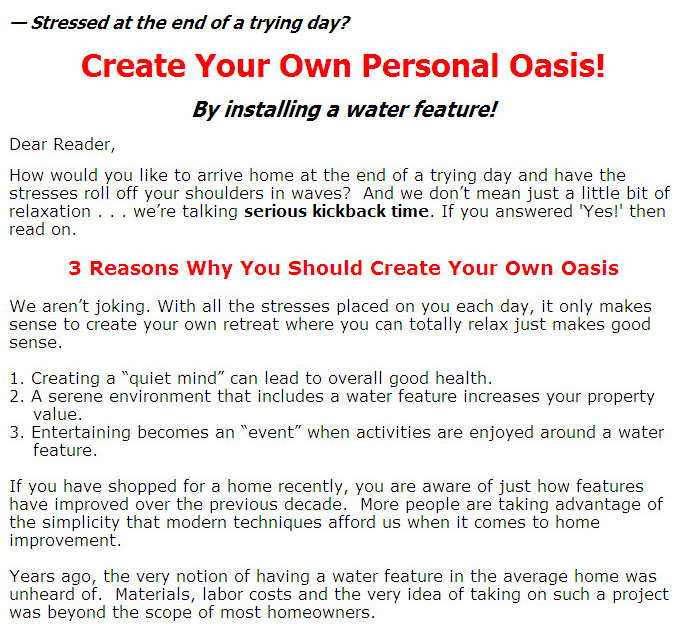 >> Click Here To View Sales Page...
PLR Ebook Table Of Contents
Why You Should Have a Water Feature
What Kind of Water Feature Should You Build
How to Design a Back Yard Water Garden
Should You Hire a Pro?
Plants for Your Water Garden
Should You Have Fountain
Installing Your Water Garden/Feature
Building an Outdoor Pond
What Materials Will You Need For an Outdoor Pond
How to Filter Your Water Feature
Where to Find Plans for an Outdoor Feature
Do It Yourself Kits
How to Create an Indoor Water Feature
Creating a Table Top Water Garden
Maintaining Your Water Feature
PLR Ebook Sample Content Preview
Why You Should Have a Water Feature
Do you want to make your home more presentable? If you are considering more relaxing options for your home, you should consider installing a home water feature. The fixture could be an interesting addition to the profile of your very own home. Aside from pleasing yourself, you might be surprised at how you could please your other family members and guests.
More and more households are installing water features these days. This is not surprising given the fact that water features are proven effective in enhancing the identity of your home. If you want your property to stand out from the rest, a water feature could be the right improvement to win the game.
Why should anyone decide to install a water feature at his or her own home? The following are good reasons.
Instant stress relief
A water feature installed at home could bring about a relaxing environment. The effectiveness of water features for lowering stress has already been documented by many researchers. By installing a water features you have something to soothe your senses. Moving water is an effective strategy to bring about relaxation and induce sleep among tired and weary people.
The sound of flowing or running water is considered a genetic memory, which reaches well back into the distant past. It also sends a resonance within the limbic brain stem (controlling basic actions like hunger, breathing, and fight or flight response).
Aids concentration
Any fountain plays a significant role in promoting a feeling of general well-being and enriching the air with important ions. Psychologists assert that the sound of flowing water brings a calming effect. The same sound also serves as "white noise" that cancels out any other unwanted noise or distractions.
Other Details* Sales Page:
Included, HTML, MS Word Doc
* File Format:
MS Word Doc, PDF
* Number of Pages:
48
* Included Graphics:
Ecovers, PSD
* Download File Size:
1,920 KB