Squeeze Page Preview: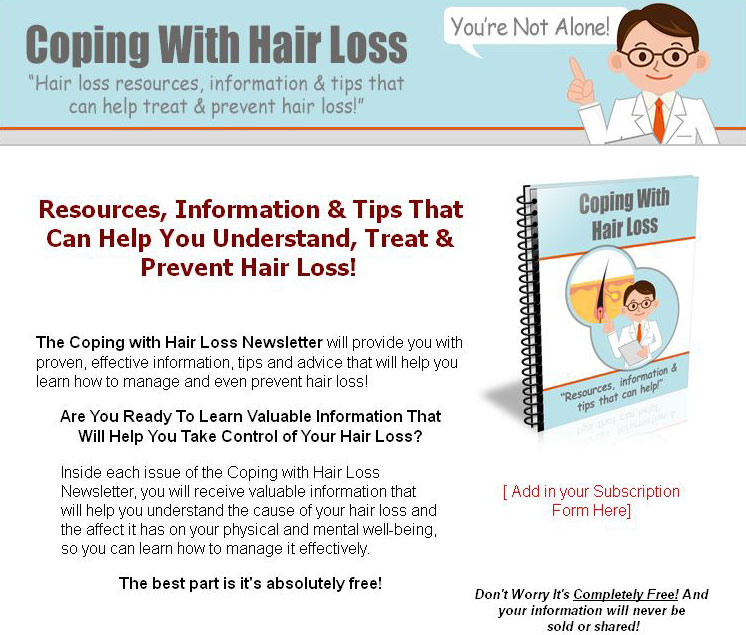 >>> Click Here To View Full Squeeze Page…
Features:
* 12 Issues Full Of Great Content
– Just add in your contact info and plug it in to your favorite auto responder. Each issue contains 500 words or more!
* One Ready To Go Squeeze Page
– Just add in your opt in form, upload to your server and your done!
* One Ready To Go Thank You Page
All ready to remind your subscribers to check their email and confirm their subscription. It even has built in revenue!
* 4 Researched Click Bank Products
These are top selling products on Click Bank that I've personally researched and chosen for each series.
* Extra Copy And Paste Article Content
You will get:
– Extra titles
– Extra opening paragraphs
– Extra closing paragraphs
– Extra fill in paragraphs
(these would make great tips that you add in to your follow ups system for more frequent contact with your readers)
Sample Content Preview
Message # 1
Subject line: Your First Issue of Coping with Hair Loss
Hello "autoresponder code here",
Welcome to your first issue in Coping with Hair Loss. In each issue, you will learn valuable information that will help you understand the underlying causes of hair loss, so you can learn how to avoid losing hair, treat symptoms and prevent further damage! Today we are going to talk about some of the more common causes of hair loss.
First a few facts:
According to resent statistics 35 million men and 21 million are suffering with hair loss
in the U.S. alone, with over 810,000 of them getting professional treatment.
The average number of hair follicles on the scalp is 110,000 and it's very natural for a person to lose 50 to 100 hairs a day during the body's renewal process. If you see bald patches or experience excessive thinning, you may be suffering from hair loss.
Hair loss or commonly referred to as baldness is technically known as alopecia, which is considered a loss of hair from the head or body. Some types of baldness can be caused by an autoimmune disorder called alopecia areata.
Extreme forms of alopecia areata are alopecia totalis, which involves the loss of all head hair, and alopecia universalis, which involves the loss of all hair from the head and the body.
For many of us who suffer with severe signs of hair loss, there can be numerous underlying causes; like medication, chemotherapy, exposure to radiation and other harmful chemicals. It can also be caused by a fungal infection, trauma from injury or damage from compulsive pulling and that's not to mention nutritional deficiencies and hormonal factors like thyroid disease, skin disease or even stress.
In most of the cases, hair loss is temporary but in other cases, it can be permanent depending on the severity of disease. Some of the most common causes of hair loss are hormonal. They are a stimulant, which helps hair growth and also causes hair loss. Hormonal imbalances can affect both men and women. Hair thinning in men often follows a pattern from the front of the scalp through the crown, while hair thinning in women usually doesn't follow any specific pattern.
Low serum iron is another common cause. If a person doesn't consume enough iron rich food like lean protein, seafood or leafy greens in his or her diet this may lead to hair loss.
In some cases, the body may not absorb enough of iron. If you think this is the case you should check with your doctor or health care professional as soon as possible for a proper diagnosis and treatment plan. Low iron in the body can be detected by a routine test and can often be corrected by taking in an iron rich diet in and supplements.
Make sure you look for your next issue soon. We will be talking about the importance of
biotin and how it helps prevent hair loss.
Thank you again for joining,
"your name here"
"your email address"
"your URL here"
Other Details
- 12 Part Autoresponder Email Messages (TXT, DOC)
- Squeeze Page (HTML, PSD)
- Ecover (PSD, JPG)
- Affiliate Programs List
- File Size: 10,673 KB