Squeeze Page Preview: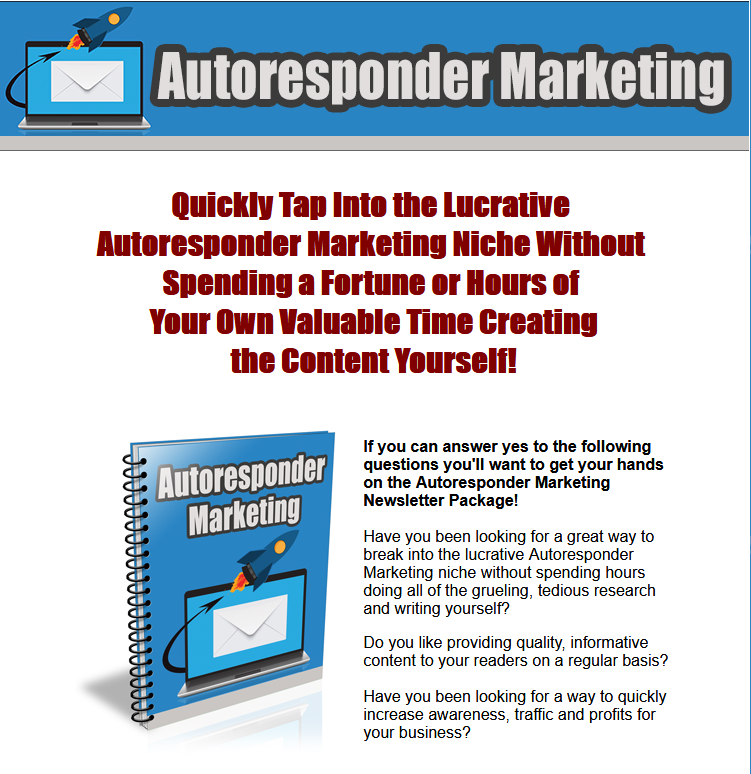 >>> Click Here To View Full Squeeze Page…
Features:
* 12 Issues Full Of Great Content
– Just add in your contact info and plug it in to your favorite auto responder. Each issue contains 500 words or more!
* One Ready To Go Squeeze Page
– Just add in your opt in form, upload to your server and your done!
* One Ready To Go Thank You Page
All ready to remind your subscribers to check their email and confirm their subscription. It even has built in revenue!
* 4 Researched Click Bank Products
These are top selling products on Click Bank that I've personally researched and chosen for each series.
* Extra Copy And Paste Article Content
You will get:
– Extra titles
– Extra opening paragraphs
– Extra closing paragraphs
– Extra fill in paragraphs
(these would make great tips that you add in to your follow ups system for more frequent contact with your readers)
Sample Content Preview
Hello "autoresponder code here",
In the last issue we talked about using a locally hosted autoresponder. In this issue we are going to talk about writing follow up messages for your autoresponder.
When it comes to making a sell using your autoresponder, follow up messages are very important. Most website visitors won't buy something on the first visit; it normally takes more than 6 or 7 visits before they decide to make a purchase. To keep them interested and eventually make the sale, you'll need to come up with some innovative yet captivating follow-up messages.
When you start writing your message, you'll need to come up with compelling headlines. Compelling headlines will draw attention from readers, making them feel excited to read the rest of your message. If you send a message with a shoddy headline, chances are that your readers will just glance over the email and not pay much attention to it at all.
You can also grab attention from your readers by sending them personalized messages with their names and other details. There are several autoresponders that personalize messages through the insertion of codes. When you send a message out, the code is replaced with the personal information of the subscriber. When receiving the email, the reader will see his or her personal information instead of the code.
The first message that you send out is normally an introduction message. This message should be geared towards giving readers what to expect from your messages. You can also mention information about your company and your products as well. Your introduction message is very important, as it sets the pace for the messages that follow.
When you send out your second message, you should inform readers about your products and services. Make sure that you explain what your products do and how your readers can benefit from using them. Then, in the messages that follow, you should put added emphasis on your services and products. You should be trying to convince readers that they simply must have your products and that your products are a cut above the rest.
To ensure that you get a sale, you should include comparisons between what you offer and what competitors offer. This way, you'll show potential customers that you are indeed the best, with the best features and the best prices. Once you have a few satisfied customers, you'll start to build up your credibility. If a customer is satisfied, he will let you and others know. Once a customer has praised your products, you can add it to a testimonial and send it out in a future follow up message.
When you send a message, make sure that you leave a teaser for the next message. This way, your customers will look forward to receiving your next message. You should also carefully weave in messages regarding your contact and order information as well, so readers can place an order without any problems. If you put some time and thought into your follow up messages, you'll start racking up customers and sales in no time at all.
Make sure you look for your next issue soon. We will be talking about some simple ways you can boost your business with autoresponders.
Until then,
"your name here"
"your email address"
"your URL here"
Sample Extra Titles
What Everybody Else Does When It Comes to Autoresponder Marketing and What You Should Do Different
The Idiot's Guide to Autoresponder Marketing Explained
Unknown Facts About Autoresponder Marketing Revealed by The Experts
The Hidden Truth on Autoresponder Marketing Exposed
The Secret of Autoresponder Marketing That No One is Talking About
The Unexposed Secret of Autoresponder Marketing
The Autoresponder Marketing Diaries
Autoresponder Marketing – An Overview
The Ugly Side of Autoresponder Marketing
An Unbiased View of Autoresponder Marketing
What's Really Happening with Autoresponder Marketing
The Ultimate Guide to Autoresponder Marketing
5 Simple Facts About Autoresponder Marketing Explained
What to Do About Autoresponder Marketing Before It's Too Late
The Secret for Autoresponder Marketing Revealed in 5 Simple Steps
The Ultimate Solution for Autoresponder Marketing That You Can Learn About Today
Be The First to Read What the Experts Are Saying About Autoresponder Marketing
The Truth About Autoresponder Marketing
Find Out Who's Talking About Autoresponder Marketing and Why You Should Be Concerned
And More…
Sample Extra Paragraphs
You can set up your autoresponder program on your own computer or server without any problems. Using your own program is the way to go, especially if you want to avoid paying a monthly fee to companies that charge for the same services. There are several companies out there that offer autoresponder services, although they can get expensive over time.
————————————
If you decide to use your own email autoresponder program, you can save a lot of money and a lot of time. These programs will streamline your business, freeing up your time to concentrate on other important areas. You can let your email program handle responses and follow up emails, while you work on making other ideas work or just getting out there and spending time with your family.
————————————
An email autoresponder can help you generate thousands of leads in little to no time at all. With a lot of leads, comes money. Although you may disagree, a customer list is what leads to money. If you don't have a customer list or database, chances are that you won't be doing a lot of sales. Having customers to send emails and products to is a plus – especially when you weigh in the fact that customers make your business. Without customers, you wouldn't make any money at all.
————————————
When you are using an autoresponder with your website, you should always include a subscription box for visitors who wish to sign up. This way, anyone who visits your website and wishes to learn more about your products or offers, can easily sign up. Your autoresponder will instantly send out an email, which will in turn help you build your customer list. To survive in the online world of business, you'll need to have a customer list. Autoresponders will help you manage your list and help it grow at the same time.
And More…
Other Details
- 12 Part Autoresponder Email Messages (TXT, DOC)
- Squeeze Page (HTML, PSD)
- Ecover (PSD, JPG)
- Affiliate Programs List
- File Size: 13,200 KB