Salespage Snapshot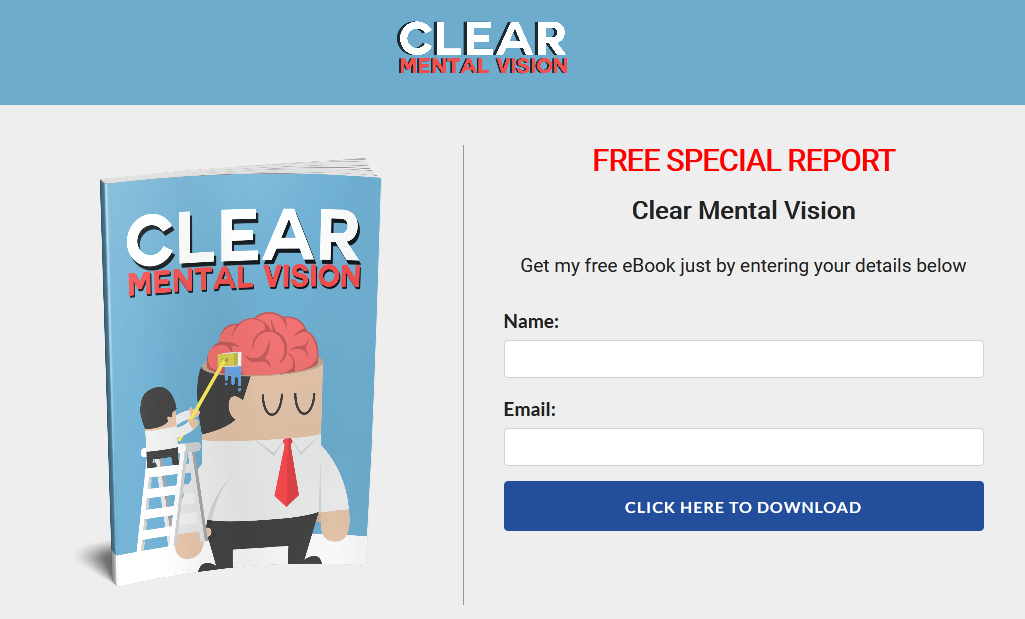 >> Click Here To View Sales Page...
Table of Contents
INTRODUCTION …………… 5
CHAPTER 1 – THE DIFFERENT KINDS OF MENTAL CLUTTER AND
WHAT CAN TRIGGER IT ……………………. 8
NEGATIVE SELF-TALK ……….. 9
WORRYING . 10
FEAR ………… 11
GUILT ……….. 11
REGRET ……. 12
THE NEWS.. 13
MONEY ……. 14
THE PAST …. 15
YOUR CURRENT HABITS … 16
CHAPTER 2 – LETTING GO OF THE PAST ………… 17
RECOGNIZE WHY LETTING GO IS IMPORTANT ……………. 18
STOP PLAYING THE VICTIM …………………… 20
EXERCISE YOUR MIND WITH POSITIVE AFFIRMATIONS 20
SAY WHAT YOU FEEL …….. 21
LOOK TO THE PAST FOR POSITIVITY ……… 21
CHAPTER 3 – THE POWER OF POSITIVE THINKING …………… 23
THE BRAIN AND OPTIMISTIC THOUGHTS 24
YOU ARE WHAT YOU THINK ……………….. 25
HOW TO BECOME MORE POSITIVE ……… 26
GAIN MENTAL CLARITY
CHAPTER 4 – HOW TO IMPROVE YOUR FOCUS …………………. 29
WHY FOCUS IS IMPORTANT ………………….. 29
WHAT CAUSES YOU TO LOSE FOCUS …… 30
HABITS THAT CAN LEAD TO A LACK OF FOCUS …………… 31
CHAPTER 5 – WAYS TO CLEAR THE MIND CLUTTER …………. 34
PRACTICE MINDFUL BREATHING ………….. 34
WORK OUT 35
START WRITING MORE DOWN ……………. 36
READ A BOOK …………………. 37
KEEP A LIST 38
SAY NO TO INTERRUPTIONS ………………….. 38
QUIT PROCRASTINATING .. 39
CONCLUSION ……………… 42
Sample Content Preview
Chapter 1: THE DIFFERENT KINDS OF MENTAL CLUTTER AND WHAT CAN TRIGGER IT
Negative Self-Talk
Most of us have a voice in our heads that dictates information to us. It could be a voice that prompts you to say something during a conversation, or the voice that tells you what it is that you truly want in each situation. It is the voice that speaks to you about how you look when you look in the mirror or the voice that talks to you in terms of your self-esteem. It can be both positive and negative.
This type of self-talk, when it is negative, can create a significant amount of mental clutter in our heads. When you tell yourself that a specific goal that you are trying to accomplish is impossible, it can end up actualizing a situation where you end up failing.
On the other hand, if you can cultivate positive self-talk, the results are much more likely to end up being the opposite. Instead of failing, you succeed. Negative self-talk ends up creating a negative mental environment that impacts every aspect of our lives.
Some common signs of this kind of negative mental environment include feelings of inadequacy, feelings of self-doubt, and feelings of ugliness. If you can relate to these feelings, you are not alone. This is a common type of mental clutter that many people deal with, and many do not even realize that it is occurring until they stop and think about it.
Worrying
Another kind of mental clutter that many people deal with involves worrying. For some people, this worrying can be chronic. While it is fine to worry about certain things every once in a while when the worry starts to take over your life it becomes chronic and can even become addictive or compulsive.
For example, those who worry excessively it might be challenging for them to recognize that certain situations are out of their control.
Not everything in life is predictable, but for some people, this fact can sometimes prove to be unbearable for them.
This results in a cluttered, worried mind.
Another reason why worrying can take up a lot of valuable mental space is that unpredictability means the future is uncertain. Worrying is a prime example of the fact that mental clutter is often caused by anxieties that are beyond your control.
By shifting the focus of your mind onto more positive aspects of life, it is possible to evade and eliminate a large portion of mental clutter that has built up.
Fear
Fear can also clutter your mind and prevent it from effectively processing information. If you have ever experienced the feeling of dread in regard to a situation that you've never dealt with before, then you're aware of the fact that fear can stop you in your tracks. Fear can prevent you from being able to accomplish what should or needs to be performed while also being able to manipulate your brain in the process.
If you allow fear to penetrate your mind to the point that it's preventing you from doing something to move you closer to your goals, then it should be clear that fear is an important kind of mental clutter that you need to eliminate from your life.
Guilt
Guilt or shame typically manifests in the mind when we're not happy with the decisions that we've made that we aren't excited about. This becomes twofold when the choices that we've made in the past end up hurting people we care about or people who have trusted us in some way. Guilt can end up taking a lot of mental space up in your mind when you aren't able to let go of your poor choices.
Instead of letting these poor decisions go and allowing them to become a learning experience, people can sometimes cling to their feelings out of guilt, or even shame. This kind of clinging fuels a situation where the individual allows their self-worth to become tarnished and allows low self-esteem to develop.
Additionally, guilt and shame can end up opening up your mind and letting negative self-talk through. For example, if you feel guilt or shame about a situation from your past, you can start to become resentful or angry toward yourself. Once you become angry and resentful, negative thoughts can start to form and take hold of your mind.
Being able to acknowledge feelings of guilt and shame is the first step toward relinquishing your mind from the grasp of guilt. Once you can recognize these kinds of emotions in yourself, you can then start to work on forgiving yourself and forming a more positive relationship with your mind.
Regret
The final kind of mental clutter is regret. It is essential to realize that every single, self-defined, happy person in this world has more than likely done something that they regret. Making a bad decision is just one of the unfortunate realities of being human. It is not about the decision itself, but rather it is more about how you deal with the decision when the outcome isn't what you expected.
Other Details
- 1 Ebook (PDF), 51 Pages
- 1 Squeeze Page (HTML)
- 2 Ecovers (PNG)
- Year Released/Circulated: 2022
- File Size: 3,062 KB
License Details:
[YES] Can be sold
[YES] Can be used for personal use
[YES] Can be packaged with other products
[YES] Can modify/change the sales letter
[YES] Can modify/change the main product
[YES] Can modify/change the graphics and ecover
[YES] Can be added into paid membership websites
[YES] Can put your name on the sales letter
[YES] Can be offered as a bonus
[YES] Can be used to build a list (giveaway against an email)
[YES] Can print/publish offline
[YES] Can convey and sell Personal Use Rights
[YES] Can convey and sell Resale Rights
[YES] Can convey and sell Master Resale Rights
[YES] Can convey and sell Private Label Rights
[NO] Can be given away for free
[NO] Can be added to free membership websites