Salespage Snapshot: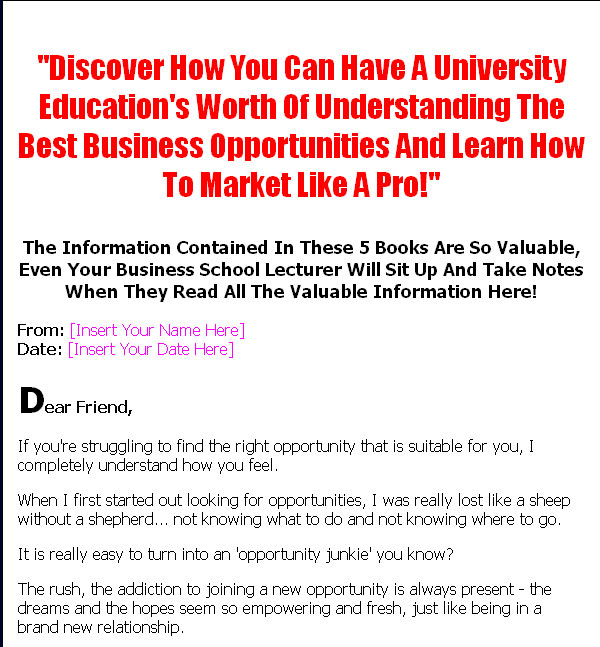 >>> Click Here To View Full Sales Page…
Table Of Contents
FForward
Chapter 1: Being Unparalleled
Chapter 2: Branding And Your Business
Chapter 3: First Impressions
Chapter 4: Developing Your Net Front
Chapter 5: Search Engine Campaigns
Chapter 6: Header Tags
Chapter 7: Search Engines
Chapter 8: Additional Info
Wrapping Up
Sample Content Preview
Chapter 3: First Impressions
Synopsis
You understand what it's like to meet somebody and inside the first few minutes you make up your mind about what that individual is like and whether they're somebody you may see yourself interacting with on a steady basis.
A brand is no different. Individuals will instantly judge your products (even ones not yet produced) based on their initial notion of your brand.
They'll develop emotional associations to your brand, either positive or negative, inside the first few moments, and for many, these feelings will never change.
This is why it's critical that your brand represents a solid positive message, and that you take the time to determine what your buyer base is likely to react to so that you may synchronize your brands chief message with your total objective.
Make A Good One
You wish to build instant recognition but in a really favorable way. There's no advantage to producing a highly recognized brand if the message associated with it isn't immediately benefiting you.
This is exceptionally crucial in both on and offline business, and the simplest way to establish a positive brand is to focus equally on the quality of your product and service, as you do in producing your company image.
When it comes to producing a favorable first impression, consider all of the factors associated with your company brand.
This includes your DNS, site structure (right down to the color scheme, layout and navigation), the quality of your products, the degree of support you provide, your trust components (how transparent your business is), right down to the keywords and phrasing you directly link to your brand.
You have to be careful with this, as there have been 100s of net businesses that centered on building brands with keywords and phrases that already carried a damaging connotation, not recognizing that it would directly affect their ability to build a mighty and favorable brand.
In order to prevent this, you'll need to take the time to research the separate phrases and keywords that you intend to utilize within your marketing campaign and brand development.
Make certain to check for any cultural differences or references affiliated with the keywords and phrasing (including product titles, site domain and slogans you intend to utilize) so that you're able to formulate a widely accepted brand that carries no damaging interpretations.
This takes a bit of time but it's a vital step in researching different brand factors before you invest too much time or cash into producing an overall campaign that fails to represent your brand in a favorable way.
Chapter 4: Developing Your Net Front
Synopsis
Once it comes to formulating your net presence, you need to put as much emphasis on the actual structure of your site from the navigation menu to the layout.
You have to assign a pro image to each element associated with your brand, and utilize these visual stimulants as a way of driving brand recognition home with each visitor to your site.
We're all visual animals, and your site design and aesthetics itself will carry a lot of weight in reference to your power to develop a reputation for quality.
How People See You
A lot of individuals overlook the importance of a professional net presence and center more time on product development and their back end scheme than they do their front end. You have to center equally on both areas of your brand's campaign, as in the final analysis, when it comes to beginning impressions, your site will be the butler that introduces and greets your visitors at the doorway.
If you aren't heedful in centering on presenting your visitors a favorable experience from the moment they land on your site, it's unlikely that they'll give it a 2nd glance, or return to your site in the time to come.
As a matter of fact, from studies conducted over a period of 2 years, it was discovered that a visitor landing on a site will judge and form a decision to purchase or come back inside the first 40-45 seconds of their visit. This is why your sites overall appeal is so unbelievably crucial.
You have to establish a comprehensive navigation menu, so that your visitors aren't confused when entering your internet site. You likewise have to center on professional graphics and sales page ingredients that represent your company and brand in a favorable way. You ought to likewise take into consideration the overall entry page into your company's brand.
Do you intend to utilize a splash page that features selective information about your company, or are you planning on producing sub domains that house your sales pages, company data, or maybe network sites?
You ought to do your best to organize your sites so that each one has a clean-cut purpose. Never clutter up your internet sites with an abundance of outside links, even if your objective is to evenly promote your network internet sites.
Other Details
- Ebook (PDF, DOC), 36 Pages
- Ecover (PSD, JPG)
- File Size: 59,829 KB