Salespage Snapshot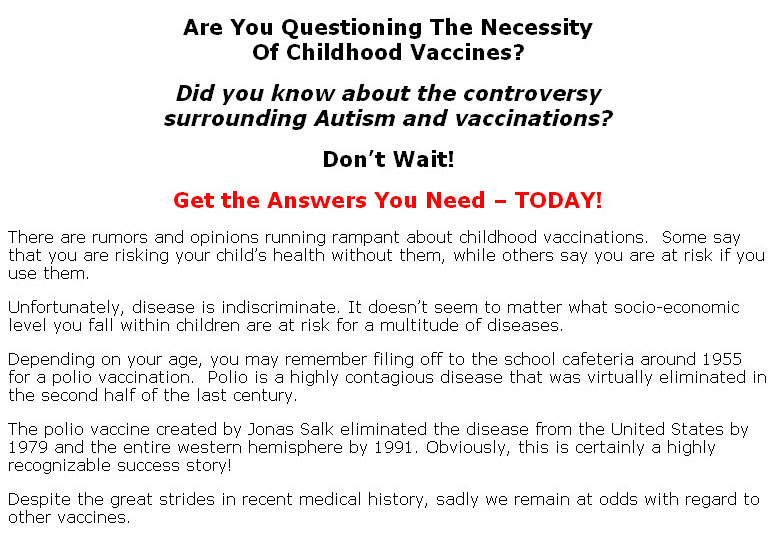 >> Click Here To View Sales Page...
Table Of Contents
Immunizing Your Child
About the immune System
What is Best – Natural or Vaccine
How is a Vaccine Created
Have Animals Made it Safer
Unnecessary Toxing
Common Vaccines
Mercury in Vaccines
Autism and Vaccines
Autoimmune Disorders and Vaccines
Vaccinations and the Law
Avoiding Immunization Legally
Miracle Drugs or Poisons
Resources and Support
Sample Content Preview
Immunizing Your Child
How Effective or Ineffective Are Vaccines?
Despite the use of vaccines in providing added immunity to the body, there are still a number of people who view them otherwise. To them, vaccines are unnecessary and, in fact, sources of harmful body damage. Contradictions against vaccination have been around for many years.
The Case of Thimerosal
There are a couple of vaccines that contain the substance called thimerosal. These vaccines are administered to young children. They are utilized to add immunity against diphtheria, pertussis, tetanus, and influenza. Starting from 1997, thimerosal utilization is starting to diminish in a number of industrialized countries following the recommendation of different health authorities. However, there are still trace amounts of chemicals discovered in some vaccines.
Other Details* Sales Page:
Included, HTML, MS Word Doc
* File Format:
MS Word Doc, PDF
* Number of Pages:
63
* Included Graphics:
Ecovers, PSD
* Download File Size:
1,524 KB