Salespage Snapshot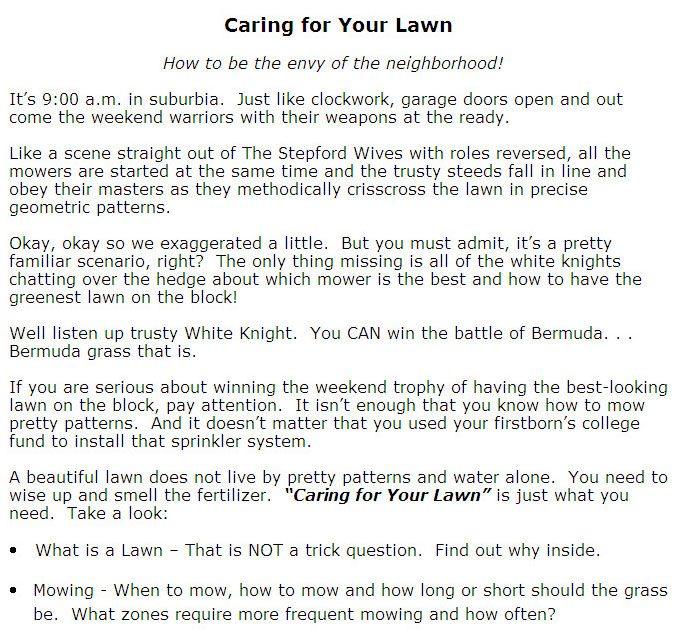 >> Click Here To View Sales Page...
PLR Ebook Table Of Contents
What is a Lawn (not a trick question)
Mowing
Equipment
Watering
Soil
Fertilizing
Thatching
Types of Grasses
Seeding a New Lawn
Sod Lawns
Chemicals
Insects
Controlling Weeds
Manual Watering versus Automatic Sprinklers
Starting a Lawn Care Business
PLR Ebook Sample Content Preview
What is a Lawn (not a trick question)
The Art (and Science) of Having a Lawn
If you have the chance to glimpse the gardens of the rich and famous, you'll notice that most of them have lawns. This isn't surprising because unlike other types of gardens and landscape designs, lawns are easier to maintain and pretty on the eyes because of their neat symmetry.
The Right Way of Choosing a Lawn
For purposes of definition, any area where grass is growing evenly and at a low height can be referred to as a lawn. Sometimes, other plants may grow on it, depending on the preferences of the owner.
If you feel like having a lawn, there are a lot of things that you have to consider first. You can't just wrinkle your nose, point to your neighbor's lawn and have the same one. If the type of soil you're using in your yard is different from your neighbor's, it might not be possible for you to have exactly the same lawn as theirs.
The most important thing to consider when choosing what type of lawn to build or design for your home is its purpose. Why do you wish to have a lawn? Is it purely for ornamental and aesthetic reasons? Do you simply want to make your home beautiful?
Other Details* Sales Page:
Included, HTML, MS Word Doc
* File Format:
MS Word Doc, PDF
* Number of Pages:
55
* Included Graphics:
Ecovers, PSD
* Download File Size:
1,438 KB