Salespage Snapshot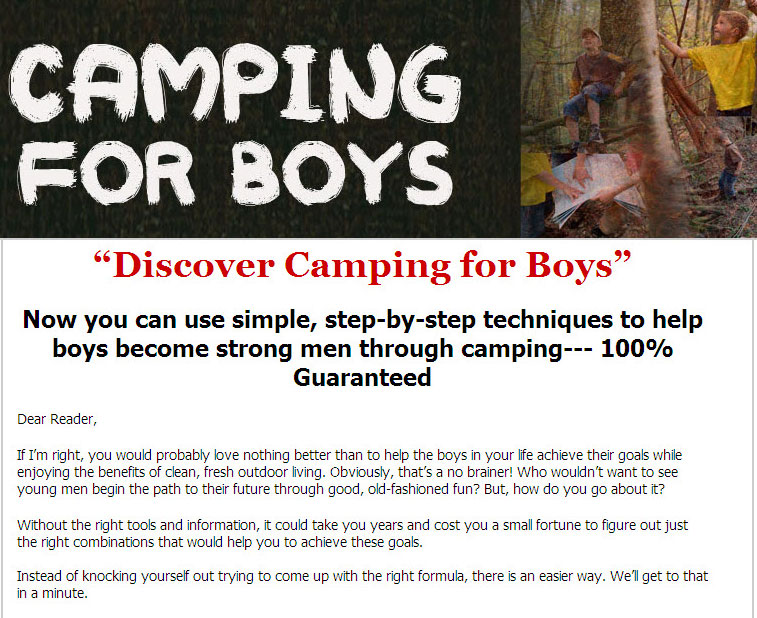 >> Click Here To View Sales Page...
PLR Ebook Table Of Contents
Foreword 5
General Bibliography 6
I. The Purpose of Camping 7
II. Leadership 13
Bibliography (See General Bibliography)
III. Location and Sanitation 25
Bibliography 36
IV. Camp Equipment 38
V. Personal Check List or Inventory. 58
VI. Organization, Administration and Discipline 66
VII. The Day's Program 75
Bibliography 85
VIII. Moral and Religious Life 87
Bibliography 102
IX. Food 104
X. The Camp Fire 123
Bibliography 133
XI. Tramps, Hikes and Overnight Trips 135
XII. Cooking on Hikes 147
Bibliography 153
XIII. Health and Hygiene 155
Bibliography 167
XIV. Simple Remedies 168
XV. First Aid 175
XVI. Personal Hygiene 201
XVII. Athletics, Campus Games, Aquatics, Water Sports 209
Bibliography 229
XVIII. Nature Study 231
Bibliography 238
XIX. Forecasting the Weather 240
Bibliography 245
XX. Rainy Day Games 247
Bibliography 255
XXI. Educational Activities 257
Bibliography 278
XXII. Honor, Emblems and Awards 279
XXIII. Packing Up 289
Index 293
Ebook Sample Content Preview
CHAPTER I 7
THE PURPOSE OF CAMPING
VACATION TIME
NEED OF OUTDOOR LIFE
PURPOSE OF CAMPING
"TOO MUCH HOUSE"
A QUERY
APOSTLES OF OUTDOOR LIFE
HEEDING NATURE'S CALL
CHARACTER BUILDING
CAMP MOTTOES
"ROUGH-HOUSE"
CAMPS
BOY SCOUTS
INFLUENCE OF CAMP LIFE
It is great fun to live in the glorious open air, fragrant with the smell of the woods and flowers; it is fun to swim and fish and hike it over the hills; it is fun to sit about the open fire and spin yarns, or watch in silence the glowing embers; but the greatest fun of all is to win the love and confidence of some boy who has been a trouble to himself and everybody else, and help him to become a man.–H. M. Burr.
The summer time is a period of moral deterioration with most boys. Free from restraint of school and many times of home, boys wander during the vacation time into paths of wrongdoing largely because of a lack of directed play life and a natural outlet for the expenditure of their surplus energy. The vacation problem therefore becomes a serious one for both the boy and his parent. Camping offers a solution.
Other Details* Sales Page:
Included, HTML
* File Format:
MS Word Doc, PDF
* Number of Pages:
345
* Included Graphics:
Ecovers
* Download File Size:
12,046 KB