Squeeze Page Preview: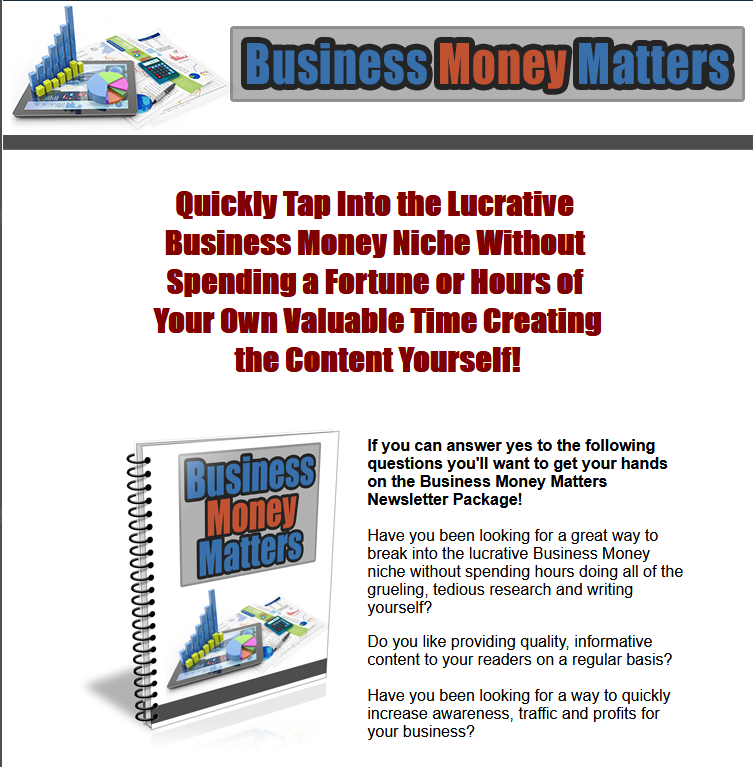 >>> Click Here To View Full Squeeze Page…
Features:
* 12 Issues Full Of Great Content
– Just add in your contact info and plug it in to your favorite auto responder. Each issue contains 500 words or more!
* One Ready To Go Squeeze Page
– Just add in your opt in form, upload to your server and your done!
* One Ready To Go Thank You Page
All ready to remind your subscribers to check their email and confirm their subscription. It even has built in revenue!
* 4 Researched Click Bank Products
These are top selling products on Click Bank that I've personally researched and chosen for each series.
* Extra Copy And Paste Article Content
You will get:
– Extra titles
– Extra opening paragraphs
– Extra closing paragraphs
– Extra fill in paragraphs
(these would make great tips that you add in to your follow ups system for more frequent contact with your readers)
Sample Content Preview
Hello "autoresponder code here",
In the last issue we talked about some of the common financial problems that any business can face. In this issue we are going to go over some tools that can help you manage your business finances more effectively.
One of the most important factors in running your business is managing your business finances. Believe it or not, you can have a wonderful and profitable business but lose is all due to poor money management. Not managing your cash flow and responsibilities correctly can cause the death of your business faster than almost anything. Here are five tools to help manage your business finances.
– Go Daddy Bookkeeping
This bookkeeping app does a lot more than bookkeeping. While it is single entry which might make a few accountants cry, it works great for the small online business owner. The system also offers tax information and reports, including the ability to print out a Schedule C for US taxes. They've recently added some invoicing and timekeeping features too, so this might become an "all in one" system that is a must-use.
Check it out here: https://bookkeeping.godaddy.com
– Fresh Books
While Fresh Books often bills itself as an accounting app, it's really just an invoicing application with some project management features such as teams and time tracking, as well as the ability for clients to sign in and look at what's happening with their time, and more. To get full accounting features you'll have to export to QuickBooks (see below). There is an enormous amount of third party apps you can connect to it, too. What really makes it stand out is how simple it is to understand and use.
Check it out here: http://www.freshbooks.com
– Shoeboxed
Every small business owner needs to keep track of receipts for tax time. It's one of the hardest things to keep organized. But, if you don't do it, you could either lose out on deductions, or you could risk taking a deduction you know you deserve without proof and then risk losing that deduction in an audit. Shoeboxed lets you keep your receipts organized better without worry of them being lost.
Check it out here: https://www.shoeboxed.com
– PayPal
Love it or hate it, most people are very comfortable paying with PayPal and you'll likely increase your income if you offer payment methods that are easily to use, respected, accepted, and provide the customer with options. Payments can be made via PayPal, or they can pay via credit card if you have PayPal for Business.
Check it out here: http://www.paypal.com
– QuickBooks
No discussion of managing business finances can leave out QuickBooks, often thought of as the gold standard of accounting and financial management software for business. Today, you can use QuickBooks Online for less than $10.00 per month and it has all the bells and whistles that you could want for small micro businesses to super-large corporations. Check it out here: http://quickbooks.intuit.com
In addition to finding the right tools to help you manage your business finances, it's important to read about small business finances even if you choose to hire a professional CPA to help. Because after all it's your signature and business on the line if something goes wrong.
Make sure you look for your next issue soon. We will be talking about taking advantage of commercial credit counseling for your business.
Until then,
"your name here"
"your email address"
"your URL here"
Sample Extra Titles
The 5-Second Trick For Business Money Management
The Good, The Bad and Business Money Management
The 2-Minute Rule for Business Money Management
The Biggest Myth About Business Money Management Exposed
The Do's and Don'ts Of Business Money Management
A Review Of Business Money Management
The Little-Known Secrets To Business Money Management
The Fundamentals Of Business Money Management Revealed
The One Thing To Do For Business Money Management
The Do This, Get That Guide On Business Money Management
What The In-Crowd Won't Tell You About Business Money Management
The Lost Secret Of Business Money Management
Whispered Business Money Management Secrets
A Secret Weapon For Business Money Management
The Argument About Business Money Management
Business Money Management Fundamentals Explained
Whatever They Told You About Business Money Management Is Dead Wrong…And Here's Why
The Nuisances Of Business Money Management
The Business Money Management Cover Up
Facts, Fiction and Business Money Management
The Pain of Business Money Management
And More…
Sample Extra Paragraphs
Set aside a specific amount of money for your payments, including
basic debt payments, car payments, house payments, and insurance
payments. You will also budget for gas and groceries. If you are not
happy with the amount of money you have left over after you budget,
remove small amounts of money from different areas in the budget.
This will open up your funds, helping you to pay off more debt at once.
————————————
Remember, it may seem harmless since you probably won't have to
pay for any fraudulent use of your businessinformation, but don't believe
for a minute that the banks are going to absorb that loss, they will
simply pass it on to you in the form of higher fees.
————————————
Also check all the addresses listed on your credit report. If there are
addresses listed that aren't yours it could mean someone is pretending
to be you and is getting information sent to their house.
————————————
Assess The Amount of Debt You Have – When you have listed all of
your debts, you then need to assess the amount of debt that you have.
You need to list all of the amounts of debt. You also need to list their
interest rates. If possible, list the amount of years it will take to pay off
that debt as you currently attack it. This will help you to correctly budget
for your new debt while still managing your old debt.
————————————
Payment History – The biggest chunk of your score (35%) is derived
from your payment history. This score is influenced by how well (or not)
you pay your bills on time, how many have been sent to collection
agencies, bankruptcies, tax liens, etc. Keep in mind that missing a
payment is worse than making a late payment and that being late or
especially missing a mortgage payment is a bigger blow to your credit
score than missing a credit card or utility payment.
And More…
Other Details
- 12 Part Autoresponder Email Messages (TXT, DOC)
- Squeeze Page (HTML, PSD)
- Ecover (PSD, JPG)
- Affiliate Programs List
- File Size: 54,300 KB