Squeeze Page Preview: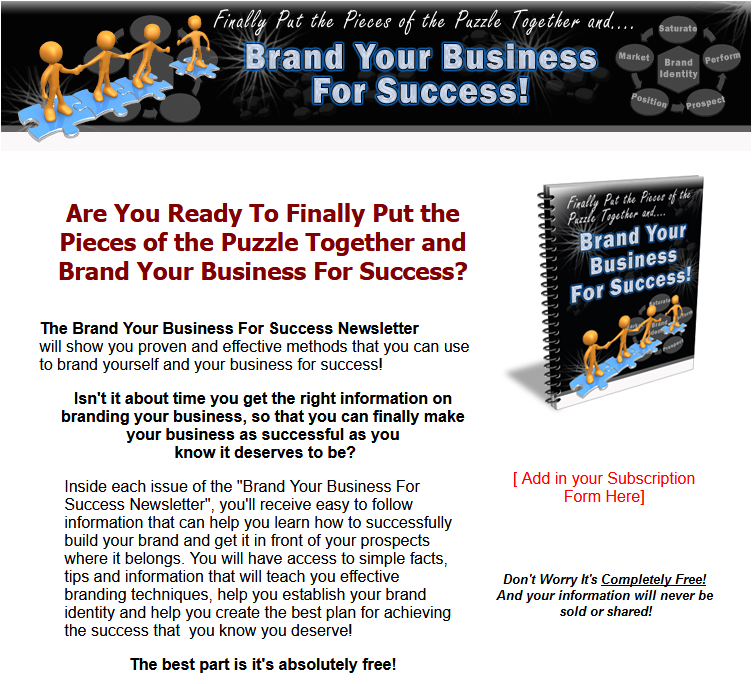 >>> Click Here To View Full Squeeze Page…
Features:
* 12 Issues Full Of Great Content
– Just add in your contact info and plug it in to your favorite auto responder. Each issue contains 500 words or more!
* One Ready To Go Squeeze Page
– Just add in your opt in form, upload to your server and your done!
* One Ready To Go Thank You Page
All ready to remind your subscribers to check their email and confirm their subscription. It even has built in revenue!
* 4 Researched Click Bank Products
These are top selling products on Click Bank that I've personally researched and chosen for each series.
* Extra Copy And Paste Article Content
You will get:
– Extra titles
– Extra opening paragraphs
– Extra closing paragraphs
– Extra fill in paragraphs
(these would make great tips that you add in to your follow ups system for more frequent contact with your readers)
Sample Content Preview
Hello "autoresponder code here",
In the last issue we talked about why your audience is everything
when it comes to branding your business. In this issue we are
going to talk about logos and what they have to do with your brand.
Today it is common for people to say that a logo is everything
when it comes to branding. This couldn't be further from the truth.
A logo is important in many ways when branding but it is not where
the rubber meets the road with a business and a brand. A logo is
one of the smallest pieces of branding.
It is common for many companies not to have a logo at all with
their company. They may just have the name of their business in
bright and basic letters in front of the store. Many online site
owners do the same and just write the name of the website in bold
letters at the top. A logo is important for every company and a
good idea to have.
A logo may be a creative way of writing your company name in
bold or italic lettering, special font, different colors, and it may
even contain a picture. A good logo is the golden yellow arches in
McDonalds. This is a symbol that everyone recognizes when they
see the yellow arches on a highway or side street from a distance.
People immediately know which restaurant the arches are for.
A logo can be just one letter or it may even be your entire name.
Developing a logo may be something you put off until the end of
your branding process if you are not sure what you would like it to
look like.
When you do design a logo there are many things to consider so
you know that you are creating a good one. These things include
the colors, how busy the logo is, a tagline, memorable, and more.
Colors are very important in a logo. They can be extremely
annoying if they are too bright and hard to look at and they can be
too dull and boring. It is very important to choose a wise color
combination with your logo. Again, consider the audience when
you design the logo and choose the colors. A more professional
look for an older audience should use lighter tones and pleasing
colors while children enjoy primary and bright colors.
A logo should never be too busy. It should be short and sweet.
You want a company logo to be simple and easy to remember. A
logo that is too busy may be annoying and hard to read.
It is important to search competitor sites and verify that there are
no other companies with the same name as yours with a logo that
is similar. Make sure that you never copy a logo or use a logo that
is almost the same as another company also. This could cause
you to be in the middle of a lawsuit if you accidentally design the
same thing as someone else.
Does a Logo Really Help You Sell?
There is a lot of hype about logo creation and the web is saturated
with companies offering to design the perfect company logo.
Logos do not help you sell products. They are not responsible for
increasing revenues. No one buys a product because the logo is
cool or professionally designed.
Logos do create a positive impact for a business. A company
with a logo versus a company that does not have a logo looks
more professional and comes across as a more credible place to
shop from. This is because a professional logo creates an image.
For example, employees wearing plain blue shirts in a store do
not look as professional as employees with the same plain blue
shirt on and a company logo stamped on the top left chest area of
the shirt.
Logos are a part of image. Your goal in branding is to create an
image that has an emotional impact when the customers. This
doesn't mean to add an emotional picture or throw in a tagline to
make people cry. Taglines should have an impact but make a
promise you are going to deliver. Pictures should not be in logos
at all but if you choose to put one in a logo then make sure that it is
very small and not too busy.
Make sure you look for your next issue soon. We will be talking
about building recognition for your brand.
"your name here"
"your email address"
"your URL here"
Sample Extra Titles
Business Branding Tips That Drive Sales
Elements of an Effective Business Brand
Building a Business Brand
Essential Tips for Effective Business Branding
What You Don't Know About Business Branding May Shock You
The Low Down on Business Branding Exposed
The Undeniable Truth About Business Branding That No One Is Telling You
What Everybody Else Does When It Comes To Business Branding And What You Should Do Different
The Idiot's Guide To Business Branding Explained
Unknown Facts About Business Branding Revealed By The Experts
The Hidden Truth on Business Branding Exposed
The Secret of Business Branding That No One is Talking About
The Unexposed Secret of Business Branding
Business Branding – An Overview
The Ugly Side of Business Branding
The Ultimate Guide To Business Branding
5 Simple Facts About Business Branding Explained
The Secret For Business Branding Revealed in 5 Simple Steps
And More…
Sample Extra Paragraphs
Another media consideration when you are building up your brand
is that you need to work on referrals. Referrals work very well in
building up your brand. This is word of mouth through customers
who swear by you. These can be difficult to build up but when you
get referrals it helps with credibility.
————————————
Your prospects may provide their information or email which also
is a contact you just made. Always hold onto this information as
you can use it in an email campaign. One thing to consider is that
when you ask customers for an email address, always ask them if
it is okay to contact them via email. Do not assume that it is okay
or you may upset them. One thing that is okay is sending a flyer,
brochure, or coupon in the regular snail mail.
————————————
You can make the business more valuable by adding a little extra
in everything that you do. A voice mail message might include a
quick tip on fixing something or a way to prevent a computer virus.
The signature on your email should contain more than your name,
address, and phone number. You might include a useful sentence
underneath that is a quick tip or useful bit of information.
————————————
When you attend events and network with other companies and
people then you provide another form of advertising. Networking
works very well because when someone does come across a
situation where they could use your product or service they will
remember you. Creating contacts is a very big part of branding. It
also helps instill your company name in the minds of people
around the industry.
————————————
Clothing works in many ways. People wear free t-shirts all over
the world. They may travel to different destinations like a gym
working out, a beach, or a fair. This is exposure for you for every
person that sees this person. The more t-shirts you get out there
the better for your business.
————————————
Local business events help you network in the big industry that you
may be working in. It is important to talk to companies and let
them know you are out there. Maybe you will recommend one
company while they recommend you. Always talk to other
businesses, let them know about who you are and what you are all
about, what their benefit is by knowing you, and how you can help
each other. Give them something to remember you by and make
an impact.
And More…
Other Details
- 12 Part Autoresponder Email Messages (TXT, DOC)
- Squeeze Page (HTML, PSD)
- Ecover (PSD, JPG)
- Affiliate Programs List
- File Size: 2,890 KB