Squeeze Page Preview: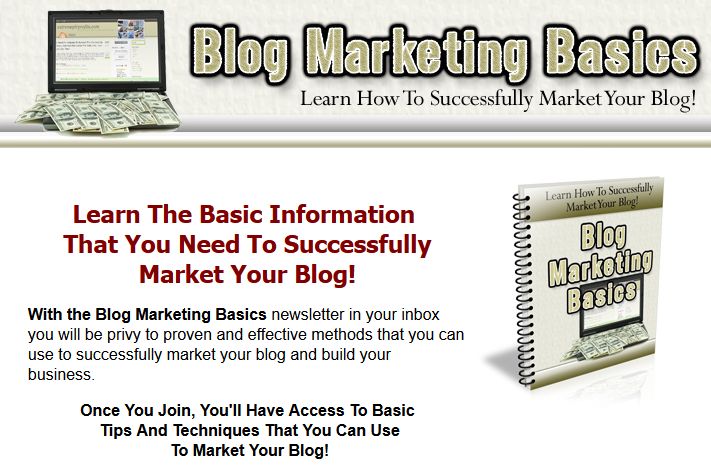 >>> Click Here To View Full Squeeze Page…
Features:
* 12 Issues Full Of Great Content
– Just add in your contact info and plug it in to your favorite auto responder. Each issue contains 500 words or more!
* One Ready To Go Squeeze Page
– Just add in your opt in form, upload to your server and your done!
* One Ready To Go Thank You Page
All ready to remind your subscribers to check their email and confirm their subscription. It even has built in revenue!
* 4 Researched Click Bank Products
These are top selling products on Click Bank that I've personally researched and chosen for each series.
* Extra Copy And Paste Article Content
You will get:
– Extra titles
– Extra opening paragraphs
– Extra closing paragraphs
– Extra fill in paragraphs
(these would make great tips that you add in to your follow ups system for more frequent contact with your readers)
Sample Content Preview
Message # 1
Subject line: Your First Blog Marketing Basics Issue
Hello "autoresponder code here",
Welcome to the first issue of Blog Marketing Basics.
In each issue of Blog Marketing Basics you will learn valuable
information on how you can successfully market your blog and build
your business. In this first issue we are going to go over a few of the
things that you should know about blog marketing before you begin.
Whether you are new to blogging, or you've been blogging for some
time, chances are you've been wondering how you can make more
sales, from your blog.
If you are new to blogging you will soon discover that you can't just build
a blog, post to it a couple of times, and then expect for the world to find
you. That just won't happen, no matter what you've heard or how much
you hope.
By taking the time to learn how to market your blog in the proper way
you will begin to see the results that you are seeking.
– To begin blog marketing you first need a blog.
– The next step is to ensure that your blog is updated frequently.
– Then post content to your blog regularly for the best results.
Some bloggers will post once a day and others once a week. No
matter what schedule you decide to keep it is very important to be
consistent when adding content to your blog and know that it will
pay off if you continue posting as you should.
This is a great way to get started with blog marketing because the
simple fact is that you wont have a blog to market if you don't post on
it regularly.
While most free blogs all look the same, you can make sure that your
blog design stands out. You don't want your blog to look and feel like
everyone else's, so make it different. Try to get a theme that is going to
match the market that you are promoting on your blog. Doing this will
make it look professional and be a huge plus in the blog marketing
world.
You don't want your readers to confuse your blog with others do you?
If this is something that you are concerned about, you will definitely want
to make sure that you change yours to make it more personable.
However, if you are not worried about it or concerned about it in the
least, you can leave the design as one of the free templates that you
see so frequently used.
Something else that will help you with your blog marketing is
exchanging links with authority blogs and websites that are in your
same market is another great way to get the word out about your blog.
This method takes a bit of knowledge and practice to make it really
effective, but it is a great way to market your blog!
The authority sites are going to have a higher page rank, and will also
be listed high in Google's search results. So do some searches and
check those out and see if they are up to exchanging links. If they are
not, you could always just add those into your blog roll. You don't need
permission to do that if they are not into linking.
However, in the world of blogs, most blog owners are thankful for all
links, and are willing to return the favor. As I mentioned above this is a
great way to market your blog that some bloggers don't think about or
use. If you take the time to learn and use this technique to get your blog
seen, you won't be sorry. You can even use this for website marketing,
and you will see a lot sites do that.
Make sure you look for your next issue soon. We will be talking
about some of the different aspects of blog marketing that will help you
succeed.
Thank you again for joining,
"your name here"
"your email address"
"your URL here"
Other Details
- 12 Part Autoresponder Email Messages (TXT, DOC)
- Squeeze Page (HTML, PSD)
- Ecover (PSD, JPG)
- Affiliate Programs List
- File Size: 27,253 KB