Salespage Snapshot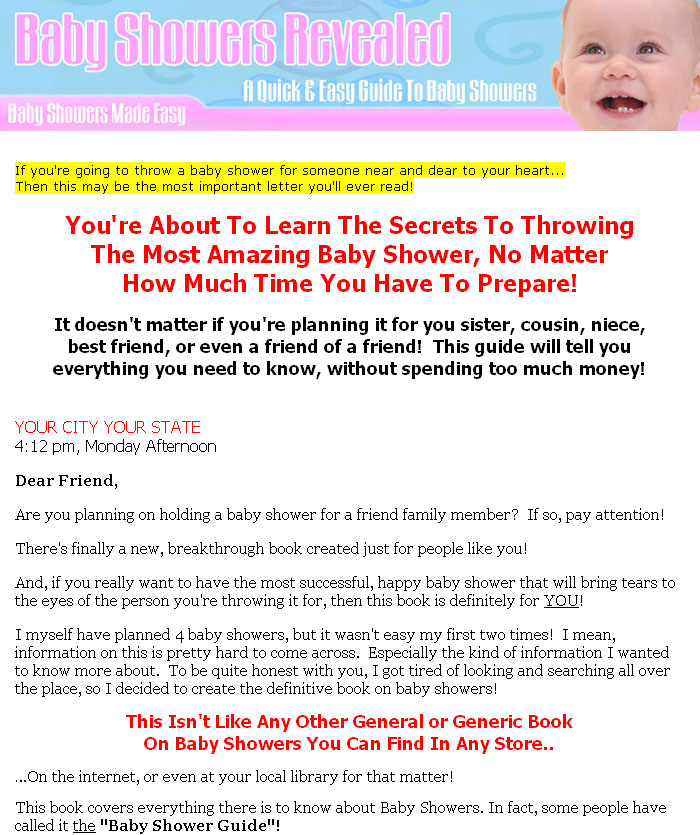 >> Click Here To View Sales Page...
Table Of Contents
INTRODUCTION    4
PART 1: PLANNING THE SHOWER    7
Who'll Throw the Shower?    7
When Should the Shower Happen?    10
Sending out Invitations    15
To Gift Registry or Not to Gift Registry    19
PART 2: HOLDING THE SHOWER    22
Things to Do: Themes    23
Theme: A Tea Party    25
Theme: Celebrity    26
Theme: Literary Baby    27
Things to Do: Games    28
Food    31
PART 3: INSIDER'S TIPS    33
Things to Do: Plan    34
Things to Do: Decorate    36
Things to Do: Cater Accordingly    36
Things to Do: Set a Time Limit    40
Things NEVER to Do: Don't Ask People to Eat Standing Up    42
Couples Showers?    46
CONCLUSION    48
Ebook Sample Content Preview

INTRODUCTION
How wonderful! One of your best friends in the whole wide world has just announced that she's pregnant.  Naturally, you're delighted, and can't hold back your tears of joy.  It's hard to imagine that, in just a matter of time, your special friend is going to be a mother (maybe even for the second or third time…or more!).
As you let the amazing news sink in, your friend is envisioning the journey that will usher in a new life into the world: the gynecologist visits, the morning sickness, the ultrasound testing, the roller coaster of emotions that will eventually culminate in an experience that defies description.
Indeed, despite the frequency of births – tens of thousands a day, all across the world – they remain nothing short of miraculous.  It's not hard to imagine, therefore, that your friend is reflecting on issues that are truly hard to put into words.
Your world, however, is rather more pragmatic.  You're thinking of the baby shower; or rather, you're thinking that you might not know enough about planning and managing a baby shower.  And that has you worried.
Well, worry no more!  In your hands (or on your screen) is The Quick and Easy Guide to Baby Showers.   Within the following pages, you'll learn everything that you need to know to throw a perfect baby shower.  You'll learn about the elements of:…
Other Details
* 60+ Page PLR Ebook
* Professionally Written Salesletter
* 50 PLR Articles
* 5 Part Autoresponder Email Course
* 1 Complete Adsense Website
* Professionally Designed Graphics Set
* Highly Targeted Keyword List
* Pre Written PPC Ads
* PDF and MS Word Source File For eBook
* PSD Files For Graphics