Salespage Snapshot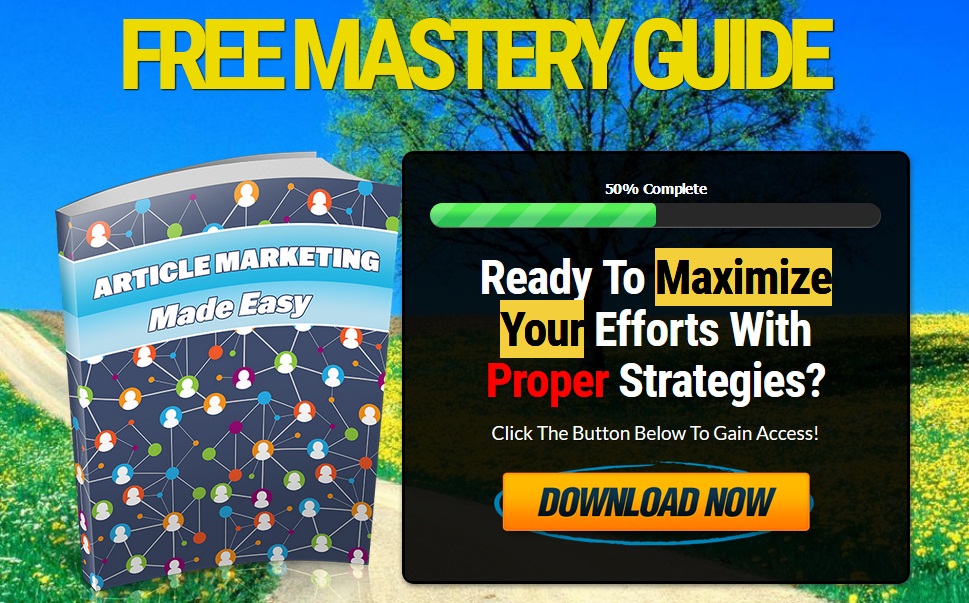 >> Click Here To View Sales Page...
Sample Content Preview
HOW LONG SHOULD THESE ARTICLES BE?
Aha… the million dollar question. The answer might seem to be to take a look at what is already being published on the article directories, but although the right answer is there you will also see lots of wrong answers. What do I mean by this?
Quite simply, don't make it too short. You will see lots of articles on these sites that are barely three hundred words long. That means you will be able to read the whole thing on your computer screen without scrolling.
That might seem to be a good thing, but believe me when I say an article that short won't have any meat in it at all. If you want to write good articles – and I mean GOOD ones that people want to read – then you need to stick to around 500 words at the very least. I would say 500 to 600 if you can. This is a nice length because it allows you some room to tell people a little bit about the subject. And yet it isn't enough to tell them everything. The idea here is to whet their appetite and make them want to click through to your website to find out more.
Think of your article as the appetizer. To get the main course – i.e. more information – they will need to go to your website.
But that doesn't mean they shouldn't be able to learn something worthwhile from your article. No matter how good your writing is, a fair proportion of people will not click through and visit your website.
But if they like what you wrote and they notice your name, they will remember you when they come across you again. And we all know that despite its size, the internet can be amazingly small at times. If they see you again, they may well decide to follow your advice and visit your website then.
So go for a reasonable length of article and think of it as an investment into the future of your business, as well as hopefully getting a good result now. You won't regret it.
FIGURING OUT WHERE TO SUBMIT YOUR ARTICLES TO
It's up to you whether you want to submit your articles to as many sites as is humanly possible, or whether you want to focus on just two or three.
If you subscribe to the theory that Google penalize all duplicate articles and you don't want that to happen, then submit each article to one site only. You will then need to rewrite each one for each separate directory you want to target.
Since you need to create a new account at every article directory you want to submit to, it can actually be quite a task to get started with more than a couple anyway.
It's up to you which sites you want to focus on, but there are a few you absolutely should not miss out on. The first is Ezine Articles.com, which is undoubtedly the most popular one as far as Google is concerned.
Buzzle.com is another good bet, and Search Warp.com would be my third pick. If you start with these three, you can then add more as and when you feel able to.
But these always tend to rank rather well in the search engines, and if you want your articles to receive the best possible degree of attention, you'll want them to be on page one of those results and no lower down if possible. Don't dismiss the thought of using article directories that are dedicated to the specific subject you are writing about though. For example, there are a few medically related article directories out there which only publish articles on those subjects. You will find that these directories tend to attract less in the way of traffic, but the people who do use them have a definite interest in that subject, so you are more likely to get more interest in what you have written as a result.
And possibly more click throughs to your website as well.
To find these sites, simply go to Google or another search engine of your choice and type in something along the lines of "[subject] article directory", replacing the [subject] part with your choice of subject. Try it with and without those quote marks too.
If you can add one or two specialist directories to the mix like this, you may well get even more impressive results.
REWRITING YOUR ARTICLES FOR MAXIMUM EXPOSURE
Okay so we've pointed out the fact that while duplicate articles will still get you backlinks, they probably won't appear lots of different times in Google. But this is easily solved if you spend some time rewriting each and every article you write.
What you do is take the article you have just written and rewrite large portions of it – adding in a new title as well – so that it isn't seen as a duplicate of something you have already had published online. This might sound like a huge task but once you get the hang of it, it actually becomes rather easy – and certainly much easier than writing fresh articles all the time.
Other Details
- 1 Ebook (PDF), 14 Pages
- 1 Squeeze Page (HTML)
- 2 Ecovers (PNG)
- Year Released/Circulated: 2019
- File Size: 2,003 KB
License Details:
[YES] Can sell and keep 100% of the sales.
[YES] Can edit the squeeze page.
[YES] Can be bundled into another paid package and sell at a higher price.
[YES] Can be used as a bonus to another product you are selling.
[YES] Can be sold in a Dime sale event.
[YES] Can be added into a paid membership site.
[YES] Can pass on the Master Resell Rights privilege to your customers.
[YES] Can be given away for free AGAINST an email address (lead generation)
[NO] Contents of the product can be edited, modified or altered.