Salespage Snapshot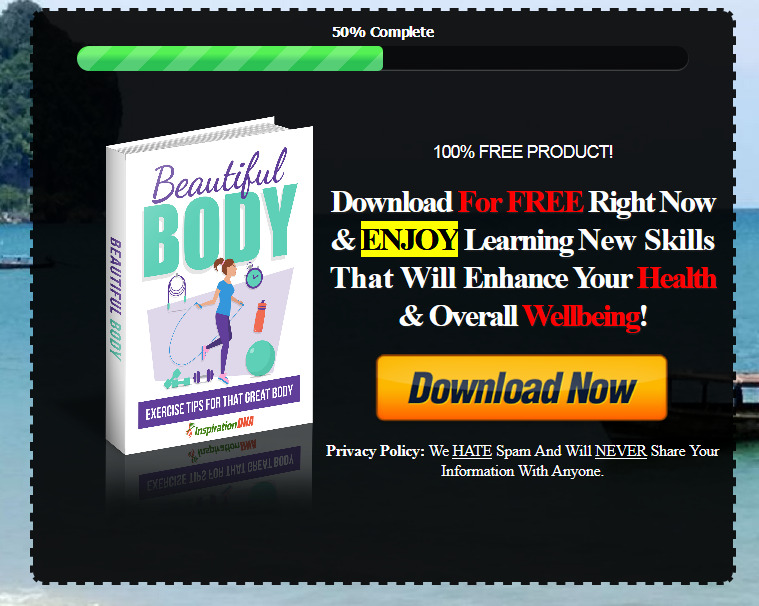 >> Click Here To View Sales Page...
Table of Contents
Foreword
Chapter 1:
Exercise Basics
Chapter 2:
Set Your Goal And Stick To It
Chapter 3:
Get Your Exercise Plan Together
Chapter 4:
Make Sure To Warm Up
Chapter 5:
Incorporate Cardio Training
Chapter 6:
Use Weights
Chapter 7:
Eat Healthy
Chapter8:
The Benefits To A Healthy Lifestyle Other Than Looking Great
Wrapping Up
Sample Content Preview
Chapter 2:
Set Your Goal And Stick To It
Starting or getting back to a workout routine involves more than simply scheduling your exercises and joining a gym. As a matter of fact, it's totally possible to join a gym and never really go, even as those monthly payments appear on your bank statement. I understand this because I've done that a couple of times in my life. Sticking to your goals demands a couple of mental tricks to help keep you going, centered and motivated.
Keep Going
Momentum is a central part of uniform exercise. It's normal to have those weeks when everything goes correctly: You do all your exercises, eat like a health nut and begin to think, 'I may completely accomplish this!'
Then 'it' materializes. 'It' may be a vacation, an illness…something that throws you off your game. Getting back is constantly tough, partly as you've lost that momentum. We already realize that an object at rest tends to remain at rest, so getting going again is the only way to get your momentum moving.
Rather than caring about making up for lost time with intense exercises, center on simply getting some exercise time in. Plan your exercises for the week and call yourself successful simply for turning up.
Purchase yourself a little something like a new pair of running shoes or an exceptional pair of shorts to wear to the gym. If you're having hassles getting back to it, get a new outfit or download a few new songs to your MP3 player so you've something to look forward to.
Make an appointment to exercise with an acquaintance or call your gym and arrange a free consultation with a personal trainer. Even
if you don't sign on, getting back into the exercise environment may be just what you need.
If the thought of coming back to boring gym exercises makes you want to die, do something completely different. Sign on for a local belly dance class or check into that new yoga studio. A switch of scenery and a brand new activity may refresh and rejuvenate you.
Picture this: you're at a party and you've promised yourself you won't scarf down the buffet like a famished maniac. Then you see a huge platter of the prettiest cheese you've ever came across. Many hours later, feeling your cheese hangover start, you vow to make up for it tomorrow with a long workout.
There are some issues with this approach–first, you can't undo what you consumed the night before and, secondly, killing yourself with an exercise isn't a good answer as it makes you hate exercise even more.
If you're busy living in yesterday's errors, many of your decisions will be founded on guilt and shame instead of what you really want (and need) to accomplish to achieve your goals. Real change comes from day-to-day choices and becoming mindful and basing your choices on what you need now (rather than what you did or didn't do yesterday) will make your exercise life much more passable.
Chapter 3:
Get Your Exercise Plan Together
Taking the time to really sit down and make a concrete schedule is the essential first step towards building the body you want. Following comes the tough task of following it each week, but that's a different topic for a different day, for now let's just center on putting a workout schedule together.
Putting A Plan Together
• Sit with a weekly calendar and ascertain how many days of the week you're willing to workout.
• Choose what particular sort of workout you wish to engage in. For example, cardiovascular workout will help you lose fat, whereas lifting weights will form muscle.
• Devote yourself to exercising according to your plan. This is the most crucial step.
• Abide by your schedule for at the least one month. The gains you'll see after 4 weeks ought to be decent to keep you motivated.
Cardiovascular workout
• Integrate 30-minute workout sessions into your schedule. 30 minutes of every day workouts is enough for most individuals.
• Decide on a sort of cardiovascular workout for a particular day of the week. Utilizing a treadmill or stair-climbing machine, jogging, bicycling, and swimming are all efficient forms of cardiovascular workout.
• Warm up and actively stretch out for five minutes prior to starting any activity.
• Workout at a moderate pace for twenty minutes.
• Follow up with a five minute cool down.
• Switch your schedule to fit longer workout periods if suitable.
• Stick with your schedule.
Weights
• Allow thirty to sixty minute workout sessions for weights. If you don't spend much time socializing or resting during your workout you are able to get a great session of lifting done in that time. Do not rest more than sixty seconds between sets.
• Start by doing total body workouts aimed at conditioning each major muscle group (upper body, lower body and back). Equilibrated development is exceedingly crucial.
• Divide your workouts as you get to be a more experienced lifter. This will enable you to better center on particular muscle groups and areas. A basic split that targets each major muscle group is: chest and triceps, back and biceps, shoulder and legs.
• Rest your muscles in between sessions. Allow each muscle group to rest at least one day between sessions. Your muscles can not grow unless they have time to rest and mend.
• Tailor your agenda to best fulfill your goals.
• Stick with your workout schedule.
Other Details
- 1 Ebook (PDF), 32 Pages
- 2 Graphics (PNG)
- 1 Salespage (HTML)
- Year Released/Circulated: 2017
- File Size: 1,406 KB
License Details:
[YES] Ebook Can be given away against an email address
[YES] Can sell the WHOLE product and keep 100% of the sales
[YES] Can sell the WHOLE product with Resale Rights
[YES] Can sell the WHOLE product with Master Resale Rights
[YES] Can edit the Squeeze & TY + MRR Upsell Pages
[YES] The WHOLE product can be packaged with other products you sell
[YES] The WHOLE product can be offered as a bonus with other products you sell
[YES] The WHOLE product can be added to paid membership sites
[YES] The WHOLE product can be offered through auction sites
[NO] WHOLE Product can be given away
[NO] WHOLE Product can be added to free membership sites
[NO] Ebook can be modified in any way
[NO] Can sell with Private Label Rights