Salespage Snapshot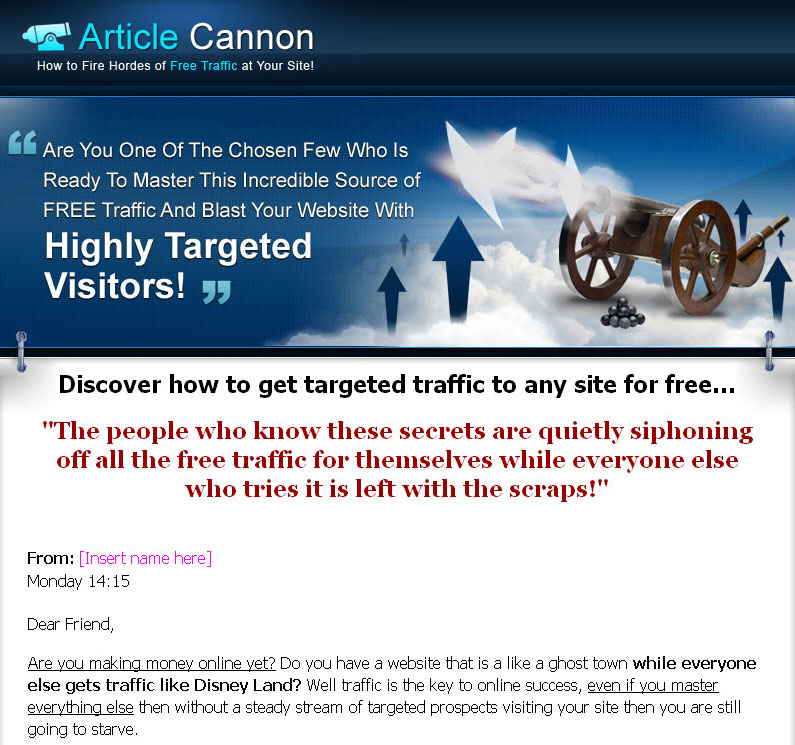 >> Click Here To View Sales Page...
Table Of Contents
1.  Introduction
2.  What can I promote with articles?
3.  How to write a good article
4.  The main problems people encounter (& how to beat them)
5.  Where to submit to
6.  The two types of articles you can write
7.  Getting free search engine traffic
8.  Resource box magic
9.  Should I spin my articles?
10.  Web 2.0 heaven
11.  When to outsource
12.  Final Thoughts
Ebook Sample Content Preview
Introduction
Welcome to this guide on how to get massive traffic from articles!
So first off – why articles?
Well I love articles, they are easy to write, easy to submit, they give you links to your site which help with SEO, and they drive targeted, free traffic to your site as well! Information makes the internet work, everyone is searching for information online, and articles are one way to convey that information. Combine that with the power of the article directories to rank well in the search engines and you have yourself a winner!
Oh sure videos are taking off, and a lot of what we are going to discuss can be translated directly into video marketing as well, but people still like to see text, if I am looking up something quickly then I don't want to see a 5 minute video where people waffle on about stuff, I want to find a page with text on, then scan it till I find my answer.
You don't need to be a rocket scientist to make it work either, unlike something like PPC, and unless you are spending money outsourcing the articles then if you write one and it doesn't work out like you planned… the only thing you lost was a bit of time.
So in this guide we are going to discuss how to write about things you know nothing about, how to write articles super fast so they are no longer a chore, the best places to submit your articles to depending on what you want to use them for and the two different types of articles you can write which will get traffic in different ways.
Then we'll get into how to get your articles ranked in the search engines so you can get long term traffic for your efforts, then how to get people to click through at the end of your article (so many people neglect this and it is the most important part!). Then I'll wrap up with whether spinning articles is good or bad, and how to do it properly. Then how to outsource everything when you are making money, and how to add web 2.0 properties into the mix.
Other Details* Sales Page:
Included, HTML
* File Format:
MS Word Doc, PDF
* Number of Pages:
30
* Included Graphics:
Ecovers, PSD
* Extras:
Book Preview
* File Format:
MS Word Doc, PDF
* Number of Pages:
6
* Extras:
5 Part Autoresponder Email Message Series
* Extras:
Banners, PSD
* Extras:
Blank Header & Footer
* Extras:
Squeeze Page
* Download File Size:
7,197 KB