Salespage Snapshot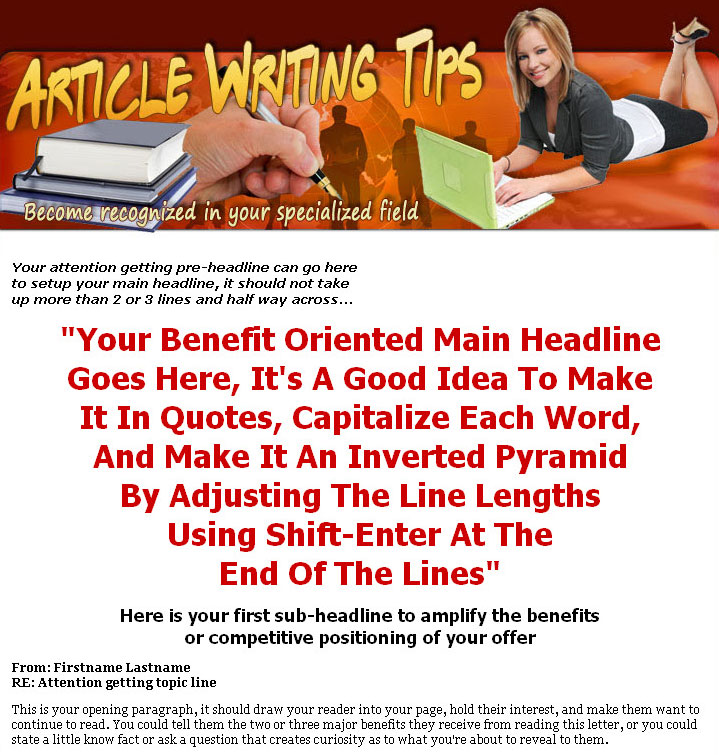 >> Click Here To View Sales Page...
Table Of Contents
Turn Words Into Traffic    3
Take Your Sales Volume To New Heights    4
Article Writing To Boost Your Profits    5
Writing Tips To Promote Your Business    6
Kick-Start Your Writing    7
Increase Your Sales With Article Marketing    8
Ways To Attract Attention    9
Increase Your Exposure    10
Give Your Business a Boost With Article Writing    12
Tips For Article Marketers    13
6 Article Writing Tips For Marketing a Business    14
Boost Your Writing and Your Business    15
Writing Tips That Generate Traffic    16
Hot Article Writing Tips For Getting The Sale    17
Build Trust With Your Readers    18
Don't Bore Your Readers    19
Tips For Writing Better Articles    20
Finding Success As An Article Marketer    21
Article Writing Tips For You!    22
How To Write Brilliant Articles    23
Article Writing Tips That Will Boost Your Profits    24
The Article Marketer in You    26
Brand Yourself As An Expert    27
Article Writing Tips That Will Lead You To Success    28
Ebook Sample Content Preview
Turn Words Into Traffic
Writing articles and submitting them to free article directories is one of the most effective methods for promoting a business. By writing articles, you can brand yourself as an expert, advertise for free through your resource boxes, boost your sales, increase your profits, promote affiliate programs, boost your page rank and get more traffic to your website. Read these tips if you want to turn your words into traffic.
First Paragraph
In the first paragraph, you should explain what the article is about. Make sure the information is clear and you should offer a solution to a problem. You can use shocking facts to engage your reader. In addition, the content should be interesting and it should inspire curiosity. Please note that the first paragraph is very important and it should be unique. If your articles are too similar to other articles, people are not going to read them.
Short Paragraphs
Next, it is important that you break up your text into paragraphs because it is easier to digest. You should create short paragraphs because they are easier to follow. Use 4-5 sentences for each paragraph. You can use subheads for each paragraph if you like.
Other Details* Sales Page:
Included, HTML
* File Format:
MS Word Doc, PDF
* Number of Pages:
29
* Included Graphics:
Ecovers
* Extras:
eBay Sales Page
* Download File Size:
1,683 KB