Salespage Snapshot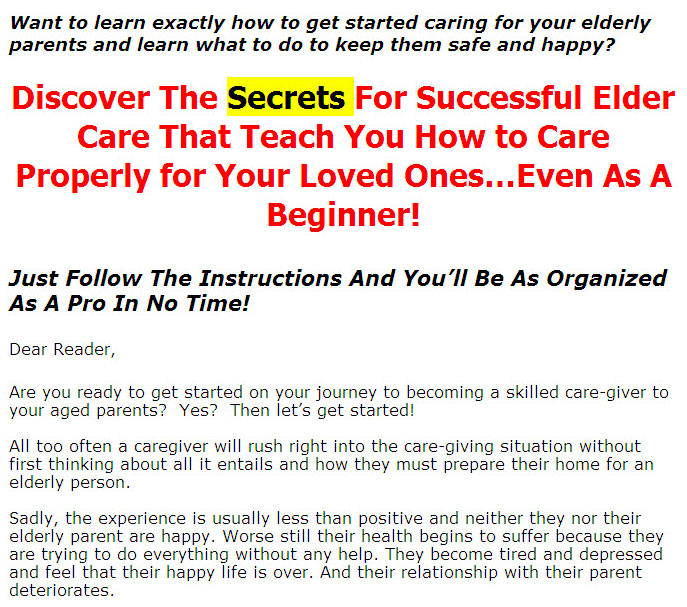 >> Click Here To View Sales Page...
PLR Ebook Table Of Contents
1. Keeping an Elderly Relative in Their Home ………….. 3
2. Needs of the Aged Who Stay in Their Own Home ………………………….. 4
3. Caring for an Elderly Relative in Your Home …………………………. 5
4. Preparing Your Home for an Elderly Relative ………………….. 7
5. Aids to Help the Elderly Maintain Independence ……………………. 8
6. Personal Care Needs for an Elderly Parent ………………………. 10
7. Products to Keep Older People Mobile …………………………….. 11
8. Coping with Memory Loss …………………………………. 13
9. How to Manage Showering ………………. 14
10. Help for Looking after Your Aged Parent …………………. 16
11. Should Your Aged Parent Enter a Nursing Home? ……………….. 17
12. Choosing a Nursing Home …………………….. 19
13. Looking after Yourself when Caring for an Aged Parent ……………….. 20
14. Making Sure All the Family Helps ……………………………. 22
15. Which Pets are Suited to the Elderly?…………………………. 23
Ebook Sample Content Preview
1. Keeping an Elderly Relative in Their Home
All being well, the day will soon come when adult children are faced with caring for the elderly parents. This may not be an easy time, but it can be improved by knowing ahead what to do and what help is available for elderly residents – and for their caregivers. The ideal time to talk about such care is well before your parents get to that stage. That way you can be sure of heeding their wishes. Often, it is best for elderly people to stay in their own homes for as long as possible.
This guide is intended to help you learn when and how you can arrange home support to help an elderly relative find comfort in life and cope well with their day to day life at the privacy of their home. Have you ever taken care of any elderly person? Well, no matter what the vulnerability of the elderly person in concern is, the ultimate process is more or less the same. They must have had decent degree of doctor's assessment regarding any health conditions and also regarding their domestic situation. When social workers are assigned to the case, they pay a visit to their client's home to carry out care assessment.
The ultimate assessment process incorporates visits of the Home Care Services Manager to prepare a decent care package. They may suggest that you fit a reasonable 'key safe' onto the person's door on the outer side of the wall, provided that the person is blind, deaf or otherwise incapable of answering the door. Care workers and pre-arranged visitors should not have to do more than tap in a code on the keypad to get the front door key and open the door. As they leave, all they need to do is lock that front door and re-punch the keypad code in to open the box and put that key back inside again. This is one of the best methods to use if you want to guard an elder with vulnerability – especially if they are blind or deaf.
You could also place a Mobile Emergency Care Service (MECS) button around the neck of the elderly. If they need to call anybody anytime, pressing the key would be enough. This service allows you to converse with the elderly over an audible loudspeaker that is put underneath the bed.
As the elderly person wakes up, give them a visit. They may need breakfast in bed. The noon hours require that they are woken up, washed, decently dressed and carefully taken down to the sitting-room, where they can stay for the remaining part of the day. In the evening time, you have to offer dinner and the later phase might call for a 'tuck-in' service. Your elderly relative will need a wash and another toilet visit. Finally, they need to be put into bed. Try to ensure that all the care workers are attending in shifts as much straightforwardly as they can.
Other Details* Sales Page:
Included, HTML, MS Word Doc
* File Format:
MS Word Doc, PDF
* Number of Pages:
25
* Included Graphics:
Ecovers, PSD
* Download File Size:
1,674 KB