Salespage Snapshot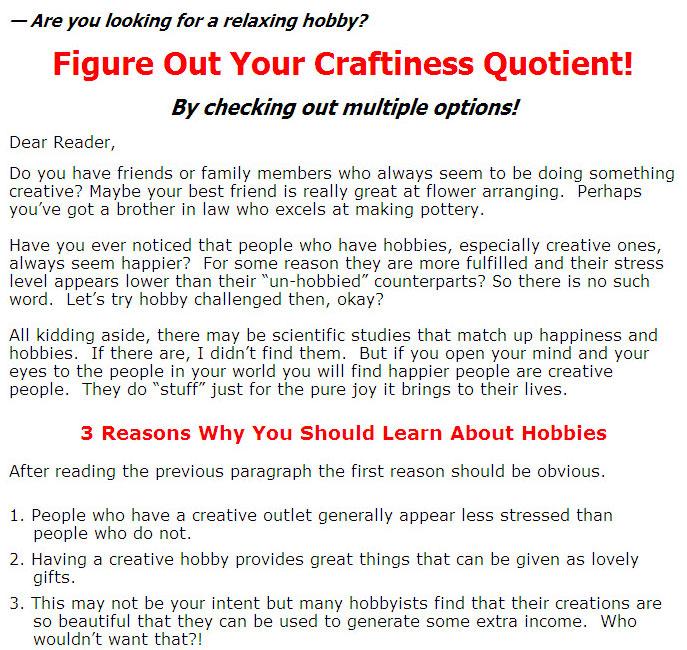 >> Click Here To View Sales Page...
Ebook Table Of Contents
Sewing
Knitting
Quilting
Crocheting
Decoupage
Embroidery
Tatting
Candle Making
Making Soaps and Perfumes
Flower Arranging
Scrap Booking
Pottery
Origami
Glassblowing
Rubber Stamping
PLR Ebook Sample Content Preview
Sewing
Sewing is a centuries-old art that involves the fastening of leather, cloth, fur, bark as well as other flexible, pliable and bendable materials. Archeologists have discovered ancient sewing materials that date back to as early as 30,000 BC. This process is referred to as tailoring or stitching.
Primary Functions of Sewing
Sewing is primarily done to craft different types of clothing, bed sheets and bed spreads table linen and different types of upholstery. Sewing can be done on materials such as canvass and leather, and is used to fashion out banners, sails and bellows.
Traditional Sewing Tools and Materials
Since most of the early sewing methods were exclusively done by hand, the most common tools were the needle, pattern and the thread. Other tools included the rotary cutter, scissors, measuring tape, stitching awl, pins and pin cushions, yarn, tracing paper, chalk, thimble, wax and sewing box.
Plain and Fancy Sewing
Basically there are two types or categories of sewing: Plain and fancy sewing. Plain sewing refers to a more functional type, which is used to stitch together household items or clothes and linens. Fancy sewing involves more complex processes, and is mostly a decorative form of sewing. Among the fancy sewing methods included quilting, embroidery, shirring and others.
Sewing Became a Lucrative Livelihood Source
Before machines came into the picture, sewing was a purely home craft. Many individuals sew clothes and other items for themselves, as well as for their customers. They performed simple tasks such as repairing torn or loose seams, or putting back into place a loose shirt pocket or button.
Other Details* Sales Page:
Included, HTML, MS Word Doc
* File Format:
MS Word Doc, PDF
* Number of Pages:
49
* Included Graphics:
Ecovers, PSD
* Download File Size:
1,637 KB