Salespage Snapshot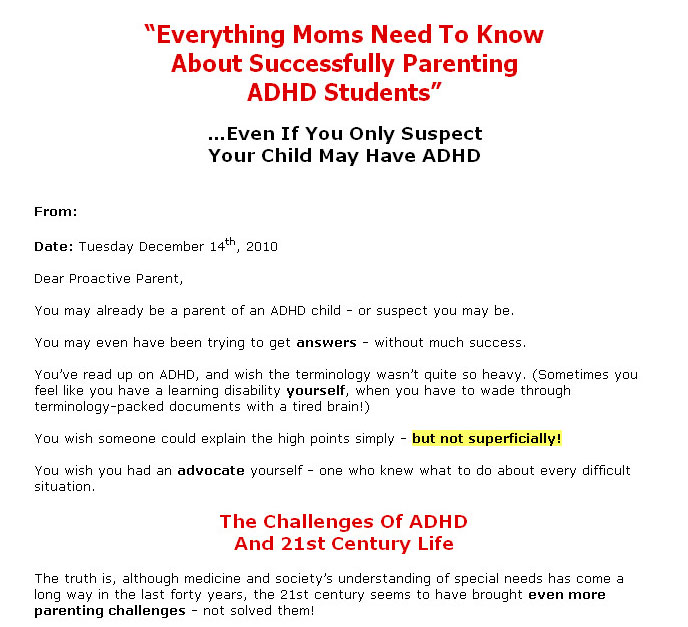 >> Click Here To View Sales Page...
Ebook Table Of Contents
Section I: ADHD Then And Now
What This Special Report Is – And What It Isn't    4
What is ADHD – And Where Did It Come From?    4
How Is ADHD Different From ADD?    7
Diagnosis    7
Hyperactivity    8
Impulsiveness    8
What Parents Face    10
The Challenges Of ADHD And 21st Century Life    11
Early Indications    13
"Maxine Couldn't Manage"    13
Dealing With Criticism    15
Where To Go For Help – And How To Get It    17
Where Your Medical Professional Is Coming From    19
Special Factors Affecting Your Child's Diagnosis    20
Section 2: Common Problems For Parents
Parental Frustration With The School System    21
ADHD And The Use Of Jargon    23
Special Problems In School    25
When Your Child Encounters A New Teacher    27
Starting Off On The Right Foot With Your Child's New Teacher    28
Classroom Strategies    29
Feeling Guilty    30
Discipline, Communication And The ADHD Child    31
What Doesn't Work    33
ADHD Children And Games    35
ADHD Software    36
Helpful Books For Parents And ADHD Children    37
Current Alternative ADHD Treatments    38
Resources For Parents And ADHD Children    39
Finding A Support Group    39
An Important P.S.    40
Sample Content Preview
Section I: ADHD Then And Now
If you are reading this Special Report, you may be the parent of a child with Attention-Deficit Hyperactivity Disorder (ADHD) – or you may suspect your child has ADHD.  If the latter is the case, I urge you to do everything you can to get a correct diagnosis, since there may be other medical and psychological causes of hyperactivity, memory problems, inattention and all the other symptoms commonly associated with ADHD.
These include (but are not limited to):
•    Hyperthyroidism
•    A life-changing event (moving, death in the family, etc.)
•    Learning disabilities
•    Anxiety disorder
•    Tourette's Syndrome
•    Asperger's Syndrome
•    High-functioning Autism
In fact, it has been estimated that there are over 50 conditions with symptoms that can mimic ADHD!  Many of them can be found alone – or in conjunction with ADHD.
This Special Report is designed to give you answers so you can better ask the right questions – and make sure both you and your child get the most out of life, with the least stress…
Other Details* Sales Page:
Included, HTML
* File Format:
MS Word Doc, PDF
* Number of Pages:
40
* Included Graphics:
Ecovers, PSD
* Extras:
Promotional Email Message
* Extras:
Followup Emails
* Extras:
Affiliates Programs
* Extras:
Articles
* Extras:
Squeeze Page
* Extras:
Blog Posts
* Extras:
MS Word Doc, PDF Report
* Number of Pages:
11
* Download File Size:
12,738 KB