Salespage Snapshot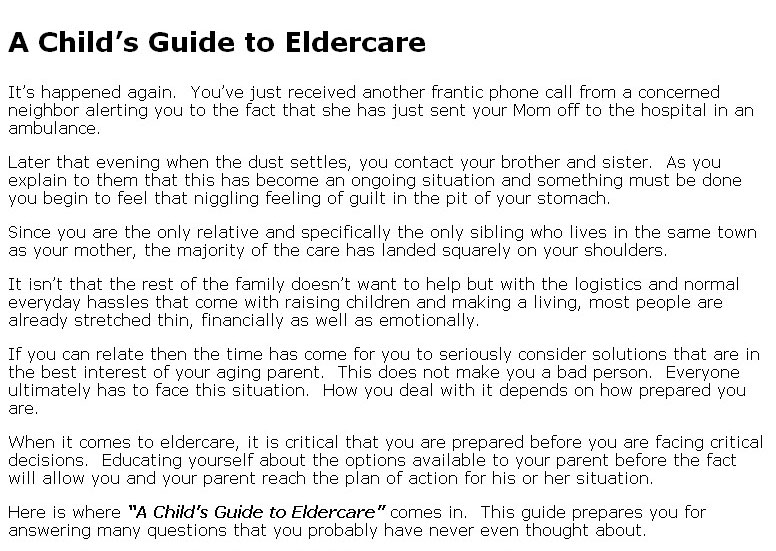 >> Click Here To View Sales Page...
Ebook Table Of Contents
When does it Begin
Financial Issues
Who Takes Responsibility?
Who Becomes the Caregiver?
Accelerating Care Needs
If Long Term Care is an Option
Medical Care
Nutritional Needs in the Elderly
Moving Day
Dealing with Elderly Depression
Safe Driving
Elder Safety
Understand Confusion
Know the Professionals
Take Care of the Caregiver
PLR Ebook Sample Content Preview
When does it Begin
Caring for your parents—when does it begin?
Parents are heroic people; they bring children into this world, feed them, nurture and love them and accept their idiosyncrasies no matter what.  They sacrifice time and effort to take care of their children and make sure they grow up to be caring and responsible individuals.
Parents are superheroes because they can be everything their children want them to be.  They can be happy for their children even when they are actually feeling sad and burdened by the daily challenge of keeping their family above the water when times are hard.
Parents are a very important part of the lives of their children because they are responsible for molding these clay-like individuals into what they will become in the future.  No person could have managed to become what he is without the support of his parents.
But what happens to parents when they have reared their children and their children lead lives of their own?  Parents are human beings and they succumb to old age and health problems that come with being old…
Other Details* Sales Page:
Included, HTML, MS Word Doc
* File Format:
MS Word Doc, PDF
* Number of Pages:
66
* Download File Size:
211 KB