Salespage Snapshot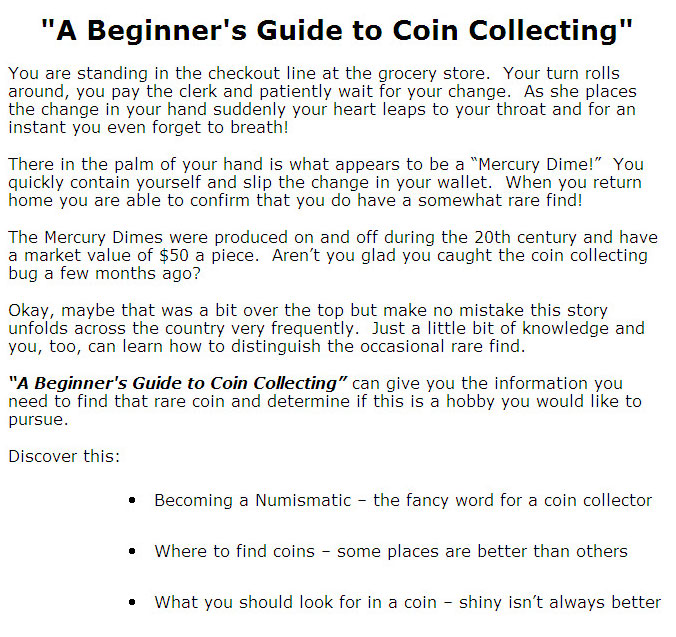 >> Click Here To View Sales Page...
Ebook Table Of Contents
Becoming a Numismatic
Where to find coins
What you should look for in a coin
What are mints and mint marks
What affects the value of a coin?
Getting started
Grading your coins
Should you use a grading service?
When should you sell?
Pros and cons of buying at auction
About commemorative and other special coins
How and where you can buy bullion coins
Detecting counterfeit coins
How to avoid shysters and frauds
How to care for your coins
PLR Ebook Sample Content Preview
Becoming a Numismatic
Learning the ropes of Numismatics
Numismatics is the study of money, medallions, banknotes, token coins, and stock certificates. It is believed to have been established in the time of Julius Caesar who wrote the first book about it. It is a very interesting topic because every medal or coin signifies different era, culture, economy and politics.
Numismatists or the people who study the history and over all appearance of the above mentioned forms of currency are different from coin collectors. Unlike numismatists, coin collectors are only interested in collecting coins and the prestige that goes along with it although; a numismatist can also be a coin collector and vise versa.
Over the years, coin collection has been very popular. The most common designs are famous people and animals and attempt to depict the era when the specific coin was released.
Numismatists are generally interested in use of money, its origin, appearance, variety and production. They aim to explore the role of the different kind of currency in our history using mint. Mint refers to the place or facility where the coins are being manufactured. They also grade or authenticate coins to determine its market value. In line with this, Coin grading system facilities were established.
Other Details* Sales Page:
Included, HTML, MS Word Doc
* File Format:
MS Word Doc, PDF
* Number of Pages:
62
* Included Graphics:
Ecovers, PSD
* Download File Size:
1,637 KB