Salespage Snapshot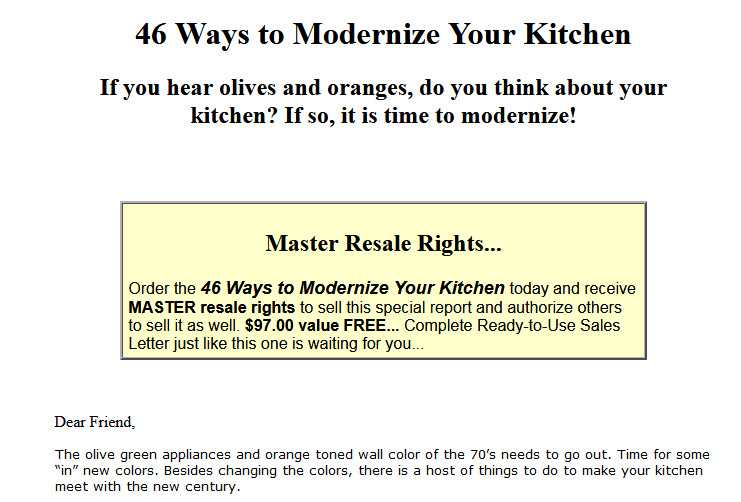 >> Click Here To View Sales Page...
Sample Content Preview
Faucets are no longer just a spigot that provides water. Faucets are pieces of artwork now that have multi-functioning capabilities. Some of them have removable ends that spray water. Others have tops that lift off and move over. Water softeners and filters can be placed over nozzles to provide safer and tastier water. The selections are endless. Faucets can also come in plastic or metal, so the colors are changeable too.
7 – Clean the Clutter
A modern look is having the bare essentials or minimalist approach to kitchens. Very few knick-knacks are on shelves and the countertops are cleared off. Hardly anything is out to look at, keeping your view clean. Besides providing a new look, less clutter holds less dust, which requires less cleaning. Less small appliances and items on the cupboard make the room appear larger too.
8 – Ultra Mixer
Get rid of your tiny hand mixer and get an ultimate machine. A stand mixer has a lot more capacity and power if you are a faithful baker or cook. The price has lowered tremendously in recent years making them affordable. You can justify the price by how much that speed up your activities in the kitchen. Ultra-mixers have multiple speeds, attachments, and controls to mix virtually anything. The mixers are available in a rainbow of hues to coordinate with new paint or wallpaper too.
9 – Microwave
The big, boxy and expensive microwaves that first came out are gone! Or they should be. If you have a large, bulky microwave, it is time to upgrade. Microwaves now come in all sizes and colors, not to mention power levels. If you only need one to warm up food occasionally, a small one is for you. If you do a lot of cooking with the microwave as the source, you will need a sturdier one. Microwaves can be purchased at any department store, appliance store or even a grocery store. They can be plastic, metal or stainless steel.
10 – Cooking Gadgets
Every modern cook needs the newest cooking gadgets. Whether you use them or not is up to you, but displaying them may make you seem like more of a modern cook. One such tool is the corn husker. It is a square brush that fits in the palm of your hand with small bristles.
The bristles are soft as to not damage the kernels of corn on a cob, but they grab the corn silk from between the rows before it can get stuck in your teeth. Cool, huh?
11 – Flooring
Does your floor seem dingy and gray, even after you just mopped? It may not just be the cleaner or water in the bucket. It may be that your linoleum floor is out of date. The linoleum or laminate floors hold up to wear and tear, but do need replacement after several years go by. Find replacement flooring that matches your colors to brighten the room. There are many styles to choose from, including laminate, laminate wood, wood, vinyl and linoleum. The price can vary to, so make sure you have a budget in mind before shopping.
12 – Table
If there is a Formica topped table in your kitchen, it is time to modernize. There are many more new, family friendly tables on the market that look pretty. Wood tables have a protective covering you can have applied on the wood, which is clear, so you can still see the beauty of the wood underneath. The covering is waterproof, so any spills will not harm it and they can be wiped right off. There are also coverings that prevent nicks, dings and scratches from showing on the surface.
13 – Chairs
Are the chairs at your kitchen table showing their age? To modernize them, you can either give them a facelift or opt to buy completely new. If you don't feel like a project, head for the store. If you do like improvement projects, find some sandpaper and begin. Sand off any old paint or stain on the chair so that the new stuff will stick to it. Pick your color or stain and then begin. Follow all directions on the paint or stain labels to see the best results.
14 – Bar
An addition of a bar or center island will give you much more working space in your kitchen. It can be a place to cool cookie trays, hold mixing pans or store the mail from the day. A bar also works as a place to do homework or to have an evening snack. Whatever you use it for the most, it will make you have much more space in your kitchen. The island or bar usually has cabinets underneath for additional storage. A modern kitchen is a kitchen with lots of cupboards and cabinets!
15 – Bar Stools
Refinish or recover the bar stools at the island. Material can be bought at a fabric store to recover worn or faded old covers. The material is sturdy and will hold up for many years, or until you decide to modernize again. If you want a complete new style, bar stools come in many heights and colors. Department stores and home improvement stores carry a wide selection in many price levels. Stools can be plastic, wood, metal or a combination of materials.
16 – Breakfast Nook
A breakfast nook is a modern invention. The breakfast nook is a cozy alcove, where there is a table and bench seating where breakfast is enjoyed. Realistically, any meal or snack can be eaten there. The breakfast nook is just a place where meals that are more informal are held. A dining room is considered formal and where dinner typically is served.
17 – Rugs
A rug is a simple way to modernize your kitchen. If you have old, dirty and faded rugs, it's time to replace them. If you've never had rugs in your kitchen, they are another avenue to add color and design to the room. Buy a large rug that covers the eating area or a runner for the high traffic areas. Rugs do more than just decorate; they can provide warmth over a cold kitchen floor and protect it from scuffs, nicks and scrapes. If your kitchen is carpeted, a rug will keep obnoxious spills and stains off it.
18 – Crimping Can Opener
A modern convenience in the kitchen is also a safety gadget. The can openers of yesterday are old news. The newest style can openers cut right below the rim of the can. As they open, they crimp back the metal so there are no sharp edges to cut a finger on. The can is also safer to drop in the trash, since it won't rip bags or catch on something else. Crimping can openers can be in the electric form or hand held style.
19 – Bread Machine
Grandma used to make the best loaves of bread, however, Grandma had a lot more time on her hands. You can have the best of both worlds by buying a bread machine. This modern technology mixes the dough, lets it rise and cooks it for you. No hours wasted waiting for it to rise. Follow the recipe book, pour the ingredients and then press start. Nothing could be more modern, yet taste so much like the "Old Days."
20 – Crock Pot
Another modern kitchen tool is also a time saver. The crock-pot of today allows you to have a family meal when you get home and still work a long day. In addition, to make it even easier, some food companies have pre-made meals frozen in a bag where all you have to do is open and pour into the crock-pot. Turn on low and let it sit for eight hours. Go and buy a new crock-pot if you don't already enjoy one.
21 – Automatic Coffee Timer
The newest and most modern coffee pots turn themselves on in the morning. You didn't know that? It is time to get rid of the old percolator and get modern. Automatic coffee makers are available in many sizes, from four cup to twenty-cup capacities. They also come in colors from red to blue to pink or stainless steel. The coffee pot color can even match the Ultra mixer. Get yourself a modern coffee maker and never have to remember to make it in the morning again. You will still need to remember to buy the coffee.
22 – Replace Old, Worn Towels
A quick way to modernize your kitchen is with a shopping trip. Throw out any towel that is ragged, worn or discolored and buy new. Buy new patterns and colors to match your décor or to compliment the wallpaper. Towels can come in different qualities of cotton, so make sure to read the tag. Not all blends have the best absorbency and you want to make sure yours do. Wash all new towels before the first use to get any residue off before using on your dishes.
23 – New Stove
One part of a major renovation may include buying a new stove. The choices are almost endless now, with convection ovens, convex ovens and side by side-ovens, it's hard to know what is what. Before you buy a new stove, list what your uses are with it. Do you have large family gatherings often? If so, you may want a dual oven that is placed in the wall. This way you have two ovens to cook with and they can be set at different temperatures, resulting in less burned food. If you only cook a little, a smaller gas or electric stove will work just fine. Stoves also come with different tops. Some are flat and can be wiped clean when they are cool and others have traditional burners.
Other Details
- 1 Ebook (PDF), 17 Pages
- 1 Audio (MP3)
- 1 Salespage (HTML)
- Year Released/Circulated: 2020
- File Size: 5,301 KB
License Details:
[YES] Can be sold
[YES] Can be used for personal use
[YES] Can convey and sell Personal Use Rights
[YES] Can convey and sell Resale Rights
[YES] Can convey and sell Master Resale Rights
[YES] Can modify/change the sales page
[YES] Can be packaged with other products
[YES] Can be added into paid membership websites
[YES] Can be offered as a bonus for buying another product
[YES] Can be used to build a list (giveaway eBook then upsell Audio MRR)