Salespage Snapshot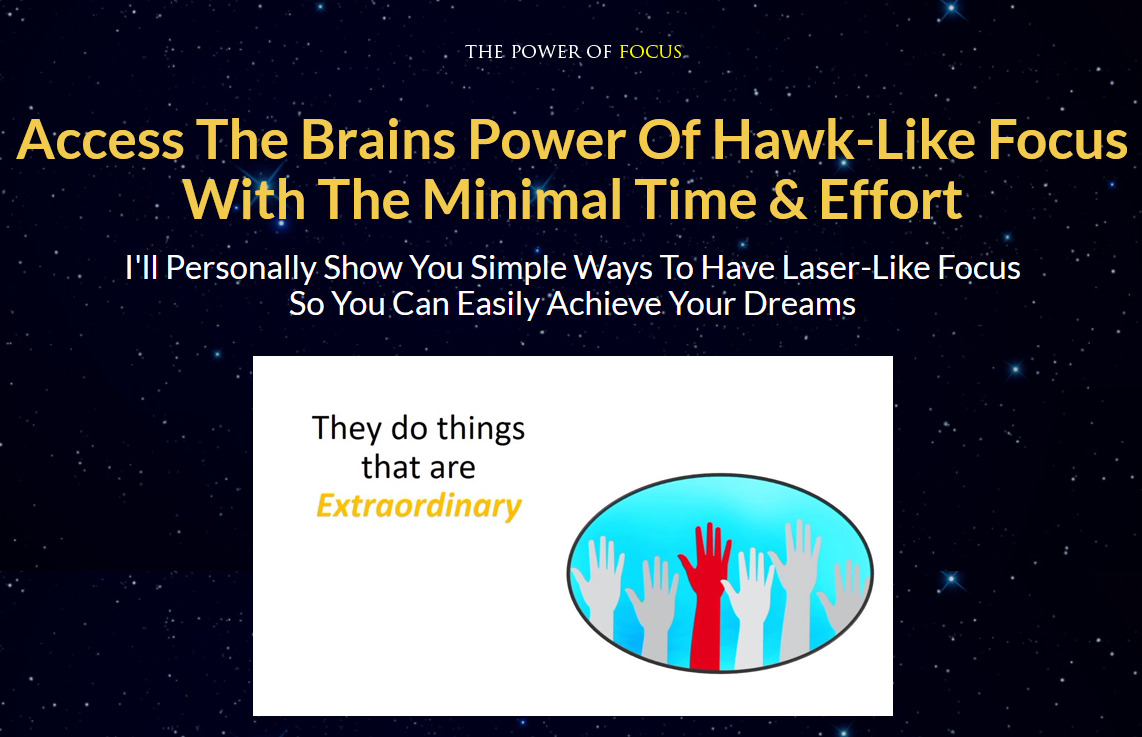 >> Click Here To View Sales Page...
Table of Contents
Chapter 1 ……. 7
"FOCUS" Defined .. 7
Why do people suffer from a lack of focus? . 9
How can you counter a lack of focus? . 11
Types of focus …… 14
Chapter 2 …… 17
Escaping the Busy Trap 17
Unraveling burnout ….. 19
Focus to undo the effects of the burnout … 20
The impact of being overwhelmed ….. 22
Chapter 3 ….. 27
Reclaiming Your Time . 27
Poor diet and nutrition ……. 28
Hormones at play 31
Lack of sleep ……. 32
Stress .. 33
Lack of physical activity ….. 34
Surrounding environment . 34
Quality of information 35
Chapter 4 ….. 37
Benefits of Being Focused …. 37
Helps take control …… 37
Yields positive energy . 38
Enhances problem solving skills 39
Instills decision making skills …. 40
Removes distractions .. 41
Gets things done . 42
Generates satisfaction 42
Builds momentum …… 43
Reduces stress …. 44
Increases engagement 44
Chapter 5 ….. 47
Vision .. 48
Prioritize ….. 48
Say no to distractions . 49
Handle one task at a time … 50
Divide up goals … 50
Rewards and breaks …. 51
Learn from mistakes .. 53
Rise above feelings ….. 53
Love what you do 54
Manipulate energy …… 55
Chapter 6 ….. 57
Strategies To Building Unbreakable Focus… 57
Train your brain .. 57
Plan it all out …… 58
Rest for a while … 59
Work with music 60
Practice mindfulness … 61
Limit phone usage …… 62
Give constant reminders …. 63
Plan your day …… 63
Chapter 7 ….. 67
Why Should You Focus On One Thing At A Time .. 67
It gets things done …… 67
It leaves less room for error ……. 68
Higher success rate….. 70
It does not deplete energy .. 70
It keeps distractions away .. 72
It lets you enjoy work . 72
Chapter 8….. 75
Online Tools for Laser Focus ……. 75
Sample Content Preview
Hormones at play
Maintaining hormonal equilibrium is key to optimal brain functioning. It may surprise you to know that a deficiency of specific hormones can bring about significant changes in mental focus and processing.
With hormones out of whack you may find yourself having difficulty remembering people's names, snapping unintentionally, suffering from mood swings or even start to feel depressed. All these and other factors play a part in affecting the way your brain functions.
For women, the one thing to watch out for is estrogen levels. This female hormone can dictate everything from sugar cravings and bouts of fatigue to mood swings. Any imbalance is then seen as impacting mental agility where low estrogen levels can impair mental functions like memory, reasoning and even mood from running smoothly.
As a result women may often observe that fluctuations in estrogen levels during perimenopause and menopause may make their memory and attention wax and wane. Another consideration that falls under hormonal imbalances and one that can impact the ability to focus is hypothyroidism. Low thyroid issues have been directly linked with causing mental fog, concentration issues, depression and even short term memory loss.
It is important that an optimal balance of estrogen, progesterone and testosterone is maintained since all three hormones act directly on nerve cells in the brain. Collectively, these hormones can help facilitate neurotransmission, protect cells from neurotoxins and improve blood flow in the brain. Any imbalance and the result could be a significant drop in cognition, mental focus and the ability to sustain concentration.
Lack of sleep
This common issue does not get the true attention it deserves. Even with a single night of insufficient sleep, the mind suffers greatly and focus becomes compromised. When you don't sleep well, your thought processes slow down and you become less alert. This affects your ability to concentrate and can make the mind confused enough to prevent you from performing tasks that require complex thought.
Also, feeling sleepy can cut into your working memory which is an important component of focusing. The sensation makes you less vigilant and reduces the speed and accuracy of mental tasks.
Stress
While memory and cognitive functioning gradually diminish with age, people with persistent or higher levels of stress are especially vulnerable. The negative effects of stress on memory can cause the brain to freeze and completely lose track of focus. This can happen in any scenario from students studying for an exam to introducing a friend and forgetting their name mid-way through introductions.
Focus caves in to stress in these situations as thinking gets so preoccupied with stress-inducing stimuli that other thoughts fail to emerge. In this way it hampers working memory which is associated with short term memory.
Lack of physical activity
Regular exercise releases brain chemicals which are key for memory and a lack of the same can impact focus and concentration. Exercise stimulates areas of the brain which are involved in memory functions. Physical activity releases a chemical called BDNF or brain derived neuro trophic factor which rewires memory circuits so they work better.
As such 30 minutes of exercise can help make more BNDF. But doing so once a week won't help. Exercise needs to be made a regular part of daily routine to reap cognitive benefits.
Surrounding environment
The environment where you are sitting down can quickly become a distracting factor when you are trying to concentrate. There could be multiple diversions such as loud noises, bright lighting, visual disruptions and even temperature inconsistencies.
Even though they may seem trivial, these environmental variables can play an important role in making or breaking focus.
Quality of information
Another common distraction is the quality of information you need to process. If the information is relevant to the task at hand, then it will likely keep your focus engaged but you can easily become distracted if you don't have the right information to work with. Issues like an incomplete email, a skipped step or a misleading phone message can mess up your focus as you try to make sense of the situation.
Chapter 4
Benefits of Being Focused
So far it is safe to say that being focused can help yield great benefits not only for the mind and body but the overall life quality of a person. Here is how being focused can help you achieve greater success and control of your life:
Helps take control
When you are focused, you can take control of the things that you are doing. But if you are not focused, that task or thing will end up controlling you. Once you become focused on something and you have channelled all your energy into that particular task, you can handle the task in a better way.
Control will also come easy when you apply all the three types of focus simultaneously into all your tasks. Inner focus will keep you on track and away from distractions while paying attention to others makes you more aware. But it is perhaps outer focus that will be most beneficial in gaining control since it gives you the flexibility to give you a contingency plan if needed.
Other Details
- 1 Ebook (PDF), 83 Pages
- 2 Graphics (PNG)
- 1 Salespage (HTML)
- Promotional Ad Material (Emails)
- Checklist, Mind Map, Landing Page, Lead Magnet, VSL
- Year Released/Circulated: 2018
- File Size: 32,815 KB
License Details:
[YES] Can be packaged
[YES] You Can Use This Product Yourself
[YES] Can be sold as it is not less than $7 price tag!
[YES] Can pass on the Resell Rights privilege to your customers
[YES] Can Add This Product to a Membership Site or Bundled Within a Product Package as a Bonus
[YES] Can be used to create audio/webinar/video products
[YES] Can Give Away The Product (NOT The Source Code Files) To Your Subscribers, Members or Customers as a Bonus or Gift
[YES] Can change sales page and/or graphics
[YES] Can be added to paid memberships
[YES] Can sell master resale rights
[NO] Add to a free membership sites
[NO] You can't just pass away the product to anyone
[NO] Contents of the product can be edited, modified or altered