Salespage Snapshot: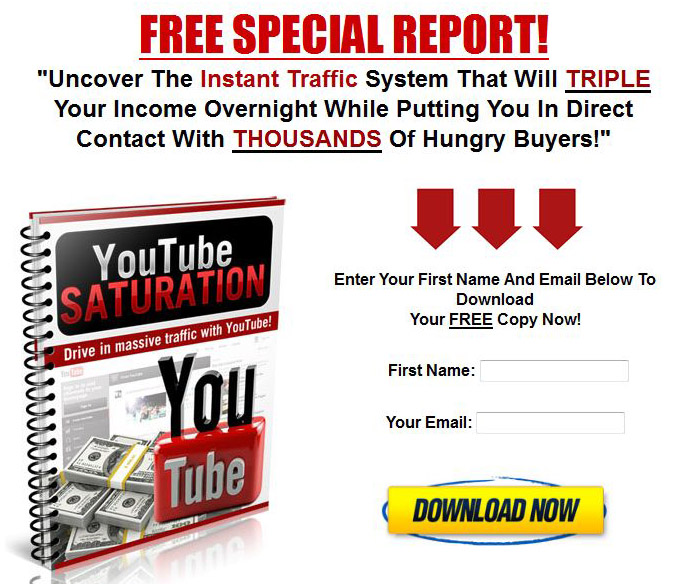 >>> Click Here To View Full Sales Page…
Table of Contents
YouTube Saturation … 4
Advertising On YouTube ……. 5
Getting Started ……….. 7
Targeting Active Buyers …….. 9
Maximizing Exposure ……….. 11
Final Words … 15
Recommended Resources .. 16
Sample Content Preview
Getting Started
When it comes to advertising on YouTube, there are only a few steps involved:
Step 1: Create your video
This is the most time consuming part of it all because you want to make sure that your video is well designed, entertaining, and that sound and clarity is the best that it can be.
Depending on your target audience, "amateur" based videos may perform better than polished videos that appear too professional.
It's important to know your target audience and what they are likely to respond to. Then, grab a camera and either shoot the video yourself, or hire it out. And of course, you can also consider creating an entirely digital-based animation style video if you feel that it will connect with your audience.
Tips:
If you're looking for affordable video developers, set up a project request at http://www.Freelancer.com
For cheaper/faster and simple video projects, check out http://www.Fiverr.com
If you aren't sure what kind of video would best connect with your target audience, or you need help researching your market, you will want to download an in-depth video marketing course at http://www.VideoProfitsFastLane.com
Step 2: Upload your video to YouTube
Post your video on YouTube. (It's free!) Then use Google AdWords for video to promote it to the right viewers. You'll only pay when viewers choose to watch your video.
Step 3: Advertise your video!
In order to advertise your video within the YouTube community, you will need to connect your video account to Google Adwords. Adwords is a performance-based advertising channel, allowing you to set a budget, target your advertisements and set your ads on autopilot.
These advertisements are called "TrueView" ads, and they make it easier than ever to target your ideal viewers (and customers!) because you only pay whenever a viewer chooses to watch your video!
Targeting Active Buyers
In order for your videos to convert, you need to target buyer's not just viewers. To do that, you will want to take advantage of Google Adwords's demographic targeting options in order to reach out to your audience. This includes: Advertising based on keywords, age groups, gender, location, or language.
Ad-targeting is extremely important because without it, you are basically advertising "blindly" with no way of knowing whether the right audience is even seeing your ads. Failing to target your advertisements will also cost you – big time, as your ads will be seen (and even clicked on) by people who have no real interest in what you have to offer.
So, take the time to tailor your ads to your audience, nailing down specific demographics so you can easily reach out to your customer base.
YouTube advertising through Google Video Ads is very easy to set up because you are able to choose from a set of comprehensive options that will help you better target your customer base.
This includes:
· Keyword based advertising
· Interest categories
· Topics & Placements
· Demographics (all kinds – age, location, language)
· Social interests
In addition, with TrueView ads, you only pay when a viewer chooses to watch your ad, similar to pay-per-click advertising, so you are only paying when a prospect has seen your ad!
Maximizing Exposure
With Google video ads, you are able to promote your business within YouTube, the #1 online video community, as well as the Google Display Network, which includes millions of individual websites (reaching over 89% of the online population!).
Imagine your ad appearing on millions of websites all across the Internet! Not only will you be able to infiltrate any niche market you wish, but also you'll be able to create a unique brand that is instantly recognized by potential customers.
Spread your marketing message instantly, exposure your business to new customers and promote your video marketing campaigns on a large scale. With Google's, "TrueView" advertising portal you are also able to maximize exposure through connected channels, including:
· TrueView in-stream
· TrueView in-search
· TrueView in-display
· TrueView in-slate
Let's take a quick look at what each of these channels has to offer:
TrueView in-stream
· Ads play as a pre-, mid- or post-roll on YouTube partner videos of all lengths.
· After an ad plays for 5 seconds, viewers get the choice to skip it or watch the rest.
· Pay only when viewers watch 30 seconds of the ad or to completion if the ad is less than 30 seconds.
TrueView in-search ads
· Based on user search terms, ads rise to the top of Promoted Video search results and suggestions.
· Viewers see certain ads promoted (placed above others or suggested) and click to watch if interested.
· Pay only when viewers choose to watch your ad.
For an example, visit http://www.YouTube.com and enter in the search term "smart phones" or another popular search term to see a series of TrueView in-search ads.
All of the videos shown in the right-hand column are TrueView ads as well as the group of ads that appear at the very top of the search results window!
TrueView in-slate ads
· Ads play before long-form YouTube partner videos over 10 minutes.
· Before a video plays, viewers choose to either watch an ad from 1 of 3 different advertisers, or to watch regular commercial breaks during the video.
· Pay only when viewers choose to watch your ad.
Other Details
- 1 Ebook (PDF, DOC), 16 Pages
- 7 Part Autoresponder Email Messages (TXT)
- 1 Squeeze Page (HTML, PSD)
- File Size: 27,319 KB