Salespage Snapshot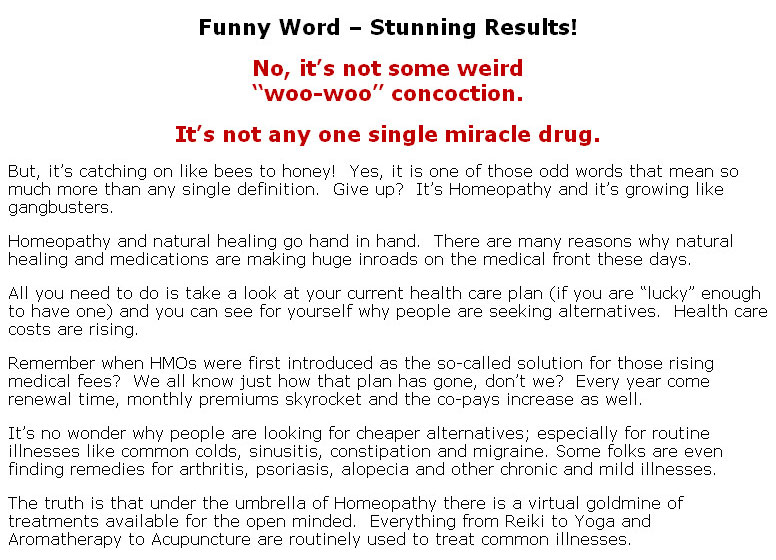 >> Click Here To View Sales Page...
Ebook Table Of Contents
What is Homeopathy?
About Natural Healing
What is Reiki?
What is Usual
About Herbal Healing
Benefits of Yoga
Massage and Natural Healing
The Acupuncture Equation
About Oriental Herbal Medicine
Homeopathy and Your Child
Natural Remedies
Aromatherapy as a Remedy
Energy Healing
Meditation and Healing
More on Massage
Ebook Sample Content Preview
What is Homeopathy
Medical costs are soaring higher and higher with each passing year. Due to the higher cost Health Care, many people are turning to natural remedies or cures. Homeopathy is already quite popular, but what is homeopathy?
Homeopathy is derived from two Greek words, 'homoios' and 'pathos'. The principles of homeopathy were first defined in 1796 by Samuel Hahnemann. In general, homeopathic medicines are safe. Homeopathic medicine is widely criticized especially in the medical industry because patients are advised to avoid conventional medications like antibiotics and vaccinations. According to statistics, about 2% of the American and UK population are using homeopathy. WHO (World Health Organization) stated that this alternative medicine is widespread along with herbal medicines, osteopathy, and Chinese medicines.
How are the treatments prepared? You need to consult an experienced homeopath for treatment preparation. The production of the homeopathic treatment is called potentisation or dynamisation. A particular remedy will be diluted in water or alcohol inside an elastic container or body and then it will be shaken vigorously. This process is termed as 'succussion'. Homeopaths like Hahnemann believed that potentisation can activate the diluted substance's vital energy and such energy is released during succussion.
Other Details* Sales Page:
Included, HTML, MS Word Doc
* File Format:
MS Word Doc, PDF
* Number of Pages:
59
* Download File Size:
180 KB