Salespage Snapshot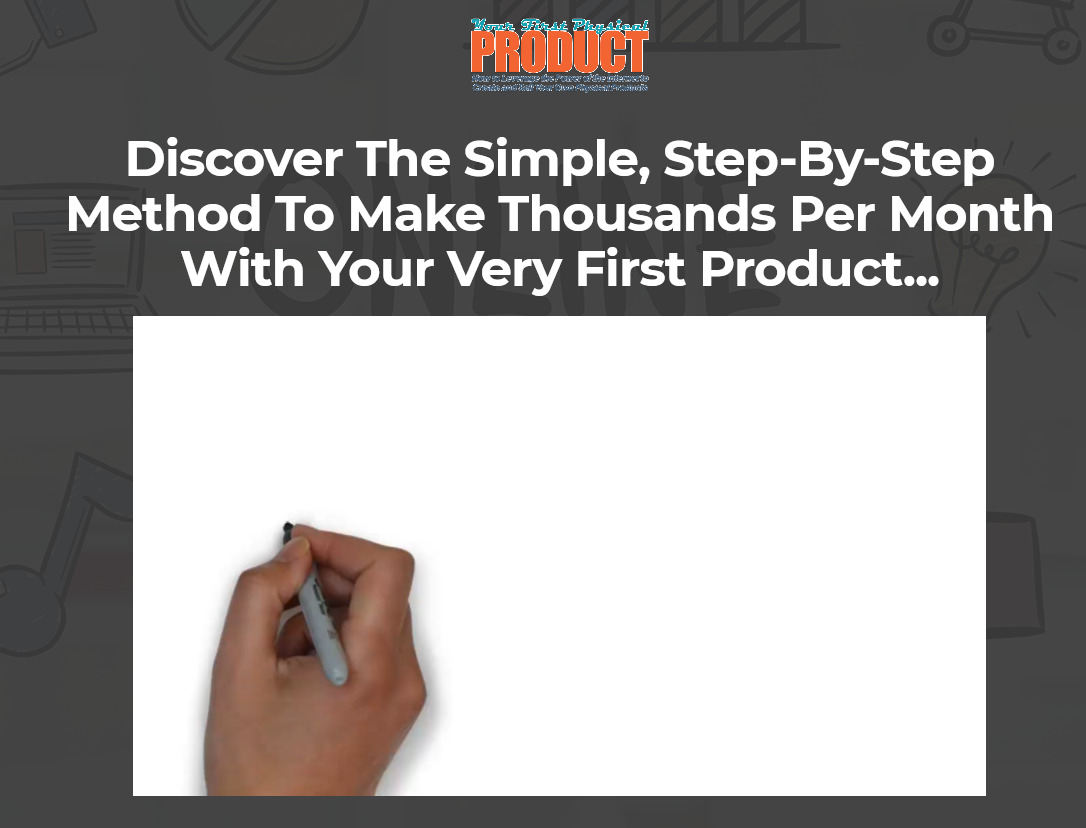 >> Click Here To View Sales Page...
Table of Contents
Chapter 1: Why Create Physical Products…… 4
Physical Products for Profit…….6
Why Now is the Best Time……..7
Chapter 2: Some Very Easy Ways to Get Simple Products Off the Ground……. 10
Physical Books… 10
Custom Gifts……11
Crafts…….. 12
Drop Shipping….13
Chapter 3: One More Easy Option – 3D Printing… 15
How to Get Started With 3D Modelling: Rhinoceros 3D….. 16
Chapter 4: Ideas and Intellectual Property.. 20
Designing Your Product..21
Design Engineering…..21
Outsourcing the Design Process…… 23
Is Your Idea Profitable?..24
Chapter 5: Preparing Your Idea – Prototyping, IP Protection and Focus Groups……. 26
Prototyping……..27
Focus Groups and Market Research….. 27
Protecting Your Intellectual Property……. 28
5 Types of Intellectual Property Law You Need to Know…. 28
Chapter 6: Sidestepping Manufacturing With Licensing Agreements…… 32
What is Licensing?.32
Is Licensing for You?… 33
How to Get a Licensing Deal… 33
Chapter 7: Finding a Manufacturer….. 36
The Proposal 37
Chapter 8: Funding… 40
Top Crowdfunding Sites.41
Other Funding Options.. 43
Finding Funding for Small Projects……..44
Chapter 9: Selling Your Product..46
Ecommerce.. 46
Approaching Buyers…….47
Conclusions..48
Sample Content Preview
Why Now is the Best Time
So with all this in mind, why is it that most people don't create their own physical products? Why is it that most people will settle for ebooks or just placing ads on a website? The answer is simple: they think that creating a physical product is beyond them.
The assumption here is that companies like Apple, Microsoft, Hasbro, Ikea, Nike… They make the physical products because they're the huge, multinational corporations. They have manufacturing plants, patents, shipping deals, huge amounts of marketing and more – and they poor billions into market resource, focus groups, R&D and more.
So how can one person do all that? How can you possibly compete?
Well, that's where things are changing. And that's where all this gets very exciting.
Because right now, it's actually incredibly easy to create and sell your own digital product. If you're willing to make something simple, then there are options that will allow you to start selling physical products from your website today.
But I'm not just talking about those simple ideas. I'm also talking about the ambitious ones. Want to make your own smartwatch? Well you can do! Want to make some kind of device for opening jam jars and sell it from major stores?
Again, you have that option.
It takes a little bit of work – and that's why I recommend creating an online business first and using that to bootstrap yourself (although we'll see how you can avoid the need for doing that too).
Ultimately though, the web is the 'great equalizer' and has closed the gap in many ways when it comes to creating hardware. It's now more possible than ever to not only do all this but to do it from the comfort of your home without ever stepping foot outside. You can outsource your manufacturing, you can outsource your shipping and storage and you can do all your marketing and selling through the web.
Today, just one person can have the same kind of impact with a physical product that a large company can. And it's only going to move more and more in this direction in future. And actually, that's an incredible thing.
There is a genuine hardware revolution occurring right now. Are you going to get involved?
Chapter 2: Some Very Easy Ways to Get Simple
Products Off the Ground
This book is going to tackle everything you ned to know about coming up with an idea and then taking this all the way to market and manufacturing/selling it.
But before we get into the technical and ambitious stuff, let's start out by looking at the easy stuff. If you want to create a physical product to sell from an existing website – just to gain some additional profits and perhaps strengthen your brand (it always looks very 'professional' when you have your own physical products), then there are ways you can do that right now without having to learn a ton of new skills or invest any cash.
Let's take a look at some ways you can dip one toe tentatively into the world of physical products.
Physical Books
One of the easiest ways to start selling products is to sell physical books. If you're already selling a digital product such as an ebook, then it's only a small transition to start selling a hard copy of that book. And actually, this is incredibly easy to do.
If you already have the file, then all you need to do is to take that file and upload it to either Lulu (www.lulu.com) or Amazon's publishing service. This is called 'Print On Demand' (POD) and it essentially means that you're printing out your physical books every time someone orders one.
Normally, if you were going to self-publish a book, then you would have to order thousands of copies of the book to keep in a warehouse. This would involve a large up-front investment and you'd then have to sell all those copies at a profit to make any money. That would mean going to retailers and generally it's a lot of work that led to a lot of people crashing and burning over the years. Alternatively, you could try and find a publisher, which would mean going via an agent – and this would usually lead to years of rejections before you got a deal. Even Harry Potter was rejected by several publishers before it found one!
With POD though, you simply upload the files to a machine that's capable of printing out the books.
When someone orders your book (or you do), the printer simply makes a new copy ready to sell.
There's no up-front investment and no risk of losing a profit. And the only overheads are the printing costs (which are very small) and whatever you paid for designing a cover etc.
Custom Gifts
There are plenty of sites on the web that allow you to create items with your brand printing on them. These include sites like Vista Print (www.vistaprint.com) and like Spreadshirt (www.spreadshirt.com). Using these sites, you can start selling printed t-shirts or printed mugs, caps, mousemats and more – and all of them will look highly professional without any work on your part.
Like POD, these print each time items are ordered, which means you'll never end up with a ton of stock on your hands! You can't create anything particularly inventive but if you just want to get a physical product on your website, it's another easy way to do it. What's more, is that this route is ideal for strengthening your brand. By giving or selling items with your logo printed on them, you increase the sense of loyalty your customers have as they feel proud to brandish your brand. What's more, every time someone uses your custom mug or cap in public, more people will see your logo!
And some people actually manage to make quite a lot of money by selling t-shirts with funny slogans on them etc.
Crafts
And guess what… there is one more way you can quickly start selling. It's pretty retro but it works! That method? Simply start making things by hand and selling them online. If you watch The Big Bang Theory, then you might remember the 'Penny Blossom' episode where Penny creates lots of small paper flowers and sells them online. She ends up creating a human assembly line and minimizing her overheads and the result is that she's able to generate a good profit for a day's work.
You can do the exact same thing, with a website to sell your product and something you can relatively easily mass produce, you have all the basics you need for an easy online business. This is made even easier by the fact that you can also promote your products on sites like Etsy (www.etsy.com) or eBay (www.ebay.com).
There's also no reason that your items have to be mass produced at all. If you are a creative type and you have a particular skill or craft that you can sell, then you can just as easily make money selling portraits on eBay, caricatures, home-made jewelry or even artwork. My sister left art college with no job lined up and became a sales-person. That wasn't exactly what she wanted but it doesn't matter to her because her real passion comes from making stunning artwork and selling it on eBay. What's more is that this makes her a very nice little profit on the side!
Drop Shipping
Finally, why not have someone else design and manufacture the products – even handle the fulfilment – and you just put your logo on it? As it happens, that's actually a thing! And it's called 'drop shipping'. This is a white label service, meaning no one will ever know the other company is involved. The only difficulty is finding companies that offer this. Try WorldWideBrands (www.worldwidebrands.com) or Alibabab (www.alibaba.com) to find companies that do.
Chapter 3: One More Easy Option – 3D Printing
One more easy option that is now starting to take advantage of modern technology is 3D printing. 3D printing is basically like any other kind of printing, except that instead of printing onto paper, you're now printing actual 3D objects!
These objects can be made from plastic, metal, wood, china and more and all you need is the raw material (which will often come in the shape of a thin tube) and a 3D file called a CAD file (computer aided design). The file provides the 3D printer with the detailed instructions for how to produce the item and the printer then goes about melting the material and drawing it one layer at a time. As it does this, it slowly builds the solid object up from the ground.
What this means is that as long as your product is relatively simple, you can 'print' it from nothing with no need for any complex manufacturing or assembly. There are websites you can do this from, such as Shapeways (www.shapeways.com) for example. To use Shapeways, you simply need to send your CAD file away and then choose your material. This way you can make literally anything you can think of. And of course if your product has more than one part, or if it uses more than one material, then you can just attach those two materials or two colors yourself by hand as the last stage of production.
Shapeways in particular has actually come on a long way. Today it has more options such as drone parts and even allows you to open your own store right there on the site to begin selling. You can also browse what other people have made.
The other good news? It's actually possible to buy 3D printers for your own home. These aren't particularly cheap and the amount you'll spend really depends on what it is you want. The products range from things like Formlabs Form 2 (for several K) to CHINA A8 for just over $100- $200. If you're going to be making tiny, plastic toys then these cheap desktop 3D printers are probably enough. If you want to run a full business, then investing in a larger printer becomes necessary.
Other Details
- 10 Articles (DOC)
- 1 Ebook (PDF)
- 11 Graphics (PNG)
- 1 Salespage (HTML)
- 10 Ecovers
- 2 Promotional Ad Materials (Emails, Banners)
- Resource Report, Cheat Sheet, Mindmap, Social Media Images, Legal Page, Sales Video
- Year Released/Circulated: 2021
- File Size: 80,851 KB
License Details:
[YES] Can be packaged
[YES] You Can Use This Product Yourself
[YES] Can be sold as it is not less than $7 price tag!
[YES] Can pass on the Resell Rights privilege to your customers.
[YES] Can Add This Product to a Membership Site or Bundled Within a Product Package as a Bonus.
[YES] Can be used to create audio/webinar/video products
[YES] Can Give Away The Product (NOT The Source Code Files) To Your Subscribers, Members or Customers as a Bonus or Gift.
[YES] Can change sales page and/or graphics
[YES] Can be added to paid membership sites
[YES] Can sell master resale rights
[NO] Add to a free membership sites
[NO] You can't just pass away the product to anyone
[NO] Contents of the product can be edited, modified or altered.