Salespage Snapshot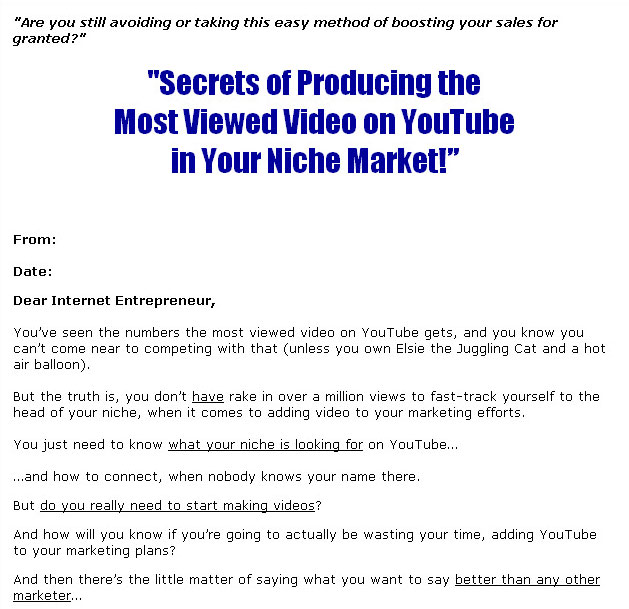 >> Click Here To View Sales Page...
Ebook Table Of Contents
Table Of Contents    3
Section 1: The Truth About YouTube    4
Making Money with YouTube    6
Can You Use a Video Sales Page on YouTube?    7
What Is YouTube Best Used For?    8
What is the Single Biggest YouTube Marketing Mistake?    11
The Unique Advantages of YouTube    13
The Biggest Disadvantage    14
Section II: Making a YouTube Video    15
Big Budget or Home-made?    15
More Mistakes    17
Enhancing Your Video    18
Section III:  YouTube Video Promotion    23
Leaving Video Feedback    23
Other Online Methods    24
Offline Promotion    25
Section IV: YouTube Marketing Strategies    27
Your Channel Name    27
Categories    28
Your YouTube Account    31
Section 5: The Juicy Extras    32
Video Making Tips    32
Biggest YouTube Mistakes    36
Hot Tips    38
Read the Terms    39
The Last Word    40
Ebook Sample Content Preview
Section 1: The Truth About YouTube
It sounds like a marketer's dream:  Start out making a quick, spur-of-the-moment video in your kitchen – and end up being the most subscribed-to channel on YouTube, with over 1,000,000 subscribers.
In fact, your videos become so popular, you end up with a movie deal!
If you're casting about in your mind, trying to figure out which of the top marketers or celebrities has done just that, don't bother. The perpetrators of this astonishing feat were two high school students, Ryan Higa and Sean Fujiyoshi, just having some fun with buddy Joshua Butler and the odd assortment of friends helping out behind the scenes. They called themselves "Nigahiga", and specialized in humor that had my 13 and 15-year-old relatives in stitches – and eagerly sharing Nigahiga video links with everyone on their Facebook network.
How did the boys achieve over 1,000,000 visitors? By creating true viral videos that people (especially teenagers) just couldn't wait to share with everyone they knew.  In other words, Nigahiga was outrageous, irreverent – and made people laugh.
Is your marketing or promotional video likely to go "viral" – that is, be spontaneously promoted in a rapidly-expanding pyramid of enthusiastic link-forwarding to the tune of over 1,000,000 subscribers?
The bald truth is… not likely.  Unless you manage to do one of these three things:
Other Details* Sales Page:
Included, HTML
* File Format:
MS Word Doc, PDF
* Number of Pages:
40
* Included Graphics:
Ecovers, PSD
* Extras:
5 Followup Emails
* Extras:
Promo Email
* Extras:
Affiliates Programs
* Extras:
Articles
* Extras:
Squeeze Page
* Extras:
Blog Posts
* Extras:
MS Word Doc, PDF Report
* Number of Pages:
10
* Download File Size:
21,057 KB